makeup Makeup Tricks That Will Hide The Fact You Drank A Handle Of Vodka Last Night

22 votes
14 voters
1.3k views
9 items
List Rules Vote up the best tips you would recommend to a hungover friend.
We've all been there. You told yourself you would only have one drink at your friend's party, and that quickly turned into... more than one. Cue massive hangover the next day. As long as there are hangovers, there will be "hangover face." It's not a cute look: dark circles underneath the eyes, sallow skin, and puffiness in places you didn't even know existed.
On the nights that you're drinking, you're likely not getting a lot of sleep. The lack of sleep contributes to dull, tired skin the next day, but alcohol comes with its own set of skin consequences, too. Alcohol is a diuretic - meaning, it makes you urinate more, and thus makes you dehydrated. Besides actively dehydrating your skin and disrupting your sleep cycle, it actually makes it harder for your body to become hydrated again. On top of that, alcohol decreases your body's supply of vitamin A, which is crucial for good skin!
Fortunately, there are ways to mask the effects of a hangover. This list is here to teach you how to cover up a hangover with morning-after skincare, makeup to fix your hangover, and tips and tricks for de-puffing and re-hydrating.
If you hit the tequila a bit too hard last night and are looking for makeup tips to make you look less hungover, you've come to the right place. These hangover makeup tricks are about to change your life. Cheers to that!
Hydrate, Hydrate, Hydrate!
Before you worry about anything else: drink a lot of water. Then, take things to the next level by spritzing makeup-free skin with a beautifying and hydrating toner, like Claudalie Beauty Elixir Eau De Beaute ($15, Amazon). Stash a bottle of Evian Natural Mineral Water Facial Spray ($18, Amazon) in your purse, and spray some on your face whenever you're in need of a refresher. Hydrating skin this way will help plump up fine lines that may have become more prominent after a night of drinking.
Like A Shot Of Espresso For Your Face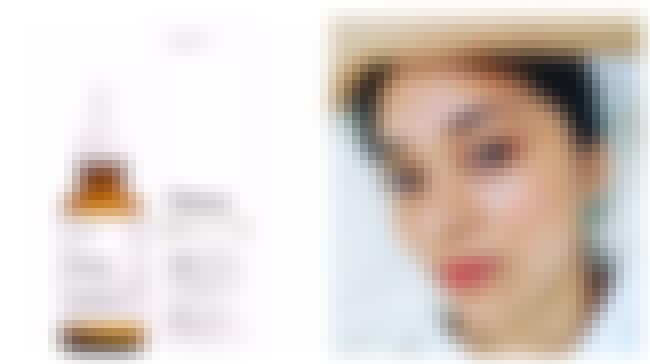 You need to keep a bottle of The Ordinary's Caffeine Solution in your medicine cabinet for those mornings when you don't even have the energy to make yourself a cup of coffee. Featuring "Caffeine and Epigallocatechin Gallatyl Glucoside (EGCG) derived from Green Tea Leaves," this serum helps to counteract dark circles, plump up your skin, and actually relieve symptoms of fatigue and stress. And at $15, it'll cost you less than two venti lattes.

Is this helpful?
Freeze A Face Mask As An Instant De-Puffing Treatment
Pro tip: Store one of your favorite face masks in the freezer for hangover emergencies - preferably, one that naturally clarifies and combats redness. Slathering the freezing-cold mixture on your face after a night of drinking will help smooth puffy skin (like how putting an ice pack on an injury will help combat swelling). Plus, the cold sensation will make you feel like a human again. LUSH Cosmetics' Just To Clarify Jell Face Mask ($15.95, Amazon) will do the trick!
This Primer Is A Hangover Cure In A Bottle
Too Faced knows the struggle of recovering from a night of drinking all too well. Their Hangover Rx Face Primer ($23.50, Amazon) "hydrates, smooths, and brightens skin for a dewy, healthy looking finish" thanks to the coconut water and probiotics inside. Too Faced also created a coconut-water based makeup-setting spray ($38.99 on Amazon) that works in much the same way, and can be spritzed on top of makeup for an extra dose of post-drinking hydration. Genius!