Entertainment
Hunter S. Thompson's Iconic and Famous Friends

Updated November 5, 2019
16.8k views
16 items
They say you can judge a man by his five closest friends, that you are the company you keep. To say that the company Hunter S. Thompson kept was prolific would be quite the understatement. The man lived life, and lived it hard. As such he met many fascinating, brilliant, creative, insightful, powerful and historic people along the way. Hunter S. Thompson's celebrity friends were a varied bunch and many are just as crazy as he was.
Thompson's Hollywood exploits are the stuff of legend. He can count Jack Nicholson, Bill Murray, and Harry Dean Stanton amongst his friends. His first foray into La La Land yielded him many friends who just so happened to be '80s Hollywood royalty; Matt Dillon and John Cusack, to name a few. Then, after some of his more famous adventures were adapted to film (and generally became more widespread via Rolling Stone and through his books), the next generation of Hollywood became enamored with Thompson as well - people like Josh Hartnett and Conan O'Brien.
This isn't even mentioning his legendary on- and off-screen friendship with the man who would become Hunter S. Thompson: Johnny Depp. These guys became friends in a way that usually only happens in the movies. Depp became Hunter for Fear and Loathing in Las Vegas and in many ways he never came all the way back (just look at Depp's interviews from before Vegas and after, when his speech patterns and mannerisms changed considerably). Depp and Thompson became brothers in arms in the war on boredom; Gonzo became a way of life, and these two brought it to the masses.
There are also people like David Letterman, Lyle Lovett, George McGovern, Keith Richards, and even Muhammad Ali. The man was like a magnet, drawing in the best, brightest, and craziest people in range. These are Hunter S. Thompson's famous friends and iconic pals, who, together, were responsible for all kinds of hijinks and good times.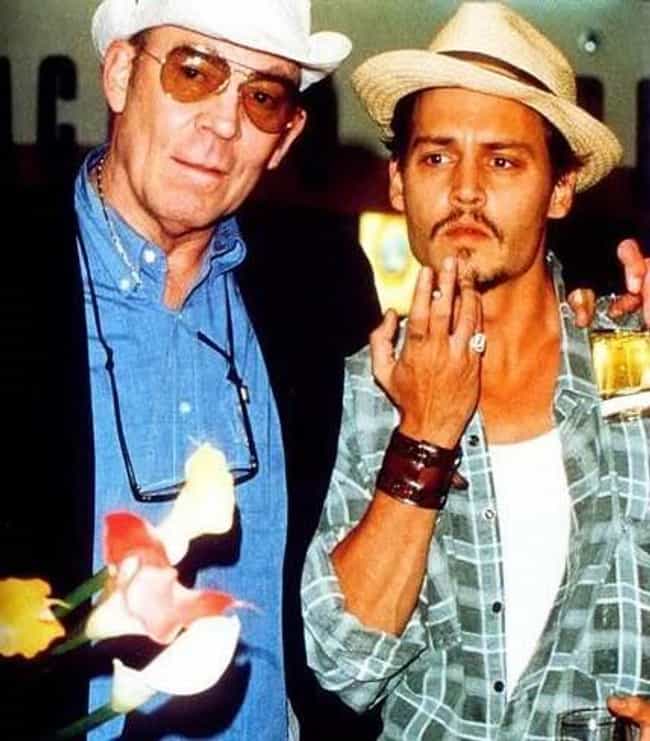 Depp read Thompson's iconic Fear and Loathing in Las Vegas when he was a teen and had idolized the author ever since. They both happened to be in Colorado at the same time and a mutual friend offered Depp the chance to meet Thompson, he leapt at the chance. It was full fledged madness by the time he got there, Thompson had been parting a bar crowd with a pull prod... and a taser.


"People were hurling their bodies, leaping out of the way to try and save themselves from this maniac," Depp said. "Then he made his way to me. The sparks had died down, he just walked right up to me and put his hand out and said, `How do you do? My name is Hunter.'"


Thompson and Depp quickly discovered they had a lot in common: they were both Kentucky boys with many literary of the same heroes, including Ernest Hemingway and Nathaniel West. It wasn't long until the two of them were at Thompson's house and Depp was admiring his gun collection, particularly a nickel-plated shotgun.

"'Would you like to fire it?' Depp recalled Thompson saying. "I said, `Yeah. Great, man.' He says, 'All right, great. We must build bombs.' So we built bombs in his sink out of propane tanks and nitroglycerin. Then we took them out back and he said, `All right, you get first crack.' So I leveled that 12-gauge and I blew it up – 80-foot fireball.

"I think that was my kind of rite of passage with Hunter. I think that was my test that I was OK."

They stayed friends until the end, and maintained a mutual love of explosives, with Depp even paying for Thompson's funeral complete with a giant fist shaped canon. What was that for? From which to launch Thompson's ashes, of course. He left the world as he lived in it. Loud and larger than life.

Source: Huffington Post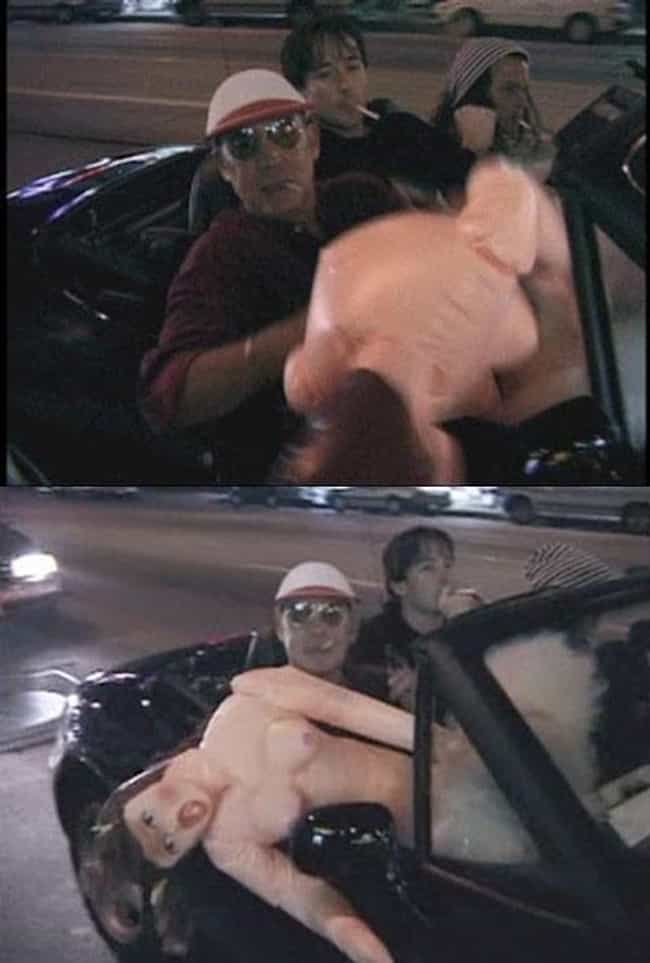 John Cusack met Thompson while lobbying for, and almost booking, the lead in Fear and Loathing (which, of course, went to Johnny Depp). But Cusack and Thompson remained close friends.

Cusack credits Thompson with teaching him respect in his early twenties and the importance of growing up.


"Hunter [S. Thompson] was a friend. He wasn't the best role model for survival . . . but, in a way, he was. At the end of the day, Hunter was a disillusioned romantic, an idealist, and a very dangerous character. But he was also very funny, loyal, and honest about his own faults. There was something shamanistic about him. Most of that relationship took place on the phone between 11 o'clock at night and six in the morning. A lot of late-night faxes. Not bankers' hours."

Source: Details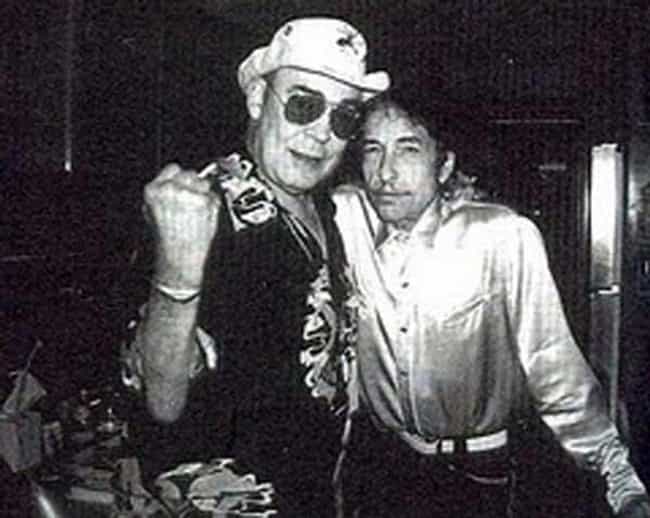 Thompson once said, "I've been arguing for years now that music is the New Literature, that Dylan is the 1960s' answer to Hemingway." He also said, "Bobby Dylan is the purest, most intelligent voice of our time. Nobody else has a body of work over twenty years as clear and intelligent. He always speaks for the time."



Eventually Dylan came to visit Thompson and they became friends.

Source: Beatdom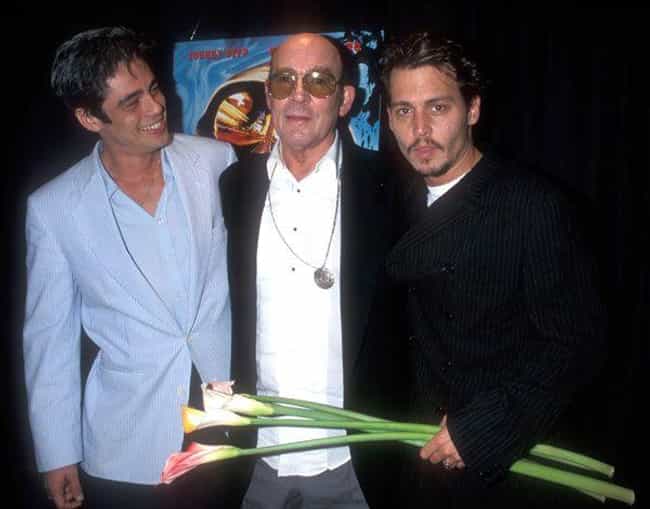 Benicio del Torro grew to truly respect and admire Hunter S. Thompson, after a short... trial phase.
Benicio told Short List magazine, "I remember my first meeting with him and Johnny Depp before we started shooting Fear and Loathing... It was really uncomfortable. Hunter started... testing me. He was saying to me, 'I don't think you can be in this movie. I don't think you're good enough. You don't really understand the character.' I turned to Johnny and said, 'Is he for real?' Johnny was like, 'Relax, he's testing you. He did the same thing to me.' It was like an initiation. But we became good friends after that. Hunter was really special. I think he was the first true genius I've met."