Buildings
Hyderabad Architecture: Famous Landmarks and Buildings

Updated June 8, 2017
6.6k views
8 items
List of the famous landmarks that make up the Hyderabad skyline, listed alphabetically with photos when available. Hyderabad architectural landmarks as well as other major buildings, dwellings, and other structures in Hyderabad are included on this list. Information about these Hyderabad buildings is included on this list, such as when the building first opened and what architectural style it falls under. List includes both new buildings in Hyderabad and older historic landmarks.
A list made up of buildings like Charminar and Golkonda.
This list answers the question, "What are the most famous buildings in Hyderabad?"
This is a good reference for research into the historical architecture in Hyderabad. Famous architectural houses within the city of Hyderabad are included as well, sometimes by address, other times listed by the name of the original home owner.
The Andhra Pradesh Industrial Infrastructure Corporation Tower is a 450 m, 100 storey skyscraper planned for construction in Hyderabad, India. The tower is to be part of a 100 acres business district in the Manchirevula suburb of Hyderabad. The tower will house corporates, hotels, and other establishments. The bustling city had previously faced problems with the construction of highrises due to lack of space and fire safety concerns in its congested downtown. The state government set up a special trade development project, which has a minimum building construction limit of 30 floors to address this problem and promote the city as the business hub of south India. Along with the trade tower, ...more on Wikipedia
City/Town: Hyderabad, India
Opened: Jan 01 2010
Structural Height (m): 450.0
Created By: Sir Norman Foster
Basheer Bagh Palace or Bashir Bagh Palace was a palace located in Hyderabad, Telangana, India. It was constructed by Sir Asman Jah, a Paigah noble and Prime Minister of Hyderabad state. ...more on Wikipedia
City/Town: Hyderabad, Andhra Pradesh, India, South India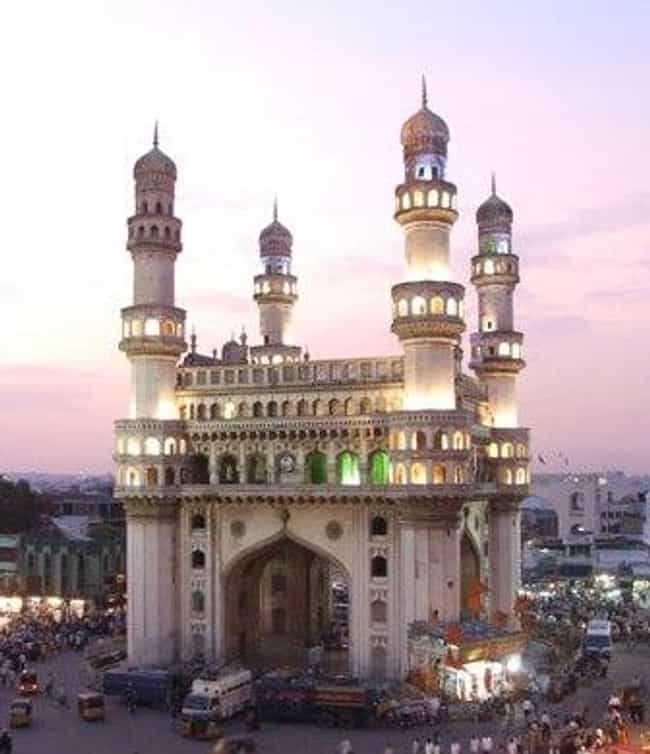 The Charminar, also known as built in 1591 CE, is a monument and mosque located in Hyderabad, Telangana, India. The landmark has become a global icon of Hyderabad, listed among the most recognized structures of India. The Charminar is situated on the east bank of Musi river. To the west lies the Laad Bazaar, and to the southwest lies the richly ornamented granite Makkah Masjid. The English name is a translation and combination of the Urdu words Chār and Minar, translating to "Four Towers"; the eponymous towers are ornate minarets attached and supported by four grand arches. Some of the popular myths that are recorded in accord with the monument's architectural appearance are as follows. The ...more on Wikipedia
City/Town: Hyderabad, India
Opened: Jan 01 1591
Style: Islamic architecture

Golconda, also known as Golkonda or Golla konda, a fort of Southern India and capital of medieval Golconda Sultanate, is situated 11 km west of Hyderabad, Telangana. It is also a mandal of Hyderabad District. The region is known for the mines that have produced some of the world's most famous gems, including the Koh-i-Noor, Hope Diamond and the Nassak Diamond. ...more on Wikipedia
City/Town: India