Sitcoms

The Most Important Episodes Of 'Parks And Recreation'

120 votes
16 voters
23 items
List Rules Vote up the episodes that mattered the most to the series overall.
Parks and Recreation ran for seven seasons between 2009 and 2015, amassing a passionate fanbase, heaps of critical praise, and a Golden Globe for star Amy Poehler. Created by Greg Daniels and Michael Schur - of The Office, The Good Place, and Brooklyn Nine-Nine fame - the political satire mainly takes place in the parks and recreation department of the fictional town of Pawnee, IN. Heading up the department is Ron Swanson (Nick Offerman), a government-hating, bacon-loving man's man and his deputy director Leslie Knope (Amy Poehler), a government-loving waffle enthusiast. The show follows Leslie's climb up the political ladder, finding humor in her tireless efforts to excite her apathetic colleagues and champion the rights of an ungrateful public.
Joining them are Tom Haverford (Aziz Ansari), a wannabe business mogul; deadpan intern April Ludgate (Aubrey Plaza); Leslie's best friend Ann Perkins (Rashida Jones); sweet but simple Andy Dwyer (Chris Pratt); Donna Meagle (Retta); and Jerry/Larry/Terry/Gerry Gergich (Jim O'Heir). Later seasons of the show feature the health-obsessed Chris Traeger (Rob Lowe) and nerdy accountant Ben Wyatt (Adam Scott), who serve as long-term love interests for Ann and Leslie, respectively.
Parks and Recreation also features plenty of wacky townsfolk, from sleazy fragrance mogul Dennis Feinstein, to Tom's irritating best friend Jean-Ralphio Saperstein, to talk show host and cougar Joan Callamezzo. The show is now considered a beloved sitcom classic for good reason. Below are the most important episodes of Parks and Recreation.
Harvest Festival (Season 3, Episode 7)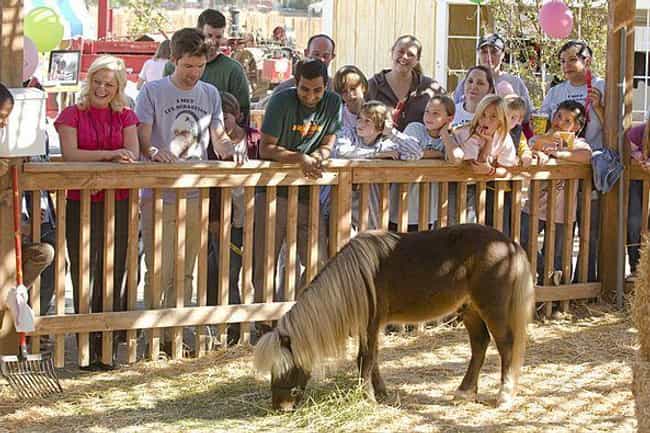 This episode ties together seven episodes of planning as the Harvest Festival finally opens its gates. Though it is the huge success the financially strapped department needs, it suffers a rocky start. Ken Hotate, chief of the Native American Wamapoke Tribe, asks Leslie to move the location of the festival so as not to disturb the burial ground of Wamapoke warriors.
Leslie refuses his request, leading Ken to warn her that the festival could be cursed, later quipping to the cameras that "white people are terrified of curses." Once the local media catches wind of the possible scandal, they create a frenzy, fuelled by a delighted Ken. To make matters worse, famous miniature horse Li'l Sebastian goes missing, though he's eventually spotted at the center of a corn maze. Meanwhile, Leslie compromises with Ken, who stages a fake curse-lifting ceremony.
Ben is visibly impressed by Leslie's tireless work to reach her goals, while April and Andy proclaim their love for one another for the first time.

Was this an important episode?
Ron And Tammys (Season 4, Episode 2)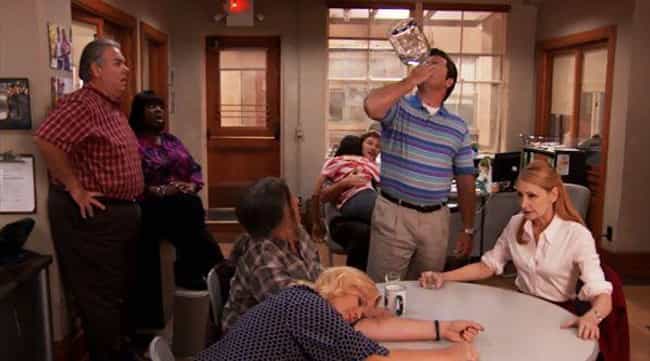 As hinted in the Season 3 finale, Ron's first ex-wife, Tammy 1 (Patricia Clarkson), has returned to Pawnee in hopes of obtaining Ron's stash of gold bars through her IRS job. The audience also learns more about Ron's secretive life - he reveals that Tammy 1 was not only his first wife, but also oversaw his birth, taught him in school, and was the first woman with whom he was ever intimate.
After Tammy 1 asserts her dominance over Ron and everyone else in the parks department, Leslie fights fire with fire, bringing in Tammy 2. Unfortunately, even Tammy 2 is terrified of Tammy 1, forcing Leslie to turn to the Prime Tammy: Ron's mother. Tammy 1 and Prime Tammy engage in a "prairie drink-off" for custody of Ron, which Leslie valiantly joins to gain Ron's independence. The potency of the homemade liquor quickly transforms Leslie into a drunken wreck; however, Ron intervenes to down all of it, liberating himself from all the Tammys.

Was this an important episode?
The Debate (Season 4, Episode 20)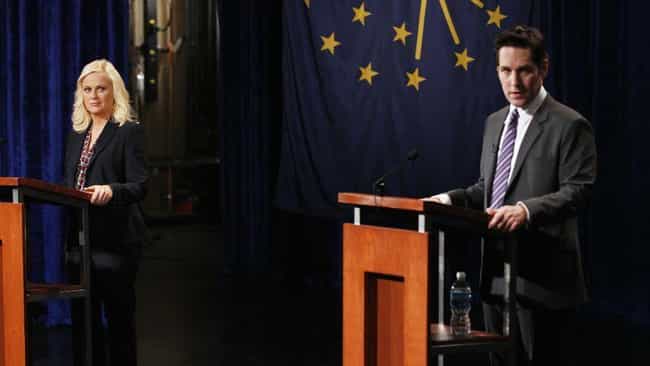 In a decisive episode written and directed by Parks and Rec star Amy Poehler, Leslie debates her biggest rival for the vacant city council position, Bobby Newport (Paul Rudd). Newport is charming, good-looking, and powerful - his family has an economic stranglehold on Pawnee. He also employs the sharp-talking Jennifer Barkley (Kathryn Hahn) as his campaign manager.
Leslie decides she can still outmatch her opponent in a one-on-one battle of words; however, her harsh censures garner Newport sympathy from the audience. Switching tactics, Leslie then uses Newport's own reminder - that his family controls many of the town's jobs - to skewer him for threatening Pawnee into voting for him. Proving her stripes, Leslie secures the majority of votes and achieves her political dream.

Was this an important episode?
The Cones of Dunshire (Season 6, Episode 9)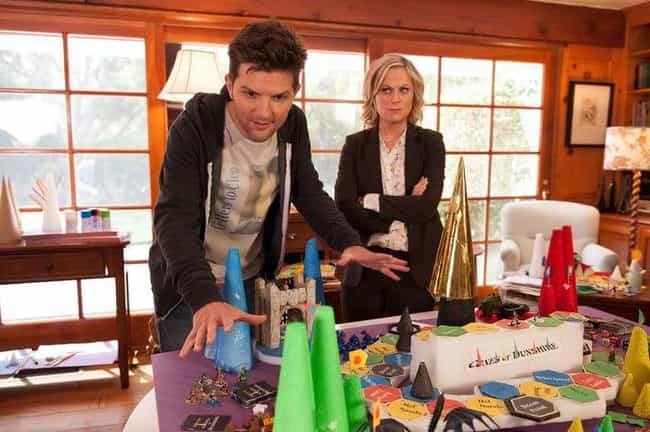 Repeating the gag from "The Comeback Kid," Ben's period of unemployment in Season 6 leads him to pursue some creative but pointless hobbies. In this instance, he creates a board game called "The Cones of Dunshire," roughly modeled on similar strategy games like Risk and Settlers of Catan. Ben explains the many rules to a bewildered Leslie, prompting him to realize he has once again gone off the rails with too much free time.
He donates the game to an accounting firm that offered him a position which he denied twice. On a visit to tech company Gryzzl much later in the series, Ben discovers its employees playing a more polished version of his game, which - unbeknownst to him - has been licensed and mass-produced by the accounting firm to whom he originally gifted the product. By 2025, the game's sequel, "Winds of Tremorrah," has become the "ninth-highest-selling-multi-player figurine-based strategy fantasy sequel game in history."

Was this an important episode?