Entertainment
The Most Important Episodes Of 'Parks And Recreation'

351 votes
45 voters
1.2k views
23 items
List Rules Vote up the episodes that mattered the most to the series overall.
Parks and Recreation ran for seven seasons between 2009 and 2015, amassing a passionate fanbase, heaps of critical praise, and a Golden Globe for star Amy Poehler. Created by Greg Daniels and Michael Schur - of The Office, The Good Place, and Brooklyn Nine-Nine fame - the political satire mainly takes place in the parks and recreation department of the fictional town of Pawnee, IN. Heading up the department is Ron Swanson (Nick Offerman), a government-hating, bacon-loving man's man and his deputy director Leslie Knope (Amy Poehler), a government-loving waffle enthusiast. The show follows Leslie's climb up the political ladder, finding humor in her tireless efforts to excite her apathetic colleagues and champion the rights of an ungrateful public.
Joining them are Tom Haverford (Aziz Ansari), a wannabe business mogul; deadpan intern April Ludgate (Aubrey Plaza); Leslie's best friend Ann Perkins (Rashida Jones); sweet but simple Andy Dwyer (Chris Pratt); Donna Meagle (Retta); and Jerry/Larry/Terry/Gerry Gergich (Jim O'Heir). Later seasons of the show feature the health-obsessed Chris Traeger (Rob Lowe) and nerdy accountant Ben Wyatt (Adam Scott), who serve as long-term love interests for Ann and Leslie, respectively.
Parks and Recreation also features plenty of wacky townsfolk, from sleazy fragrance mogul Dennis Feinstein, to Tom's irritating best friend Jean-Ralphio Saperstein, to talk show host and cougar Joan Callamezzo. The show is now considered a beloved sitcom classic for good reason. Below are the most important episodes of Parks and Recreation.
Harvest Festival (Season 3, Episode 7)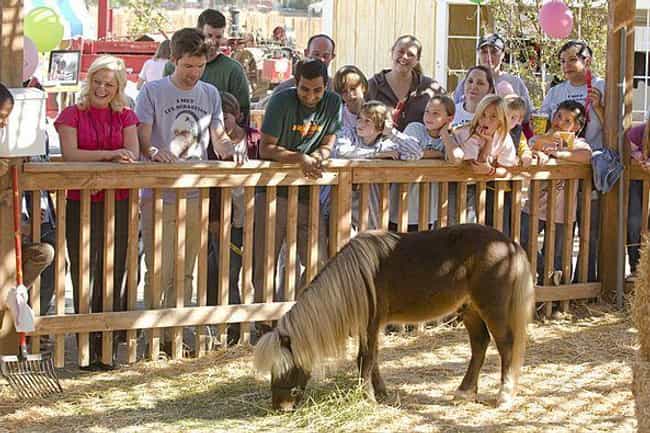 This episode ties together seven episodes of planning as the Harvest Festival finally opens its gates. Though it is the huge success the financially strapped department needs, it suffers a rocky start. Ken Hotate, chief of the Native American Wamapoke Tribe, asks Leslie to move the location of the festival so as not to disturb the burial ground of Wamapoke warriors.
Leslie refuses his request, leading Ken to warn her that the festival could be cursed, later quipping to the cameras that "white people are terrified of curses." Once the local media catches wind of the possible scandal, they create a frenzy, fuelled by a delighted Ken. To make matters worse, famous miniature horse Li'l Sebastian goes missing, though he's eventually spotted at the center of a corn maze. Meanwhile, Leslie compromises with Ken, who stages a fake curse-lifting ceremony.
Ben is visibly impressed by Leslie's tireless work to reach her goals, while April and Andy proclaim their love for one another for the first time.

Was this an important episode?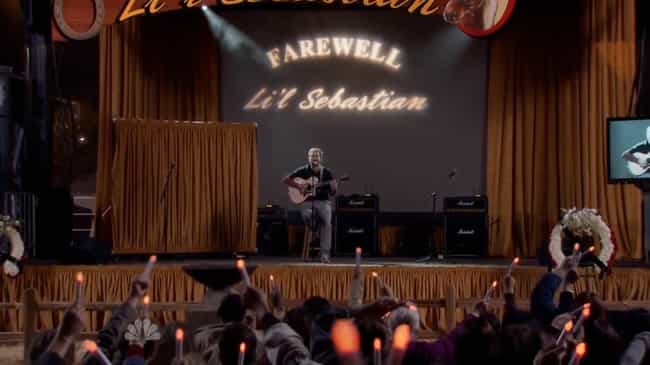 It's a dark day in Pawnee when the town's much-loved mascot Li'l Sebastian passes. The parks department is tasked with the funeral planning, which becomes an oversized affair when Tom sees it as an opportunity to promote his and Jean-Ralphio's new company, Entertainment 720. The ceremony includes a tacky video, a giant flame, and Mouse Rat - Andy's band - performing a song penned by Andy called "5,000 Candles in the Wind."
While organizing the event, Leslie and Ben are spotted kissing by a maintenance worker. Worried that Chris will discover their forbidden workplace relationship, the couple persuades the worker to take the day off as a bribe. Unfortunately, this results in the mismanagement of the giant flame, which turns into a giant fireball and burns off most of Ron's facial hair.
At the episode's close, Leslie is approached to run for political office. When asked if there are any skeletons in her closet, she fails to disclose her affair with Ben.

Was this an important episode?
see more on Li'l Sebastian
The Cones of Dunshire (Season 6, Episode 9)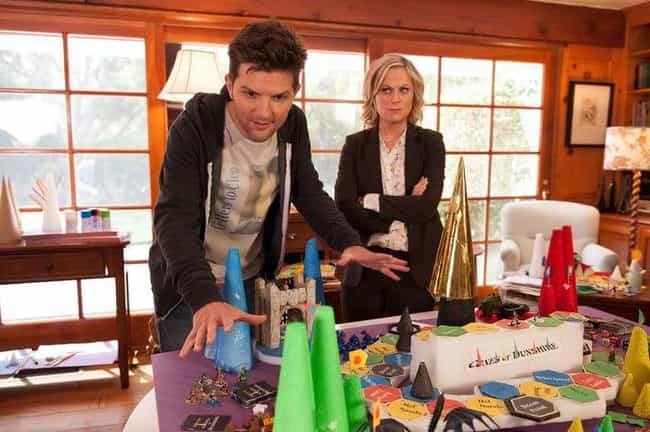 Repeating the gag from "The Comeback Kid," Ben's period of unemployment in Season 6 leads him to pursue some creative but pointless hobbies. In this instance, he creates a board game called "The Cones of Dunshire," roughly modeled on similar strategy games like Risk and Settlers of Catan. Ben explains the many rules to a bewildered Leslie, prompting him to realize he has once again gone off the rails with too much free time.
He donates the game to an accounting firm that offered him a position which he denied twice. On a visit to tech company Gryzzl much later in the series, Ben discovers its employees playing a more polished version of his game, which - unbeknownst to him - has been licensed and mass-produced by the accounting firm to whom he originally gifted the product. By 2025, the game's sequel, "Winds of Tremorrah," has become the "ninth-highest-selling-multi-player figurine-based strategy fantasy sequel game in history."

Was this an important episode?
Andy And April's Fancy Party (Season 3, Episode 9)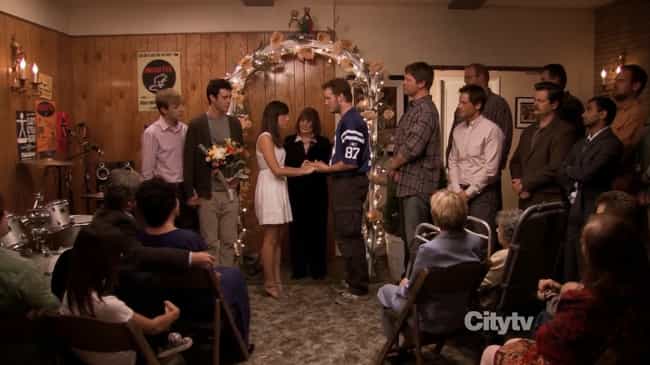 When April and Andy invite their parks department colleagues to their "fancy party," none of them guess the event is actually a surprise wedding. The revelation was meant to be just as surprising for the audience, but NBC accidentally ruined the twist in its Season 3 promotion months before the episode aired.
At the party, Leslie is horrified that Andy and April are making such an important life decision so soon in their relationship. After some sage advice from Ron - and some unusually kind words from April - Leslie realizes she has to let the two do what feels right for them.
Inspired by this, Leslie later plucks up the courage to tell Ben she wants him to stay in Pawnee. To her delight, he tells her he already accepted Chris's job offer, which would allow him to stay in town.

Was this an important episode?