Celebrities
Insane Celebrity Houses You Won't Believe Real Human Beings Actually Live In

Updated November 30, 2017
446 votes
122 voters
11.2k views
12 items
List Rules Vote up the craziest, most lavish homes.
People love reading about the most lavish homes of the rich and famous. Most of us will never make enough money to afford the unbelievable celebrity houses we see on the covers of architectural and design magazines across the world. While many celebs have luxurious mansions, others have out-of-this world, strange, eerie, bizarre and crazy themed houses. Like spaceships and convents sort of crazy.
Some of these houses have crazy amenities that the majority of cities across the world don't even have, while others contain rarities that you'd be far more likely to see in a museum than a private residence.
Robert Downey Jr.'s Windmill House
You might expect the man behind Iron Man to live in a tech-savvy smart house with self-aware robots as live-in servants. But, Robert Downey Jr. went for something much more whimsical … or "windsical." This windmill home looks like it was transplanted into the Hamptons right from the Dutch country side. The 19th-century building was originally constructed as a simple playhouse, with no intent of having someone inhabit it. In a way, the Downey home is still somewhat of a playhouse. With it's bright colors and 15-foot-tall grasshopper statue in the front lawn, it's a child's dream home.
"We wanted something we haven't seen a million times," Robert Downey Jr. told Architectural Digest. "We didn't set out to do something conspicuously wacky. We just enjoy a bit of whimsy and fun. And we definitely don't like boring."
Johnn Travolta's Jumbolair
While many of the homes on this list are extravagant, none of them have their own airport. John Travolta's Jumbolair home, located in Ocala, FL, has a 1.4-mile-long runway in the back of the house. Actors typically make space in their homes for their car collections, which Travolta has plenty of, too. But, Travolta has two airplanes in his backyard, one of which is a 1964 Boeing 707-138B airliner, which was once part of the Qantas fleet. That is a commercial airplane, capable of flying around the world. He also owns a Gulfstream executive jet, because why not. The house even has its own control tower on the roof. Of course, Travolta has his commercial pilot's license and is capable of operating all these planes.
Naomi Campbell's Russian Spaceship
No, this isn't something out of Star Trek. This home was commissioned by Naomi Campbell's ex-boyfriend, Russian billionaire Vladislav Doronin, in 2012. The 28,525 square-foot home is located just outside Moscow. The home was designed by architect Zaha Hadid, who passed away in 2016. It features two 65-foot towers, which offer stunning views of the cold Russian wilderness. It seems like the perfect place to shack up for Campbell, who is an alien-like ice queen herself.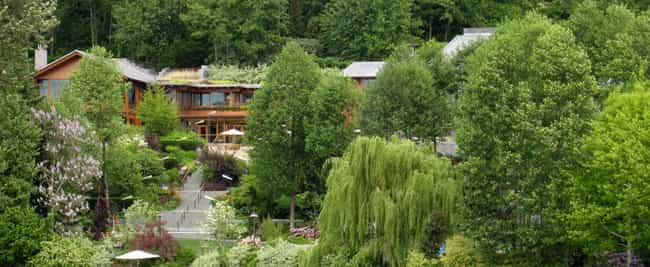 Xanadu 2.0 is Bill Gates's sprawling property in Medina, Washington. With Gates being the second-richest man in the world with a net worth of $89.4 billion, you should expect Xanadu to be impressive. Xanadu is about 66,000 square feet and is valued at $123.54 million.
The house is full of crazy amenities, rarities and amazing technology. Gates supposedly installed over $80,000 worth of computer screens throughout the rooms. Guests can simply touch the screens to change the artwork on the walls of the home to anything they want. The house also features a massive pool with an underwater sound system, so you can do laps and jam out to your favorite tunes. The immense library (2,100 square feet) is also supposedly home to the Codex Leicester, Leonardo da Vinci's manuscript from the 16th-century. Gates bought the manuscript at auction in 1994 for $30.8 million. This home is so incredible, that people have actually paid $35,000 just to take a tour of it.

Agree or disagree?