Total Nerd
Of Course Foreign Countries Have Absolutely Preposterous Theme Parks

Updated July 23, 2019
4.2k votes
1.3k voters
140.1k views
15 items
List Rules Vote up the craziest theme parks you can't believe people pay real human money to go visit.
Crazy theme parks aren't just insanely dangerous. There are numerous unique parks around the world that may leave you scratching your head at the weirdness of it all, but possibly plunking down money for an entrance ticket nonetheless. For example, South Korea has Love Land, a bizarre and larger-than-life erotic theme park on what's known as "honeymoon island." There's a mostly-defunct homage to Oz (which happens to be in the US). And Germany has converted nuclear power plant complete with a swing ride in its hollow core! Yes, there are indeed some super weird theme parks around the world, including, to no one's surprise, a few ripoffs, as well. Everyone wants a good Disney World knockoff, after all. Still, these are some super original, super wild parks around the world, and tons of people actually spend good money to get into them!
What's most interesting about these theme parks in foreign countries is just how different they are from most parks you'd find in the US, whether it be due to different standards of what constitutes fun, or America's hangups about "indecent exposure." But parks around the globe often offer a unique glimpse into other cultures and how they address topics both trivial and historical.
Here are some international theme parks that are way out there and will blow your mind — vote up the most preposterously unique parks of them all!
Survive The Oppression Of Communism At Lithuania's Soviet Bunker And You'll Earn A Free Shot Of Vodka
Gas masks, interrogations, and involuntary medical exams — what fun! At the Soviet Bunker in Vilnius, Lithuania, you get to experience firsthand the hardships of Soviet life under the watchful eye of former soviet soldiers, who still remember how to oppress like the best. "Survival drama," they call it, which gives you a pretty solid idea about just how much fun you'll be having. Who wouldn't want to pay $200 to hangout in a Gulag? The free shot of vodka at the end must feel well-earned.
Dwarf Empire Is A Theme Park For Those Soulless Individuals Who Wish To Witness The Degradation Of Little People
In Kunming, China, exists a magical place called the Kingdom of the Little People, or the Dwarf Empire. Of course, anyone visiting this theme park is very likely not concerned about political correctness. The park is full of little mushroom houses in which dwell real little people who emerge every couple hours to perform, singing and dancing and generally just acting like real-life Oompa Loompas. "This park must have opened decades ago and surely can no longer exist," you must be thinking. But you're wrong. This park opened in 2010. The fact that the employees of the park are there of their own volition doesn't make it any less exploitative or appalling.
BonBon Land Is A Celebration Of Candy, Confections, And Farts.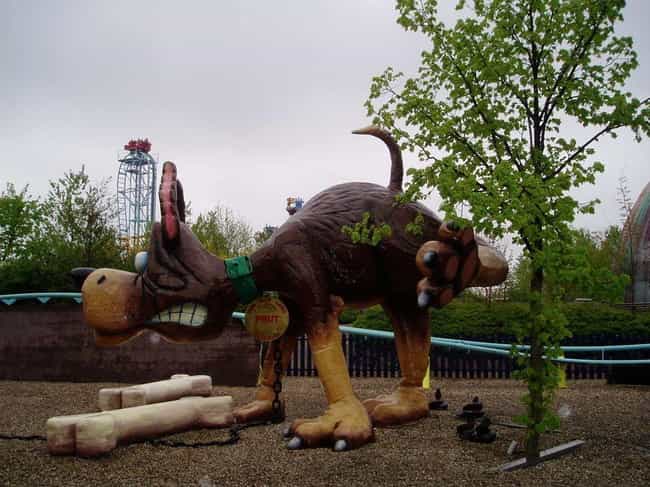 "In Denmark, on the island of Zealand, a 45-minute drive from Copenhagen, lies a disgusting and magical world every family should experience," reads the opening line in Atlas Obscura's exploration of BonBon Land. And disgusting it is. In the park one can find a statue of a cow with human breasts spilling out of her dress, a mural depicting a seagull crapping in an alligator's mouth, and a giant sculpture of a farting dog.
Danish confectioner Michael Spang owned a successful candy business, and decided to step up his marketing game by building a theme park dedicated to his creations in 1992. If you think the toilet imagery is out of place, discordant, or even anathema to his sweet treats, you're wrong. His candies boasted such enticing names as Seagull Droppings, Large Boobs, Pee Diapers, and Hundeprutter ("Dog Fart"). So the wild and gross sights of the park are actually right in line with this dude's candy business, which proved successful because kids are gross.

Is this preposterous?
Hacienda Nápoles Is Pablo Escobar's Former Estate, Somewhere Between Disney's Animal Kingdom And A CSI-Themed Nightmare
Hacienda Nápoles is the defunct estate-turned-theme park of deceased drug kingpin Pablo Escobar, located 150 miles outside of Bogotá, Colombia. The sprawling complex is nearly eight square miles of roving now-feral hippos, dinosaur sculptures, and an exhibit celebrating el Triunfo del Estado (the Triumph of the State) — the centerpiece of which is a giant picture of a Colombian police officer posing with the freshly slain corpse of Escobar himself. The compound was named after Naples, Italy, and the drug lord's apparent love of European culture, which is also why he built a bullfighting ring on the premises.
As families frolic through the park, most prominent above all else — above even the statue of a triceratops eviscerating a t.rex or the garden of burned-out car skeletons in such a state after a bombing by a rival drug cartel — is the specter of a man who murdered thousands, which earned him a virtually limitless fortune, allowing him to build this somehow-even-more-nightmarish version of Neverland Ranch.