Entertainment
27 Easter Eggs Hidden in Pixar's Inside Out

Updated June 1, 2020
1.8k votes
427 voters
38.2k views
27 items
Have you seen Pixar's Inside Out yet? If you haven't, what in the world have you been up to? Pixar managed a huge return to form with Inside Out. It had the heart and emotionality of the first few heartbreaking minutes of Up, the memorable team of characters of the Toy Story films, the spirit of Finding Nemo, the inventiveness of Wall-E, and the animation and fun of The Incredibles. In short, it wasn't Cars 2 and, don't worry, it as full of Easter eggs that eagle-eyed Pixar fans surely spotted.
Inside Out is an incredibly dense film with heart, soul, and a bevy of Easter eggs, hidden features, and references to other Pixar movies. It, being a Pixar film, also has an incredible amount of Easter Eggs. Short of maybe Marvel Studios, no one does Easter eggs like Pixar and they did not disappoint with their latest offering. The Pixar Pizza Truck? Check. A113? Check. John Ratzenberger? Check. And that's just the tip of the iceberg.
These are the best Easter eggs from Pixar's
Inside Out
! Vote up the best hidden features from this instant classic Pixar film below!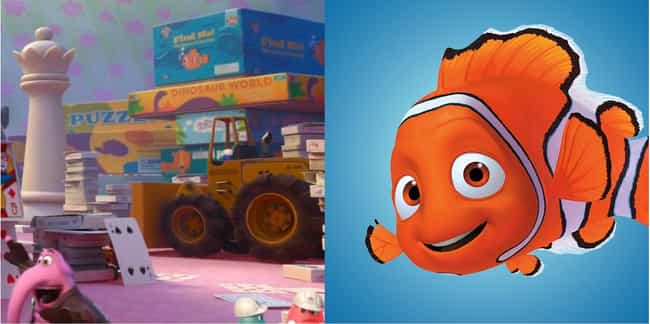 About halfway through the movie, Joy is making her way through Imagination Land. If you look in the background, there is a stack of old board games. Right on top is a blue box, for a game is called "Find Me" which has a big picture of Nemo on it.
That Chinese Food Is Everywhere in Pixar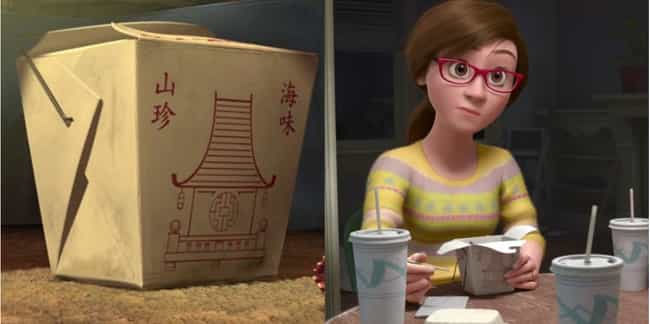 During the dinner scene where Riley has her first meltdown (when Anger takes over), and when we meet the emotions in the parents' heads, they are all eating Chinese Food.

You may just recognize the logo on the boxes; it's actually a very long-running Pixar Easter egg. Most notably seen in A Bug's Life as Manny's Chinese Cabinet of Metamorphosis, that same food box has also appeared in Toy Story 2, Monsters, Inc., and Ratatouille.
John Ratzenberger: The Voice of Pixar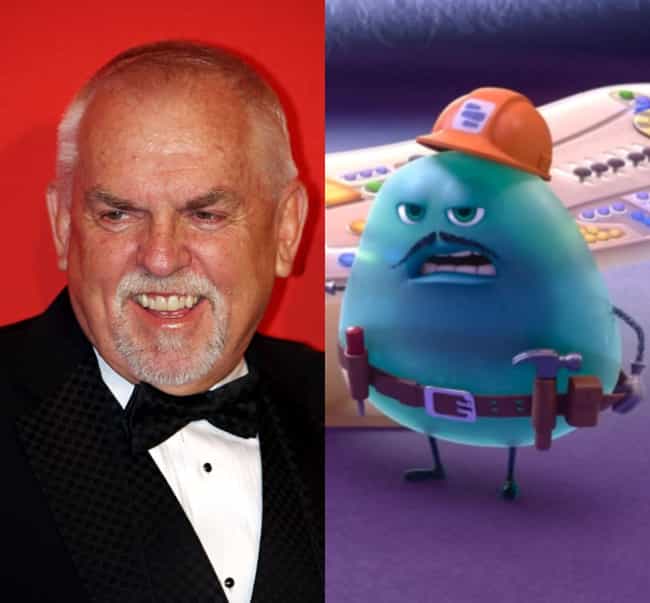 John Ratzenberger still hasn't missed a Pixar film yet. He appears in Inside Out as a mind worker who installs a new control panel at the end of the film. He previously played everyone from Hamm in Toy Story to the Yeti in Monsters, Inc. and Monsters University. He's also the waiter in Ratatouille, the talking school of fish in Finding Nemo, Mack in Cars, John in WALL-E, P.T. Flea in A Bug's Life, and so, so much more.
Joy's Coloring Is Sneaky Foreshadowing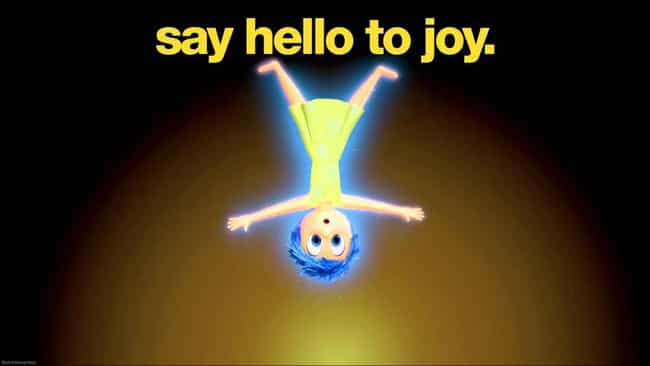 The film ends with the acceptance that sadness is an important part of life; that should be welcomed.


All of the emotions exist in block colors: Anger is red, Sadness is blue, Fear is purple, and Disgust is green. The only exception is Joy, who not only has blue hair, but also a strong blue glow.

That essentially means that Joy has always been slightly tinged with Sadness, which nicely hints at the third act realization.