2018
All The People Who Won Our Collective Hearts In 2018

Updated September 13, 2018
524 votes
214 voters
4.3k views
11 items
List Rules Vote up the regular folks who captured the hearts of all of us this year.
Recalling all of the positive news stories of 2018 may not always seem like the easiest task. From natural disasters to political turmoil, 2018 has had no shortage of tragedy. However, amid all the sadness across the globe this year, there have been people out there trying to do their part to make the world a better place, even in a small way. So, before you throw up your hands in frustration, do yourself a favor and check out these people who won our hearts in 2018.
The best stories of the year can help bring you joy on a rough day when the headlines seem exclusively tragic. Some stories involve people overcoming personal tragedies and channeling their energy towards activism and charity, like the survivors of the Marjory Stoneman Douglas High School shooting or the late Claire Wineland. However, not all inspirational stories are inherently linked to something tragic. There are some stories and people who went viral that provided simple joy in a dark world. On occasion, all it takes is a lost raccoon's rescue to put a smile on your face.
Which stories do you find the most heartwarming? Vote up the most uplifting stories of the year below.
Beloved YouTube personality Claire Wineland suffered from cystic fibrosis, a fatal genetic disorder that causes a buildup of mucus in the lungs. Wineland was known for uploading frank videos about death and dying and even started a foundation, Claire's Place Foundation, to help families living with cystic fibrosis. She announced in 2018 she was planning to undergo a double lung transplant to extend her life. In August, she underwent a transplant that seemed initially successful. However, she suffered a massive stroke shortly after the surgery and passed away on September 2 after being removed from life support.
Wineland continued to inspire after her death, with thousands of people expressing grief across social media. She was also an organ donor, and her mother announced Wineland's kidneys saved the lives of two people. To keep her message of hope and perseverance alive, Oscar winning filmmaker Nicholas Reed announced he planned to make a documentary about Wineland and donate any money earned to Claire's Place.
This May, Mamoudou Gassama, an undocumented French immigrant from Mali, earned a place in hearts around the world when he risked his life to save a young boy. It all began when he came upon the horrifying scene of a four-year-old clinging for his life to the balcony of a fourth story Paris apartment building.
It didn't take much to see that the boy's time was limited, so Gassama sprung into action and scaled the building in order to pull the boy back to safety. The video of his heroic rescue quickly went viral and earned him the nickname "Spider-Man." Quickly sensing that this was a guy they'd like to keep, the French government promptly offered Gassama not only citizenship, but a job in rescue services.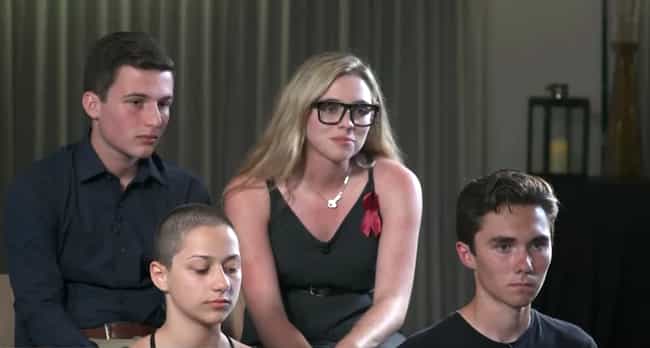 The Student Protestors From Marjory Stoneman Douglas High
The students of Marjory Stoneman Douglas High School decided to take action after 17 of their friends and faculty members where gunned down in February. Ever since, the student activists have been rallying support as fierce voices for gun control. In March, they led a historic march in Washington, D.C. to help spread the message. They also helped push through a law in Florida raising the minimum age requirements when it comes to purchasing firearms. In June 2018, a handful of survivors decided to spend their summer break on a 20-state bus tour encouraging voters to opt for candidates in favor of stricter gun laws during the November election.
In addition to their strength in activism, survivors have inspired the public with their resiliency in other ways. One survivor, Maddy Wilford, who required surgery for life threatening injuries she suffered during the shooting, gained a newfound respect for medicine. She ended up working as an intern at the hospital that treated her, her way of giving back to the institution that saved her life.

Is this inspiring?
The Trapped Thai Soccer Team
On June 23, 12 members of a Thai soccer team and their assistant coach entered a cave in rural Thailand and soon found themselves trapped inside by raising monsoon rain water. When they were finally discovered alive on July 2 by a pair of divers, the story of the trapped 13 quickly swept the world.
In the following days, an international rescue mission ensued, drawing the attention of hundreds of cave experts, rescuers, and military personnel from various countries. The rescue job proved difficult as narrow passageways, limited visibility, and the threat of another rainstorm made entering the cave risky. One Thai Navy SEAL even died when he ran out of oxygen attempting a rescue mission.
Thankfully, SEALs eventually rescued the 12 boys and their coach. By July 10, everyone was safely out of the cave. After a brief period of hospitalization, the boys reunited with their families safe and sound on July 18.