Entertainment
Inspiring Movie Speeches

1.7k votes
509 voters
115.3k views
18 items
Inspiring movie speeches can be found in so many films, it's really hard to narrow down the top ones. These, however, are some of the absolute best, most inspiring, and highly-motivational speeches in movie history. From principals trying to inspire students to reach their potential to coaches attempting to get their teams fired up to great leaders (both fictional and non-fictional) striving to prepare their troops for epic battles, these speeches are worth remembering and recognizing.
What are the most inspiring monologues from movies? Do you prefer inspirational sports monologues to great Disney movie speeches? Would you be ready to go into battle after hearing that iconic Braveheart monologue? See any glaring omissions? Add them. And be sure to vote on your favorites.
back to page 1
"Anybody know what this place is? This is Gettysburg. This is where they fought the battle of Gettysburg. Fifty thousand men died right here on this field, fightin' the same fight that we're still fightin' amongst ourselves today.
This green field right here, painted red, bubblin' with the blood of young boys. Smoke and hot lead pourin' right through their bodies. Listen to their souls, men. I killed my brother with malice in my heart. Hatred destroyed my family. You listen, you take a lesson from the dead.
If we don't come together right now on this hallowed ground, we too will be destroyed, just like they were. I don't care if you like each other right now, but you will respect each other. And maybe - I don't know, maybe we'll learn to play this game like men."
Should this be higher or lower?
see more on Remember the Titans
"Men, all this stuff you've heard about America not wanting to fight - wanting to stay out of the war, is a lot of horse dung. Americans traditionally love to fight. All real Americans love the sting of battle. When you were kids, you all admired the champion marble shooter, the fastest runner, big league ball players, the toughest boxers. Americans love a winner and will not tolerate a loser. Americans play to win all the time. I wouldn't give a hoot in hell for a man who lost and laughed. That's why Americans have never lost and will never lose a war, because the very thought of losing is hateful to Americans.
Now, an army is a team - it lives, eats, sleeps, fights as a team. This individuality stuff is a bunch of crap. The bilious [people] who wrote that stuff about individuality for the Saturday Evening Post don't know anything more about real battle than they do about fornicating. Now, we have the finest food and equipment, the best spirit, and the best men in the world. You know, by God, I actually pity those poor [people] we're goin' up against. By God, I do. We're not just gonna shoot the [person], we're going to cut out their living guts and use them to grease the treads of our tanks. We're going to murder those lousy Hun...by the bushel.
Now there's another thing I want you to remember. I don't want to get any messages saying that we are holding our position. We're not holding anything. Let the Hun do that. We are advancing constantly and we're not interested in holding onto anything except the enemy. We're going to hold onto him by the nose and we're gonna kick him in the [behind]. We're gonna kick...him all the time and we're gonna go through him like crap through a goose.
Now, there's one thing that you men will be able to say when you get back home, and you may thank God for it. Thirty years from now when you're sitting around your fireside with your grandson on your knee, and he asks you: 'What did you do in the Great World War II?', you won't have to say: 'Well, I shoveled s--t in Louisiana.'
All right now...you know how I feel - and I will be proud to lead you wonderful guys into battle anytime, anywhere. That's all."
Should this be higher or lower?
see more on Patton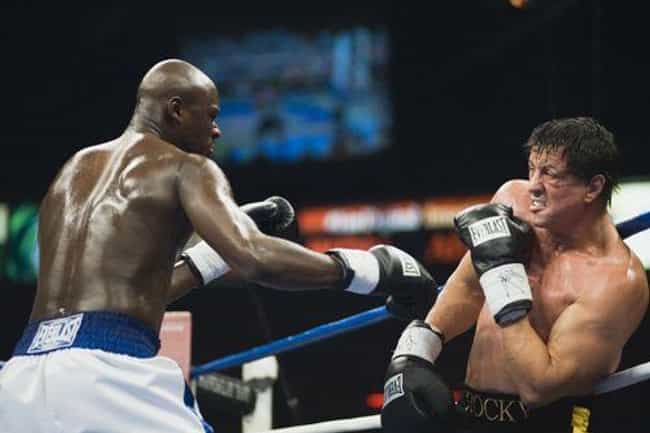 "Let me tell you something you already know. The world ain't all sunshine and rainbows. It's a very mean and nasty place and I don't care how tough you are it will beat you to your knees and keep you there permanently if you let it. You, me, or nobody is gonna hit as hard as life. But it ain't about how hard ya hit. It's about how hard you can get hit and keep moving forward. How much you can take and keep moving forward.
That's how winning is done! Now if you know what you're worth then go out and get what you're worth. But ya gotta be willing to take the hits, and not pointing fingers saying you ain't where you wanna be because of him, or her, or anybody! Cowards do that and that ain't you! You're better than that!
I'm always gonna love you no matter what. No matter what happens. You're my son and you're my blood. You're the best thing in my life. But until you start believing in yourself, ya ain't gonna have a life."

Should this be higher or lower?
see more on Rocky Balboa
"I'm sorry, but I don't want to be an emperor. That's not my business. I don't want to rule or conquer anyone. I should like to help everyone if possible: Jew, Gentile, black men, white. We all want to help one another. Human beings are like that. We want to live by each others' happiness, not by each other's misery. We don't want to hate and despise one another. In this world, there's room for everyone and the good earth is rich and can provide for everyone. The way of life can be free and beautiful, but we have lost the way. Greed has poisoned men's souls, has barricaded the world with hate, has goose-stepped us into misery and bloodshed.
We have developed speed, but we have shut ourselves in. Machinery that gives abundance has left us in want. Our knowledge has made us cynical, our cleverness, hard and unkind. We think too much and feel too little. More than machinery, we need humanity. More than cleverness, we need kindness and gentleness. Without these qualities, life will be violent and all will be lost. The aeroplane and the radio have brought us closer together. The very nature of these inventions cries out for the goodness in men, cries out for universal brotherhood for the unity of us all.
Even now, my voice is reaching millions throughout the world, millions of despairing men, women, and little children, victims of a system that makes men torture and imprison innocent people. To those who can hear me, I say: 'Do not despair.' The misery that is now upon us is but the passing of greed, the bitterness of men who fear the way of human progress. The hate of men will pass, and dictators die, and the power they took from the people will return to the people. And so long as men die, liberty will never perish.
Soldiers! Don't give yourselves to brutes. Men who despise you, enslave you, who regiment your lives, tell you what to do, what to think and what to feel! Who drill you, diet you, treat you like cattle, use you as cannon fodder! Don't give yourselves to these unnatural men - machine men with machine minds and machine hearts! You are not machines! You are not cattle! You are men! You have the love of humanity in your hearts! You don't hate! Only the unloved hate, the unloved and the unnatural. Soldiers! Don't fight for slavery! Fight for liberty!
In the seventeenth chapter of St. Luke, it is written the kingdom of God is within man, not one man nor a group of men, but in all men! In you! You, the people, have the power, the power to create machines, the power to create happiness! You, the people, have the power to make this life free and beautiful, to make this life a wonderful adventure. Then in the name of democracy, let us use that power. Let us all unite. Let us fight for a new world, a decent world that will give men a chance to work, that will give youth a f*ture and old age a security.
By the promise of these things, brutes have risen to power. But they lie! They do not fulfill their promise. They never will! Dictators free themselves but they enslave the people! Now let us fight to fulfill that promise! Let us fight to free the world! To do away with national barriers! To do away with greed, with hate and intolerance! Let us fight for a world of reason, a world where science and progress will lead to all men's happiness. Soldiers, in the name of democracy, let us all unite! (Cheers)
Hannah, can you hear me? Wherever you are, look up, Hannah! The clouds are lifting! The sun is breaking through! We are coming out of the darkness into the light! We are coming into a new world, a kindlier world, where men will rise above their hate, their greed and brutality.
Look up, Hannah! The soul of man has been given wings and at last he is beginning to fly. He is flying into the rainbow! Into the light of hope! Into the f*ture, the glorious f*ture that belongs to you, to me, and to all of us. Look up, Hannah! Look up!"
Should this be higher or lower?
see more on The Great Dictator