nature
Hello Kitty Is Not A Cat! The Internet Reacts

438 votes
66 voters
7.2k views
32 items
List Rules The funniest internet reactions, Reddit posts, tweets about the news that Hello Kitty is not a cat.
To be fair, "Hello Kitty is not a cat" has been huge news because her last name is "Kitty", she has whiskers, a cat nose, cat ears and looks exactly like a cat. If she weren't such a huge cultural icon, this would be no big deal. A minor outrage to Japanese school girls and grown women with no taste that would've been a flash in the pan instead of the constant reminder that a cartoon character isn't exactly what we thought "she" was. She's actually a small girl, though, as it turns out. Not a human but a girl. Hello Kitty's real name is Kitty White, which makes sense, because she's a white kitten... or... girl now I guess? She's also apparently BRITISH, which is another crazy new fact about Hello Kitty that we learned this week.
As soon as the news hit, 4Chan, Reddit and Twitter exploded with reactions to the news that, as it turns out, according to experts (?), Hello Kitty is no longer a cat.
Official Katy Perry Reassures Us We Haven't Lost EVERYTHING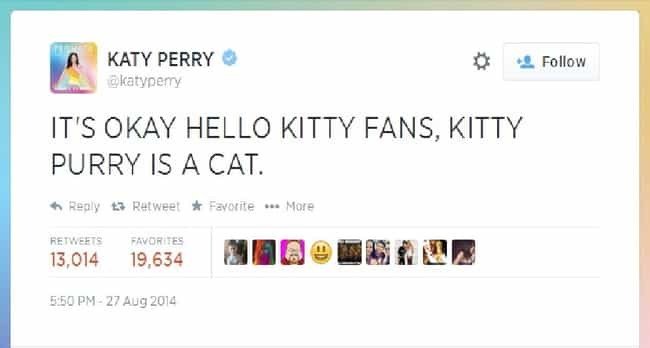 Agree or disagree?