Entertainment
Into the Woods Movie Quotes

59 votes
33 voters
6.7k views
11 items
"Into the Woods" Movie Quotes intertwine a number of classic Grimm Brothers fairy tales into one story about a baker and his wife who are seeking a child. The musical fantasy film was directed by Rob Marshall using a screenplay James Lapine adapted from the Broadway musical of the same name. Disney's "Into the Woods" opened in theaters on December 25, 2014.
In "Into the Woods," the story of The Baker (James Corden) and his wife (Emily Blunt) and their desire for a child is told. The Baker and his wife have been cursed by an evil witch (Meryl Streep) that is preventing them from having a child. The Witch offers to reverse the curse, but only if The Baker and his wife venture into the woods to collect a list of rare items. They take on the task.
In the woods, the couple encounters a number of characters, each of whom possesses an item they need to reverse the curse. They meet Jack (Daniel Huttlestone) and trade him beans—for his beanstalk—in exchange for his cow. Little Red Riding Hood (Lilla Crawford), who is being hunted by The Wolf (Johnny Depp) has the red cape they need while Rapunzel (Mackenzie Mauzy) possesses the hair of gold. Cinderella (Anna Kendrick) and her Prince (Chris Pine) are there too with Cinderella holding the magic slipper the couple needs. But through their adventures, the Baker and his wife discover more than these characters, but also a deeper understanding of responsibility and what happens when you wish for something.
"Into the Woods" joins a number of other great movies in theaters for Christmas 2014 including
"The Interview,"
"Unbroken,"
"American Sniper,"
"The Gambler,"
"The Hobbit: The Battle of the Five Armies,"
"Annie,"
"Night at the Museum: Secret of the Tomb,"
"Mr. Turner,"
"Life Partners,"
"Comet,"
"The Hunger Games: Mockingjay Part 1,"
and
"Horrible Bosses 2.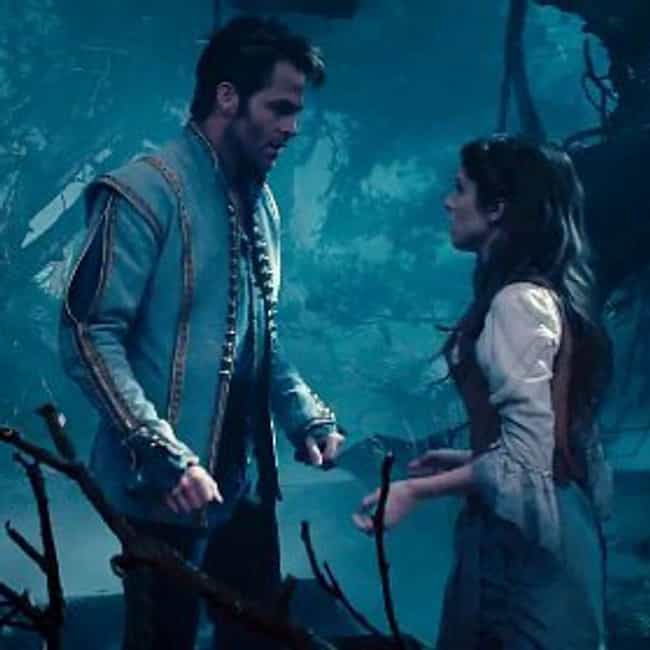 Cinderella: "If you love me, why did you stray?"
Cinderella's Prince: "I was raised to be charming, not sincere."
Cinderella is crushed when her Prince strays. In his defense, he was never quite raised to be faithful, only charming.

Should this be higher or lower?
Cinderella: "I wish…"
Little Red Riding Hood: "I wish…"
Jack: "I wish…"
Each of the characters, all from various Grimm Brothers fairy tales, all wish for something or another. As their stories intertwine, viewers get to watch as each hope for their wishes to be granted.
Should this be higher or lower?
We're Going to Do It Together
Baker's Wife: "We have one chance. Don't you see that?"
The Baker: "If we're going to get through this, we're going to do it together."
The Baker and his wife know that their tasks ahead are not going to be easy and they only have one chance to succeed. To accomplish this, as The Baker points out, they'll need to work together.
Should this be higher or lower?
The Witch: [singing] "Stay with me. Princes wait there in the world, it's true. Princes, yes, but wolves and humans too. Stay at home. I am home. Who out there could love you more than I? What have there that I cannot supply? Stay with me."
The Witch sings to Rapunzel, who is wishing to leave her for the world outside. The Witch cannot understand what Rapunzel could want that she cannot provide, besides freedom, of course.
Should this be higher or lower?