Total Nerd
The Most Disgusting Moments On 'It's Always Sunny In Philadelphia'

298 votes
50 voters
2k views
12 items
List Rules Vote up the times you wanted to look away from the screen.
Whether you love them or hate them, the Gang from It's Always Sunny in Philadelphia aren't going anywhere. The cult comedy classic has been approved for a 14th season, making it the longest-running sitcom in history. Over the years, the group has gotten into all sorts of unethical shenanigans that would make the Seinfeld crew look like a bunch of saints. They've become addicted to crack, ruined the life and reputation of a priest, and tormented each other in a myriad of cruel ways. It's been a delight, but sometimes they go a little too far.
It's Always Sunny in Philadelphia can be gross at times. Okay, that's an understatement. This show can be downright filthy, with scenes that will both make you laugh and make you want to take a shower. Over the course of the seasons, the Paddy's Pub crew seems to one-up themselves with the grossness whenever possible. These are all the most disgusting scenes from It's Always Sunny in Philadelphia. Which one do you think is the grossest?
When Frank Crawled Out Of The Couch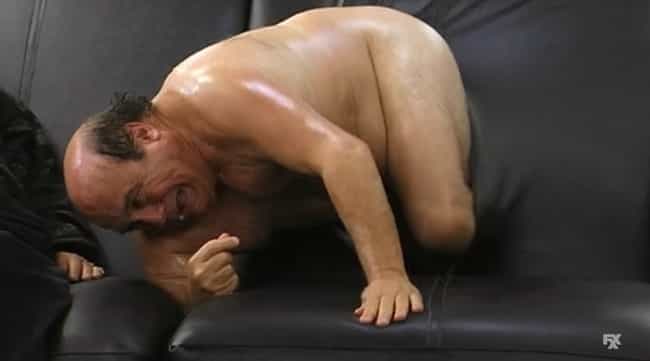 Episode Number: Season 6, Episode 13
Episode Title: It's a Very Sunny Christmas
This A Christmas Carol inspired episode is a twisted telling of an old classic. To get back at Frank for years of bad Christmases, Dennis and Dee decide they're going to make him pay by pulling a "Christmas Carol" on him. They show him his past, present, and future in different ways to make him see what people really think about him. At one point, Frank gets sewn into a couch at his old workplace Christmas party so he can hear what people say. He nearly suffocates in the couch and is forced to climb out, sans clothes and gasping for air.

Is this disgusting?
When Frank Takes A Bath In Hand Sanitizer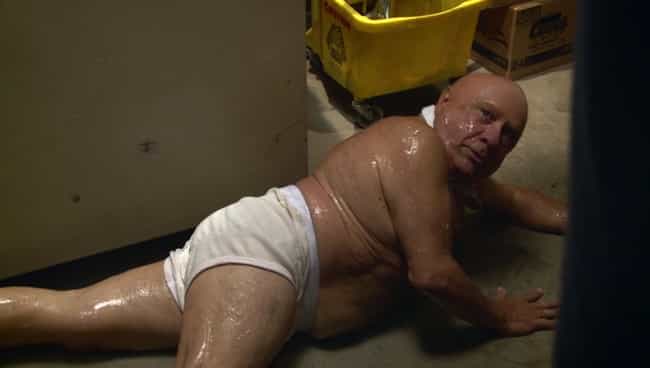 Episode Number: Season 9, Episode 7
Episode Title: The Gang Gets Quarantined
While the Gang prepares an acapella act to impress Boyz II Men, Frank comes in with news of the worst flu to ever hit Philadelphia. The group decides to quarantine themselves in order to escape the flu, but paranoia soon begins to overtake Frank's mind. In an effort to ensure that he remains "pure," Frank slathers himself with hand sanitizer and crawls around the bar like an obscene old man-baby.

Is this disgusting?
When Charlie Vomits Fake Blood All Over His Date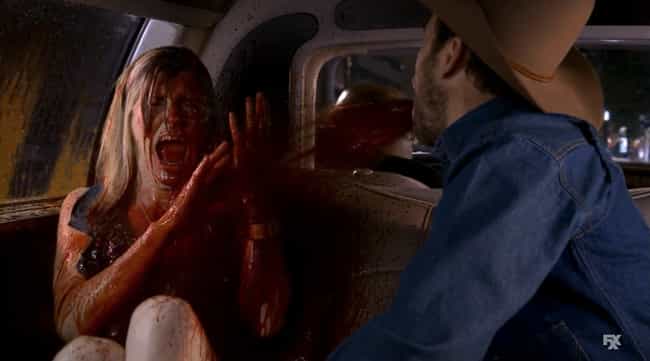 Episode Number: Season 4, Episode 2
Episode Title: Frank's Pretty Woman
Frank introduces the Gang to his new girlfriend, a sex worker named Roxie. Charlie doesn't like that Frank is dating someone only interested in his money, so he signs him up for a dating website and the two concoct a scheme. Charlie plays the role of the target's date, acting like a wealthy Texan with Frank as his chauffer. The plan is for Charlie to get sick and for Frank to take his place on the date, but Charlie ends up swallowing a bunch of blood packets and gets sick for real. He pukes fake blood all over his date, ruining Frank's shot with her.

Is this disgusting?
When A Dog Carcass Falls Out Of The Casket At A Fake Baby Funeral
Episode Number: Season 7, Episode 4
Episode Title: Sweet Dee Gets Audited
After Dee's pregnancy, she gets $30,000 for being a surrogate mother. This doesn't satisfy her, however, and she decides to declare the child she gave up as a dependent on her tax forms to get tax breaks. This attracts the attention of the IRS, and everyone scrambles to try to get Dee off the hook.
Dennis suggests that Dee convince the IRS agent that the baby passed, and everyone goes along with the plan. They hold a fake funeral for the baby and Frank, Charlie, and Mac put a dog carcass inside the tiny casket. Angry at Frank, Mac and Charlie decide to dump out the body in the middle of the faux funeral, disgusting the IRS agent and everyone in attendance.

Is this disgusting?