READ

Ja Rule Put On A Music Festival Called FyreFest And It Was A Massive Disaster

FyreFest apparently wasn't so #lit.
The music festival – officially called Fyre Festival – was the brainchild of rapper Ja Rule (who, if you recall, was put in prison for tax evasion in 2013). It was touted as a beach getaway in the Bahamas for the elite, complete with gourmet meals, luxurious accommodations, and an aggressive amount of opportunities to make attendees' Instagram friends jealous. People paid upwards of $12,000 to attend – which is worth approximately 30 general admission Coachella tickets, or a used 2015 Ford Focus.
But it didn't go down quite like that. Instead, festival goers were essentially stranded on a rainy Bahamian island and treated much like refugees in a natural disaster. #Goals.
It's unclear how the whole debacle happened, but it has definitely left a bunch of people who paid a lot of money feeling as though maybe Ja Rule isn't so real.
So What Is (Or Should We Say Was) Fyre Festival?
Despite having little relevance in pop culture for the past five years, Ja Rule somehow convinced a slew of investors to get behind his Fyre Festival. It was supposed to be a combination of music, food, art, and sunshine on the private island of Fyre Cay in the Bahamas. The starting rate for a ticket was $1,500, but, for a VIP package, it cost about $12,000.
Some of the acts scheduled to perform: Migos, Lil Yachty, Blink-182, Disclosure, and Major Lazer. Celebs like Kendall Jenner and Bella Hadid promoted the event, making it look like some sort of Ja Rule music video equipped with jet skis, sexy models in bikinis, and mega yachts.
Festival Goers Were Met With The Opposite Of Luxury – Refugee Camps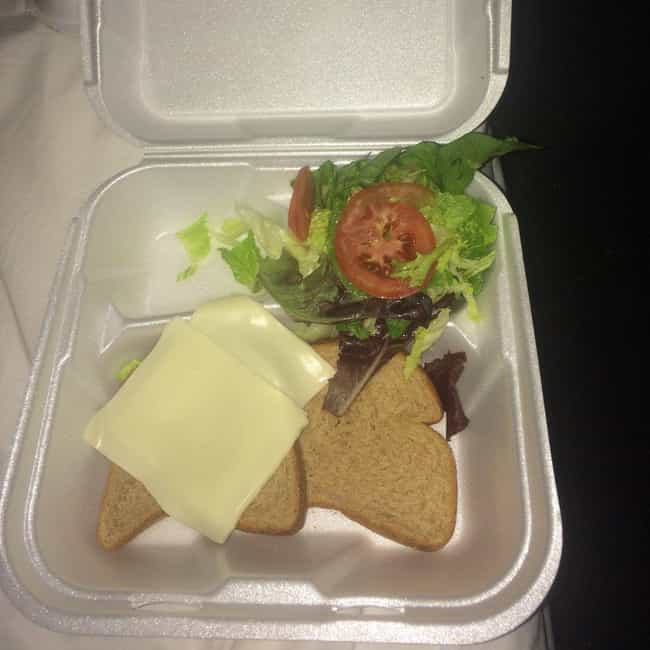 When guests started arriving on April 27, it became incredibly clear that this wasn't the festival people signed up for. Despite being promised the lap of luxury, festival goers were essentially shuffled into makeshift huts, given rations of food (some reported there wasn't enough on the island), and told they couldn't leave. The state of things was compared to that of refugee camps after a natural disaster. To add to the enjoyment, there was a reported pack of wild dogs roaming the premise for scraps. Luxury!
Organizers couldn't shuffle people back to Miami, FL, fast enough, leaving some people stranded on the island until they could catch a flight. One man documented his struggles leaving the island on Instagram, saying he and his fellow passengers were told to board and unboard a plane multiple times.
Meanwhile, organizers posted a message on their website, first saying the festival had been postponed because of "unseen circumstances" before cancelling it outright. Ja Rule was not so calm, however, writing a now-deleted post on his Twitter deflecting the blame. "I truly apologize as this is NOT MY FAULT [sic]... but I am taking responsibility I'm deeply sorry to everyone who was inconvenienced by this."
Social Media Went IN On The Event Because Schadenfreude Is Real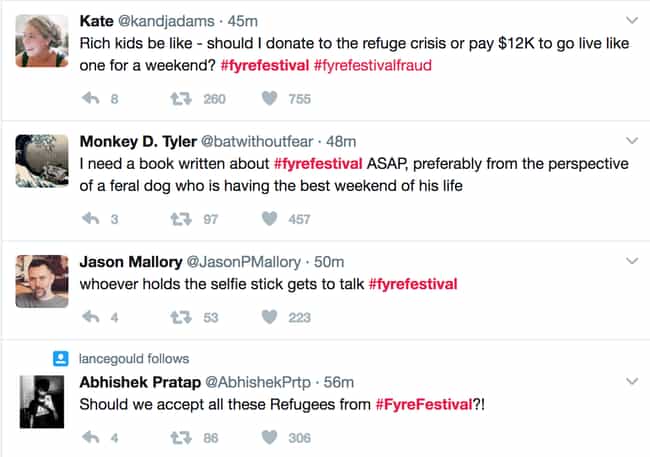 As the festival started imploding, spectators on social media were filled with schadenfreude – basically feeling joy from other's pain. Jokes were flying left and right, and people couldn't get enough. Memes, tweets, and even fake Fyre Festival accounts were calling the event a Hunger Games for rich kids. Others likened it to a Lord of the Flies: 2017 Instagram Influencers Edition.
It just goes to show you that in the face of true tragedy, the Internet is always hilarious.