Youtube
A Complete Timeline Of Tana Mongeau And Jake Paul's Whirlwind Relationship

July 29, 2019
3.3k views
15 items
Controversial YouTubers Jake Paul and Tana Mongeau decided to finish out the month of July 2019 with a bang, by getting married in Las Vegas.
Now, the Jake Paul and Tana relationship has baffled many, including the influencer's own brother, Logan Paul. After the proposal in Las Vegas in June 2019 at Tana's 21st birthday, many questioned, "Are Jake and Tana actually engaged?" And the answer is - we don't know. It appears that they are, as the Jake and Tana wedding took place July 28, 2019. But there's still much a lot of evidence pointing to the fact that this may all be a marketing ploy for the couple who are infamously down to do whatever it takes to get clicks and subscribers on YouTube.
So, when did Jake and Tana get engaged? The pair surprised everyone when Jake brought out a lavish cake for Tana's 21st topped with a giant diamond ring and emblazoned with the question, "Will you marry me, Tana?" Despite the fact that they hadn't been together for very long - and fans weren't even sure if their relationship had been real before - she said yes, and so Jake Paul and Tana Mongeau became engaged.
The marketing began immediately, with the pair selling "Jana" merch and Tana even revealing that MTV was adding episodes to her limited series Tana Turns 21 so they could capture the wedding. The Jake Paul and Tana Mongeau wedding itself was making the duo money, as they streamed it for fans on the Halogen app, for a fee of $49.99. Mind you, the Royal Wedding could be watched for free, but much like the money-minded Kim Kardashian, this YouTube couple was not going to pass up an opportunity for some cash.
If you're still confused about how quickly this relationship developed and find yourself wondering, when did Jake and Tana start dating? You're not alone. Read below for the full Jake Paul and Tana relationship timeline.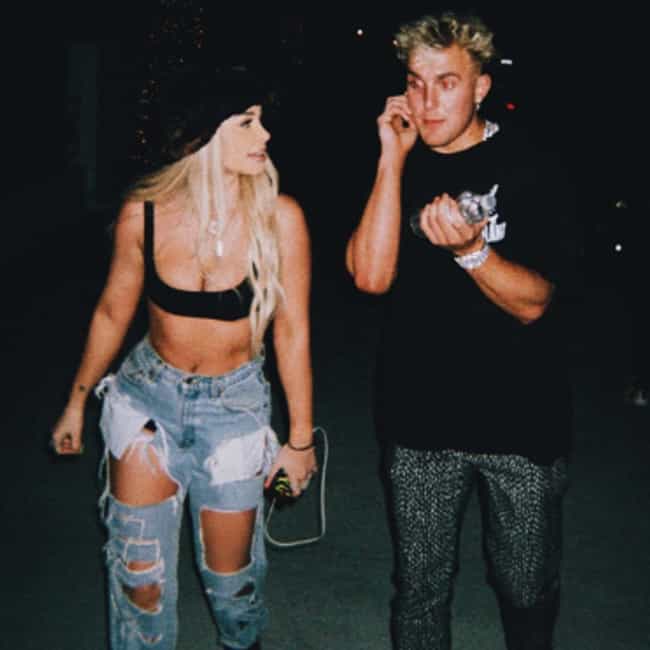 April 24, 2019: They Get Photographed Flirting At A Party
Tana Mongeau and Jake Paul were spotted deep in conversation at a party on Wednesday evening, which the latter referenced in a YouTube video posted the following day.
His friends were teasing him about flirting with Mongeau, to which Paul replied, "I don't remember any of this happening, but she's cute."
April 30, 2019: They Began Dating After Tana's Split From Brad Sousa
Mongeau explained why she and fellow influencer Brad Sousa broke up in a YouTube video titled, "i got cheated on but that's okay," which she posted on April 28, 2019.
Two days later she posted a video called, "Mukbang In Bed With My Rebound Jake Paul." In the video, the two talk about how she had shared a Snapchat which showed a tiny glimpse of Paul's bed. Eagle-eyed fans noticed it, and began questioning if the two were together.
Paul posted a video the same day, called, "meet the girl i've been hiding from you." In it, he wears a shirt that reads "I'm single" while talking about making out with Mongeau.
However, fans assume it's fake, as Mongeau and Paul both laugh in the video, saying the "internet is boring" so they needed to "give you some sh*t to talk about." Tana also calls it a "clout relationship."
This comes five months after Paul and YouTuber Erika Costell ended their seven-month relationship.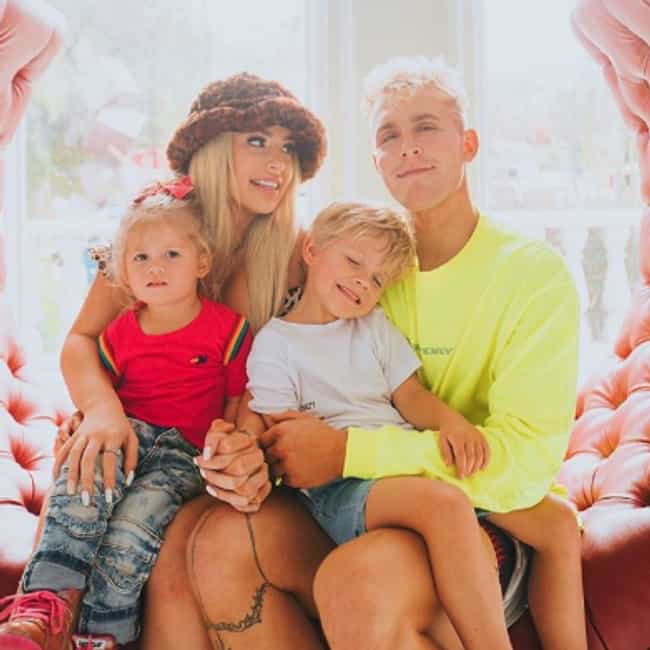 May 11, 2019: Tana Posts A 'Family Photo'
Mongeau shares a photo with Paul and two little kids on Instagram, writing, "clearing all of our scandals by the day like #ThePaulFamily."
Five days earlier Mongeau had posted a snap of her and Paul both wearing hot pink T-shirts along with the caption, "is it even real if u don't show up to the party matching."
And on May 9, 2019, she posts a photo from that same night of the pair kissing while friends look on.
Fans still questioned the validity of the relationship.
May 16, 2019: Jake Introduces Tana To His Mom
Paul posted a video called, "our first time making out on camera.." where he introduced Mongeau to his mom.
During the drive to Mongeau's house Paul talked about how he and Mongeau were going to do a do-over on the trainwreck that was TanaCon and make JanaCon together.
Later in the vlog he also mentioned Jana merch, so whether their relationship is fake or not, they're definitely marketing it to fans for cash.
They throw around "I love you's" throughout the video and make out on camera a few times. But Paul's mom walks away convinced there's "definitely some crushing going on" and "not just for the cameras."