Criminals
Police Could Have Prevented This Disturbed Man's Murder Of A Teenage Girl Years Before

On May 26, 2013, 17-year-old Georgia Williams, a prominent student leader at Ercall Wood Technology College and an air cadet with the 1130 Wrekin Squadron Air Training Corps, left her parents' home in Wellington, Shropshire, England to help a friend with his photography project. This friend, 23-year-old Jamie Reynolds, wanted to create images of simulated hangings, in which Williams would stand on a box and pretend to hang from a noose suspended from the ceiling. He promised she'd be safe, and that he'd digitally remove the box from the photographs later, so she would appear to "float."
Later that evening, the girl's mother, Lynette Williams, received a text from her daughter, letting her know she planned to spend the night at another friend's house and return the next day. But Georgia Williams never came home. At first, police believed they had a missing persons case on their hands, but they quickly discovered her hanging was not simulated at all. Many people have hung themselves or others on accident, but Reynolds's crime was completely intentional. Williams's murder sent ripples of shock and rage through the community. Georgia Williams's murder case was all the more disheartening because it easily could have been prevented had police properly handled her killer sooner.
This Wasn't Reynolds's First Attack On A Young Woman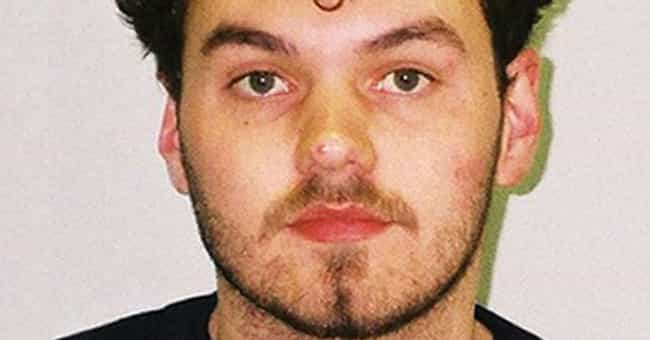 Years prior to killing Georgia Williams, Jamie Reynolds attempted to claim another young life. Police reports came to light following Reynolds's trial, which revealed in January 2008, when he was 17, asked an unnamed 16-year-old girl to help him with a media project at his house while his parents were away. After the girl arrived, Reynolds attempted to strangle her, but she fought him, breaking one of his ribs before escaping and contacting the authorities.
Police arrested Reynolds on assault charges. During questioning, he blamed the attack on depression. The officers gave Reynolds a "final warning," essentially a verbal reprimand given to underage suspects, and they issued mandatory counseling. A mental health nurse, who visited Reynolds at his parents' home, determined the boy posed a "serious risk" after his stepfather and mother showed the nurse doctored images of three schoolgirls Reynolds knew in which he drew nooses around the girls' necks. According to the BBC, Reynolds also "harboured a fascination for hanging, strangulation and necrophilia from at least the age of 15."
But the police did not pursue the matter further. In their eyes, the case had been "suitably resolved."
His Second Violent Attack Occurred Just Three Years Later
Reynolds once again assaulted a woman in August 2011, when he rammed his car into a coworker's in a parking lot. The coworker rebuffed his romantic advances prior to the incident. Numerous witnesses insisted Reynolds's actions were intentional, and his employers fired him.
But the police saw the matter differently. An internal report issued in the wake of Reynolds's murder conviction stated:
Although the officers had been given some indication that the incident was deliberate in retaliation for his colleague's rejection of him, they viewed it in the context of Reynolds' distressed state of mind at the time. The incident was dealt with as an accident.

No checks were made at the time on the police information system, nor were the officers involved aware of the offense in 2008.
In addition to these damning oversights, Reynolds's attack on his female coworker established a pattern that would culminate in murder: he was fixated on redheads. This victim had red hair, as would his next, and finally, Georgia Williams. Furthermore, Reynolds talked about how much he loved redheads and wanted to "settle down" with one. It also came to light after his trial that Reynolds digitally pasted Facebook photos of women with red hair onto extreme and violent adult imagery.
And yet, despite these overt warning signs, Reynolds continued to live his life, unobserved and unchecked.
Reynolds Trapped A Woman Inside His Home Mere Months Before Killing Georgia Williams
In February 2013, Reynolds again lured a young woman into his home while his parents were away. Like his previous victim two years earlier, she also had red hair. Once the woman arrived, Reynolds locked her inside the house. She became uncomfortable and wanted to leave, but Reynolds claimed he could not find the key. The woman then began to scream at Reynolds, so he "found" the key and let her leave.
This incident, while unreported at the time, only came to light following Reynolds's trial. It bears a striking similarity to the scenario that played out in 2008, and would play out again just three months later with Georgia Williams.
Williams's Family And Friends Were In The Dark About Reynolds's Past
Prosecutor David Crigman insisted during the trial that Reynolds's "primary target" had always been Georgia Williams. All previous instances of violence against young women were mere precursors to his ultimate fantasy.
Indeed, Reynolds made the teenager the object of his affection for several years. A staggering number of women are killed by someone they know every year, and Reynolds was no different. He was even liked by Williams, her family, and her friends. Jadine Dunning, a friend of both Williams and her older sister Scarlett Williams, said of Reynolds:
I was in the same class with him for five years. He was very quiet, a bit of a recluse, kept himself to himself. I'm not going to lie, he was a bit odd, but I would never expect he was capable of [murder].
Lynnette Williams, Georgia's mother, similarly had no qualms about her daughter spending time with Reynolds. Speaking of the fateful night Williams went to Reynolds's house, she said:
It didn't worry me it was Jamie Reynolds because Jamie had been down here before. We knew him, we had known him for quite a few years. He was in a social circle of friends so it wasn't anything we were alarmed about. We knew he lived just up the road in a house similar to ours, so it was all okay as far as we were aware.
Most startling, however, is the fact that Georgia's father Steven Williams was a detective with the West Mercia Police Department, the very same department that handled Reynolds's previous attacks on young women, yet he knew nothing of Reynolds's dark past.