Celebrities
23 Interesting Facts You May Not Know About Jason Sudeikis

Jason Sudeikis is best known for his long-running post on Saturday Night Live and his roles in movies and TV shows like Horrible Bosses, The Last Man on Earth, Eastbound & Down, and 30 Rock. That being said, he is also the Kansas City native we all want to have a beer with. The mensch of SNL, Will Forte's bestie, and Olivia Wilde's wooer, when it comes to Jason Sudeikis, some want to be him and others want to smell him.
But how much do you really know about the king of comedy? Who is he really? Where did he come from? Was he born like us mere mortals or was he perfectly crafted on a far-away alien planet, aged like a fine wine in a barrel and dropped on the Earth solely to provide us with belly laughs and glowing grins? Is his real name Jason? (Answer: Nope!)
While it's no secret that Jason Sudeikis is the man so many aspire to be and be like, there are still so many things to learn about the star of sitcom and satire. Here are 26 interesting facts you may not know about Jason Sudeikis.
Sudeikis Was Rejected by the Blue Man Group
Sudeikis was "absolutely obsessed" with joining the group, he said in a 2010 Vanity Fair interview. "This was almost 10 years ago, when I was living in Las Vegas and doing shows at the Second City. We became pals with the guys who did Blue Man at the Luxor, and a lot of them took classes with us at Second City. I just loved their show and thought it was so funny."
Sudeikis said that the anonymity was the draw. "It was an absolute reaction to wanting to be anonymous and silent. And yet at the same time, I guess powerful and funny. It was probably the closest I ever imagined I'd get to playing an instrument in front of people on stage. I auditioned once in Las Vegas and I wasn't good enough at the drumming part. You have to know the single stroke rudiments, and I just wasn't fast enough."
He took his rejection better than Tobias, we're guessing.
Sudeikis Does a LOT of Karaoke with Will Forte
On The Last Man on Earth, SNL alumni and besties Jason Sudeikis and Will Forte sang the song "Falling Slowly" over and over. That's because it's their regular karaoke song.
"What people might not know is that we do so much karaoke, we sing that song with each other all the time," Sudeikis says. "When we lived in the same city we'd go to karaoke, just the two of us, and just sing together. I went to New York a week-and-a-half ago and we went to dinner, and sure enough we ended up at karaoke. We are just karaoke buffoons."
They also do "Always and Forever" and "I Can't Fight This Feeling."
Sudeikis Lived in Constant Fear of Being Cut from SNL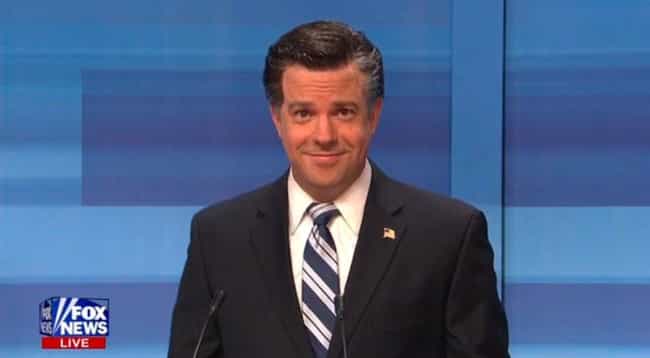 Due to the way the comedy machine works at Saturday Night Live, a lot of cast members have said the same thing: they work under the threat of being cut loose.
Sudeikis was consumed with that fear. "I remember calling my manager," Sudeikis says, "and being like, 'I should have stayed in Las Vegas.' I didn't think I was helping the show. There was a little bit of 'Impostor Syndrome,' I think it's called, where you worry, 'They're gonna find me out.'"
Sudeikis and Will Forte Have Both Dated January Jones
After his divorce from writer and producer Kay Cannon, Sudeikis dated Jones in 2010 for five months. Jones is a regular cast member on Forte's show The Last Man on Earth, and she and Forte dated for a time before splitting in 2015. Sudeikis joined the cast in the third season, playing Forte's astronaut brother.