Weird
Every Time Jeff Goldblum Was a Big Weirdo

Jeff Goldblum is weird in the best way. Some part of that weirdness is no doubt a skill that he can turn off and on, but some of his strange mannerisms are so ingrained, it seems like he doesn't even know he's being a big beautiful weirdo. Thanks to late night TV, we have a lot of great instances of Jeff Goldblum being weird. Weird Goldblum stories have been circulating since the '70s, and most of them come from the actor himself. As Goldblum has been known to say, he's an open-faced sandwich. Time to learn the recipe.
The best thing about funny Jeff Goldblum stories is that most seem to occur naturally. Judging from the way he chats with interviewers and responds to fan questions, it doesn't seem like he's holed up in a Goldblum cave thinking of ways to freak people out. He's just a strange, spontaneous dude. You never know what Goldblum will do.
Through these Jeff Goldblum true stories you'll learn what he gets up to at weddings, and what he thinks about the sandwich (hint: love is not a strong enough word for Goldblum and sandos). As idiosyncratic as Jeff Goldblum can be, so many great movies wouldn't be the same without him. Long live the weirdness of Jeff Goldblum.
When He Partnered With National Geographic For 'The Curiosity Of Jeff Goldblum'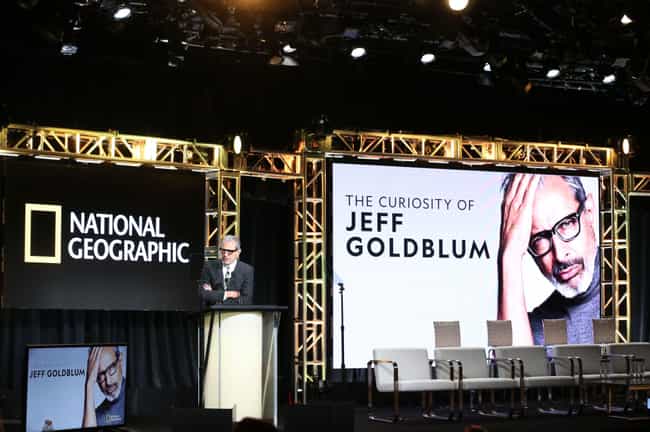 On July 25, 2018, National Geographic announced they were partnering with Goldblum to create a series called The Curiosity of Jeff Goldblum, a 12-part docuseries that "taps into curiosity seeker Goldblum as he embarks on a journey across the globe to uncover the extraordinary stories behind the world's most 'ordinary' things."
"National Geographic has a knack for developing smart, immersive narratives that expand our understanding of the world around us in creative and entertaining ways. Curiosity is a fundamental human trait," said Goldblum.
"The series is the perfect platform for Jeff to use his uniquely infectious and approachable charm to take viewers on an unexpected and surprising journey," said Courteney Monroe, the CEO of National Geographic Global Networks.
What exactly will Goldblum be investigating? Deadline reports it will be the likes of ice cream, toilet paper, and coffee, and how all of these things impact daily life.
When He Played Piano for Rachel Ray
It's not weird Jeff Goldblum can play piano, of course he can play piano. The weird thing about this Rachel Ray clip is his turtle-neck-and-leather-jacket combo, and his constant narration. "Isn't that sweet?" No Jeff, you are.
If you're ever in Los Angeles,
check out one of his regular jazz shows
.
When He Admitted to Knowing Slight of Hand Magic
On the July 4th, 2016 episode of
WTF with Marc Maron
, Jeff Goldblum told a story about having to learn some slight of hand tricks for the Robert Altman film
Nashville.
Which is totally normal. Actors learn new things all the time for parts. The weird thing is that he still keeps up with the "rope tricks." He describes the trick in a very Goldblumish way,
"
A series of, here's the knot, there's not the knot. I've snuck them into other movies
."
When He Marveled Over Email
Was anyone as excited about email as Jeff Goldblum in these iMac ads from the mid '90s? What do you think Goldblum's first email address was? Jurassic.Park.Stud@aol.com? Flyguy69@hotmail.com? Goldbloominonion@yahoo.com? The world may never know.