Entertainment
John Carter Movie Quotes

34 votes
18 voters
10.8k views
8 items
'John Carter' movie quotes include the best lines from this 2012 Disney sci-fi/action film starring Taylor Kitsch in the title role. John Carter is a former U.S. military captain who finds himself on Mars, where he's taken prisoner and has to escape and save a princess. This highly-anticipated movie, based on the sci-fi book series by Edgar Rice Burroughs, was expected to be one of the first major blockbuster movies of the year. See a favorite quote from the 'John Carter' movie listed? Vote it up! And, if you know of a great 'John Carter' quote that isn't on this list, definitely add it.
'John Carter' is directed by Academy Award-winning filmmaker Andrew Stanton ('WALL-E,' 'Finding Nemo' and 'A Bug's Life'). The movie also stars Lynn Collins, Samantha Morton, Willem Dafoe and Thomas Haden Church. When John Carter is transported to the planet Mars, he not only realizes he's stuck in the middle of a civil war among two alien races, he also learns that he has super-human strength. He'll use this strength to help save a warrior princes (Collins) and to try and broker peace in the Martian war on the red planet.
If you're looking for more great action movie quotes, check out these lists for the best quotes from
'Project X,'
'Chronicle,'
'The Lorax,'
'Wanderlust,'
'The Secret World of Arrietty,'
'Immortals,'
'Super 8,'
'The Woman in Black,'
'The Muppets,'
'Hugo,'
'Real Steel,'
'X-Men First Class,
'Transformers: Dark of the Moon,'
'Captain America,'
'Rise of the Planet of the Apes,'
'Conan the Barbarian,'
and
'Cowboys and Aliens!'

John Carter: "Good God! I'm on Mars."
Imagine John Carter's surprise when, after taking shelter in a mysterious cave, he realizes he's suddenly been transported to another world - literally. The Confederate soldier is sent to Mars, where he's once again smack in the middle of another civil war.
Should this be higher or lower?

Tars Tarkas (to John Carter): "You are ugly, but you are beautiful." (To Everyone) "He will fight for us!"
While John Carter probably does NOT look ugly to us, he might to residents of Mars, including Tharks leader Tars Tarkas (who isn't exactly beautiful). Regardless, it's up to John to end the fighting on Mars before everything is wiped out. Can be broker peace between the warring factions?
Should this be higher or lower?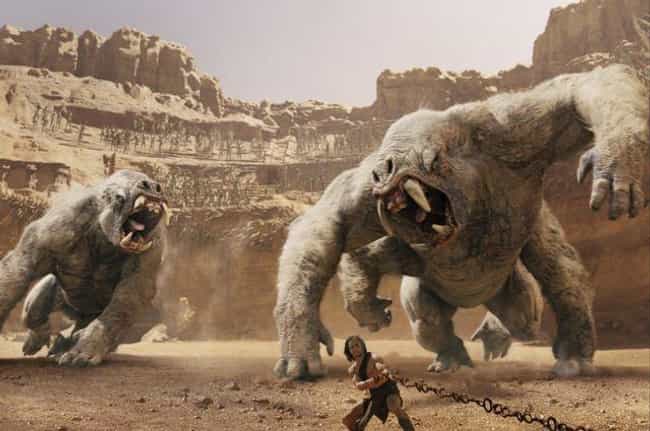 Tars Tarkas (to John Carter): "When I saw you, I believed it was a sign -- that something new can come into this world."
Tars Tarkas (Willem Dafoe) knows that John Carter was sent to his world to help save Mars from almost certain destruction. Tarkas is a great warrior, and the lader of his people (the Tharks) -- who are embroiled in a war that threatens everything.

Should this be higher or lower?

Dejah Thoris: "Our world is at war, and Earth is next. Will you stay and fight for us?"
Princess Dejah Thoris (Lynn Collins) is beautiful and persuasive. She knows her people need John Carter's help to survive the war, and she's determined to get him on their side.
Should this be higher or lower?