Unspeakable Times
The Tragic And Gruesome Death Of Journalist Kim Wall

When Kim Wall was between freelance assignments, she decided to interview 46-year-old inventor and entrepreneur Peter Madsen about the amateur spacecraft he was building in Copenhagen, Denmark. On August 10, 2017, Wall boarded Madsen's submarine, the UC3 Nautilus, to do a quick profile she planned on pitching to Wired on the Danish inventor. What was supposed to be a quirky profile quickly turned into a high-profile murder case. Wall's boyfriend reported her missing a day after the interview. After her dismembered body washed ashore on Amager, Denmark, a few weeks later, the investigation of the murder of Kim Wall was in full force, and Madsen was the prime suspect.
Journalists who report from the frontline of war have died in crossfires, just as criminal investigative journalists have died as a means to keep a story quiet. In other extreme cases, perpetrators have held journalists hostage to keep information from leaking to the public. This was not the case with Wall. Prosecutors speculated a fixation with snuff films fueled Madsen's motive for murder. Although Madsen eventually admitted to dismembering Wall, he claimed he was innocent of her murder - despite the mounting evidence against him. In April 2018, prosecutors found Madsen guilty of premeditated murder and sexual assault. Copenhagen court sentenced him to life in prison, and he lost his appeal against the term in September 2018.

Wall's Torso Was Stabbed At Least 14 Times
On August 21, 2017, a cyclist discovered a human torso washed up on the shore of Klydesoen, an area south of Copenhagen. Investigators determined the remains, which an unknown assailant had repeatedly stabbed, belonged to missing Swedish journalist Kim Wall. The autopsy led medical examiners to conclude the assailant had stabbed her either "at the time of death or shortly afterwards."
Investigators proposed the suspect, Peter Madsen, strategically caused wounds near the ribs to keep the body from floating to the surface of the water. Examiners reported multiple stab wounds to Wall's genitalia, suggesting the murder had sexual assault elements. The reports confirmed someone had stabbed Wall over 14 times.

Wall's Head And Legs Were Found By Divers A Few Weeks Later
On October 7, 2017, divers found Wall's head and legs in Køge Bay - a little more than half a mile from where investigators recovered her torso. The assailant deliberately tried to conceal her body, as police discovered the remains in plastic bags. Along with her head and legs, someone had filled the bags with scrap metal to weigh down the evidence.
Authorities identified the victim from dental records. According to Jens Moeller Jensen, Copenhagen police's lead investigator:
We found a bag with Kim Wall's clothing; shirt, skirt, socks and shoes, and also a knife and lead pieces weighing them down. […] Around noon we found a leg, then another leg, and shortly thereafter we found a head, also in a bag weighted down by several metal pieces.

Madsen Deliberately Sank His Submarine And Claimed Wall Had Already Left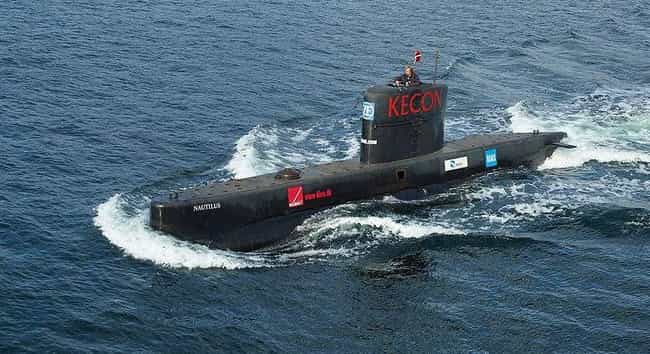 Madsen's submarine, the UC3 Nautilus, did not come back to harbor as planned on August 10, 2017. Investigators searched for the vessel after Wall's boyfriend reported her missing. A rescue helicopter finally spotted the submarine in the bay south-east of Amager, near the Drogden Lighthouse, on August 11 around 10:30 pm. Reportedly, the submarine sank after 30 seconds. Madsen swam to a nearby boat of fishermen, who took him to the Dragor port. At the port, reporters immediately met Madsen, who maintained the sub sank due to a faulty "ballast tank."
As to Wall's whereabouts, Madsen claimed he had dropped her off the night before at a restaurant near northern Refshaleoen. Police later determined Madsen had tanked his submarine on purpose when they lifted the vessel out of the bay for investigation.

Madsen Then Changed His Story, Saying Wall Died Due To A Heavy Hatch Door
A month after Wall's disappearance, Madsen returned to Copenhagen to appear in court and give his account of what happened. Investigators had found traces of Wall's blood inside the recovered submarine, as well as Wall's personal items. Madsen then told the court Wall died aboard his submarine, UC3 Nautilus. According to Madsen, he lost his grip on a heavy hatch door, which then fell and shut on Wall's head. He offered the court details of the incident:
It was a terrible accident, a disaster, no doctor could have done anything. […] Kim was severely injured. There was a pool of blood where she landed. I touched her neck, but she had no pulse.
When police divers discovered Wall's head on October 6, 2017, medical examiners reported no signs of trauma, discrediting Madsen's claim.