Carly Silver
Updated September 23, 2021
1.2k votes
283 voters
26.5k views
15 items
List RulesVote up the craziest Romans who conspired against Julius Caesar!
What does the saying "Beware the Ides of March!" mean? It refers to the day - March 15, 44 BCE - on which Gaius Julius Caesar, one-time dictator of ancient Rome, was murdered. His grisly assassination was legendary. But just as infamous were the conspirators behind one of the most well-known deaths in history. So just who had Julius Caesar killed?
The assassins who killed Julius Caesar (Roman senators, in large part) were an aristocratic bunch that was infuriated with the dictator's seizure of power. From his very, very close pals - like his mentees Brutus and Decimus - to his former brother-in-law and just generally discontented senators, everybody had a reason to want Caesar six feet under. And they got their wish, although they segmented an already fractured Republic into a gazillion more pieces, brought about another civil war, and ultimately helped create the Roman Empire.
Learn all about Brutus, Cassius, Decimus, and their cohorts here, and vote up the nuttiest of the Romans who killed Julius Caesar.
Photo: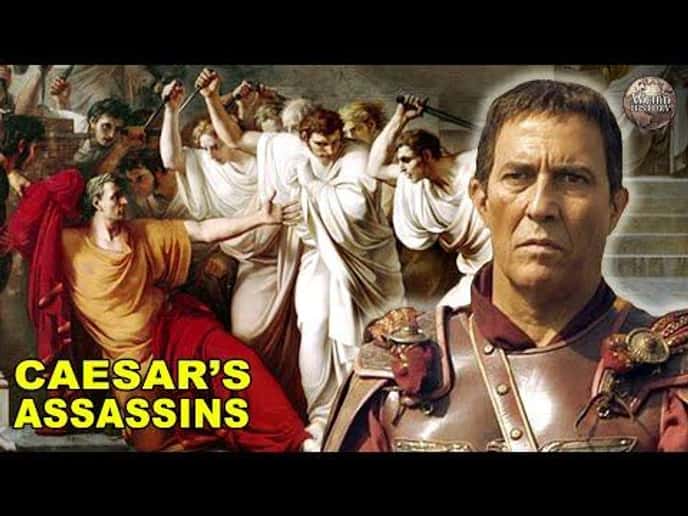 Quintus Antistius Labeo, Who Helped Brutus Recruit Conspirators

Photo: Francois-Joseph Navez/Public Domain / via Wikimedia Commons

There isn't a ton of important information on this guy, also known as Pacuvius... except in Plutarch's Life of Brutus, where Labeo helps Brutus decide what prominent Romans to include in the conspiracy. After the assassination, Labeo kept the faith with Brutus. Plutarch says bluntly, "Labeo was his legate."

But it was Labeo's ending that was his true legacy. He literally dug his own grave, put his affairs in order..."Then, taking his most faithful slave by the right hand and whirling him around, as is the Roman custom in granting freedom, he handed him a sword as he turned, and presented his throat. And so his tent became his tomb," writes Appian.