Entertainment
The Many Celebrity Exes Of Justin Theroux

Who has Justin Theroux dated? The actor gained prominence for his role on the hit TV series The Leftovers, but his personal life tends to draw as much attention as his fictional one. From actresses to models, this is the complete Justin Theroux dating history, so you can keep track of everyone he's been with.
Some of these relationships have been confirmed while others are merely rumors. Take some of these entries with a grain of salt, knowing Theroux likes to keep much of his personal life private. Is Justin Theroux married? The answer to that question is, "No." He was married to Jennifer Aniston for a couple of years, but they divorced in 2017. Since that time, there have been many rumored Justin Theroux girlfriends, but he has not yet remarried.
One of the big rumored Justin Theroux relationships following his divorce was with Emma Stone. Before Stone, Theroux was seen together with Laura Harrier, an actress who starred in Spider-Man: Homecoming. In 2019, there was a rumor he dated Elizabeth Hurley, but there's no concrete evidence to back that relationship up yet. Is Justin Theroux single? It appears, for now, he is.
There have been numerous people Justin Theroux dated over the years. This list will go through some of his more prominent women Justin Theroux dated.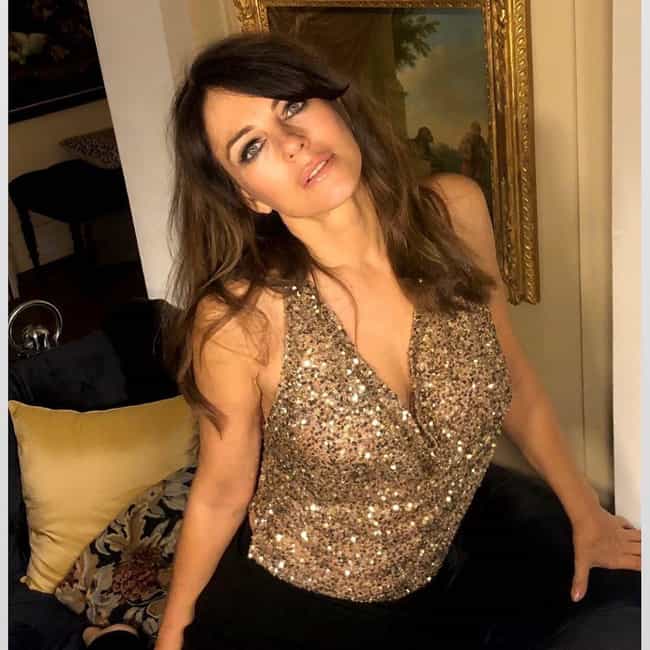 Romance rumors of a relationship between Justin Theroux and Elizabeth Hurley began in January of 2019 when the two were seen at several events together in Morocco.
Hurley later said that the two were not dating. But she also said she made a promise to herself years ago to not divulge so much information to the public, so perhaps she is just trying to maintain her privacy.
Elizabeth Jane Hurley (born 10 June 1965), more generally known as Liz Hurley, is an English businesswoman, actress, and model. She has been associated with the cosmetics company Estée Lauder since the company gave Hurley her first modelling job at the age of 29. They have featured her as a representative and model for their products, especially perfumes such as Sensuous, Intuition, and Pleasures, since 1995. Hurley owns an eponymous beachwear line.As an actress, her best-known film roles to date have been as Vanessa Kensington in Mike Myers' hit spy comedy, Austin Powers: International Man of Mystery (1997) and as the Devil in Bedazzled (2000). In 2015, Hurley began starring in the E! ...more on Wikipedia
Age: 53
Birthplace: Basingstoke, United Kingdom
see more on Elizabeth Hurley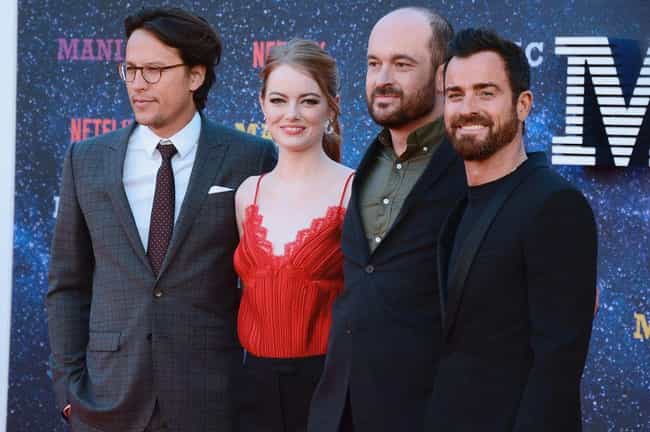 After Justin Theroux and Jennifer Aniston divorced, he was spotted with numerous starlets. But rumors really picked up after he was spotted with Emma Stone in the South of France.
The two starred in the Netflix series Maniac together, and it seemed like they got along off the set, too. However, it was still unclear if the two were actually dating. Justin went to great lengths to insist the two of them were just friends. He was also on vacation with Laura Harrier at the same time, and those two seemed to be just as close. With no confirmation from Theroux one way or the other, it's still just speculation at this point.
Emily Jean "Emma" Stone (born November 6, 1988) is an American actress. The recipient of numerous accolades, including an Academy Award and a Golden Globe Award, she was the highest-paid actress in the world in 2017. Stone has appeared in Forbes Celebrity 100 in 2013 and in 2017, she was featured by Time as one of the 100 most influential people in the world. Born and raised in Scottsdale, Arizona, Stone began acting as a child, in a theater production of The Wind in the Willows in 2000. As a teenager, she relocated to Los Angeles with her mother and made her television debut in In Search of the New Partridge Family (2004), a reality show that produced only an unsold pilot. After small ...more on Wikipedia
Age: 30
Birthplace: Scottsdale, Phoenix, Arizona, United States of America
see more on Emma Stone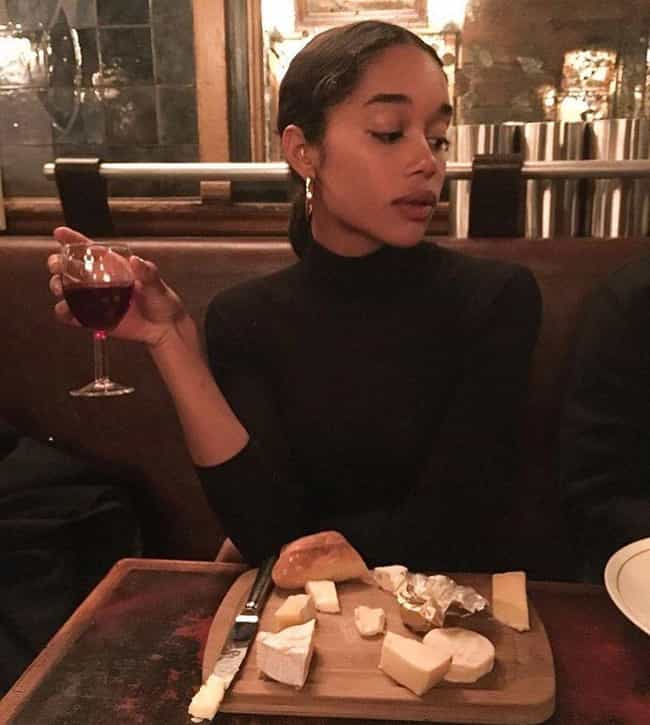 Another young actress Justin Theroux was spotted with after his divorce from Jennifer Aniston was Laura Harrier. The two were both faces for Louis Vuitton campaigns, so it seems likely they met that way. They were spotted in the South of France together, along with Emma Stone, and the pair seemed to be close.
The two claim they are not dating.
Laura Ruth Harrier (born March 28, 1990) is an American actress and model. Harrier was first recognized for her portrayal of Destiny Evans in the short-lived reboot of the American soap opera One Life to Live in 2013. In 2017, she made her major film debut portraying Liz Allan in Spider-Man: Homecoming. ...more on Wikipedia
Age: 29
Birthplace: Chicago, IL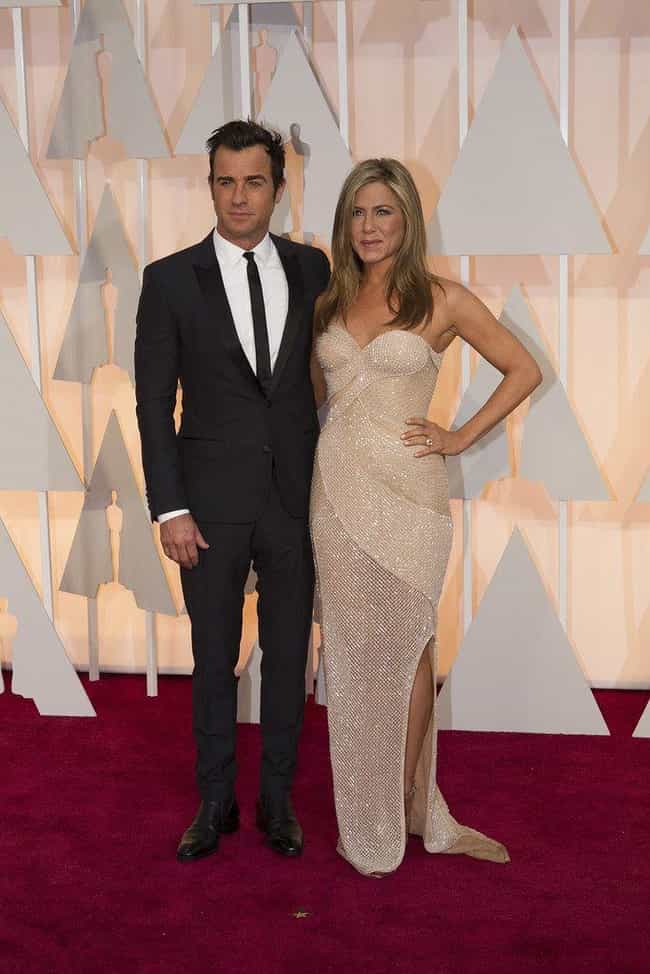 Shortly after Jennifer Aniston parted ways with Brad Pitt, she met Justin Theroux. The two actually met on the set of Tropic Thunder. Theroux wrote the script, while Aniston was good friends with Ben Stiller, and the pair hit it off.
They didn't date at this time. That would come later, when they would reunite on the set of Wanderlust. Theroux broke up with his girlfriend of 14 years, Heidi Bivens, and the rumor mill began to swirl. The pair were spotted together all over Hollywood.
They officially tied the knot in 2015, but divorced two years later. Theroux later said in an interview that the split was fairly amicable. They did not have any hostility toward one another, and they respected each other throughout the separation.
Jennifer Joanna Aniston (born February 11, 1969) is an American actress, film producer, and businesswoman. The daughter of actors John Aniston and Nancy Dow, she began working as an actress at an early age with an uncredited role in the 1987 film Mac and Me. Since her career grew in the 1990s, Aniston has remained a well-known figure, established as one of the leading and highest-paid actresses in Hollywood as of 2019. Aniston rose to international fame portraying Rachel Green on the television sitcom Friends (1994–2004), for which she earned Primetime Emmy, Golden Globe, and Screen Actors Guild awards. The character was widely popular while the series aired and was later recognized as one ...more on Wikipedia
Age: 50
Birthplace: Sherman Oaks, Los Angeles, California, United States of America
see more on Jennifer Aniston