Total Nerd
Inside 'Alligator Boots,' Kanye West's Failed Puppet Comedy Show

If there is one thing Kanye West knows, it's how to get people's attention. West's rapid-fire tweets and bizarre encounters with other celebrities have spawned a slew of think pieces, and chances are his failed puppet comedy show, Alligator Boots, could have done the same.
Alligator Boots is more than just West's stab at comedy - it was an integral part of one of the world's most famous love stories, as West met his future bride Kim Kardashian on the flopped show's set.
That failed pilot aimed to be updated version of The Muppet Show, Yeezy style. The name comes from West's childhood, where owning alligator footwear was a status symbol: if you could get your hands on a pair of alligator boots, you basically made it.
Ultimately, after five intense days working with the Jim Henson Company, Comedy Central decided not to go ahead with the series, leaving Alligator Boots on pop culture's cutting room floor.
It Was Going To Be A "Hip Hop Muppet Show"
There are several disparate puzzle pieces that came together in the '00s to bring this puppet-based fever dream of Kanye West's to life. The puppet element was definitely inspired by the Comedy Central show Crank Yankers, which had a proven following in the hip hop community; it was likely also influenced by the success of Team America: World Police.
In WIRED's oral history of Alligator Boots, animator and video director Konee Rok added that the creation of characters like Pork Troy happened organically. While recording West's Graduation, a musician and childhood friend of West's, Rhymefest, spontaneously beaome the character to entertain everyone. "Alligator Boots is, in one sentence, sort of a hip-hop Muppets Show," producer Daniel Kellison summarized.
The Pilot Cost $1 Million And The Puppets Were Made By The Jim Henson Company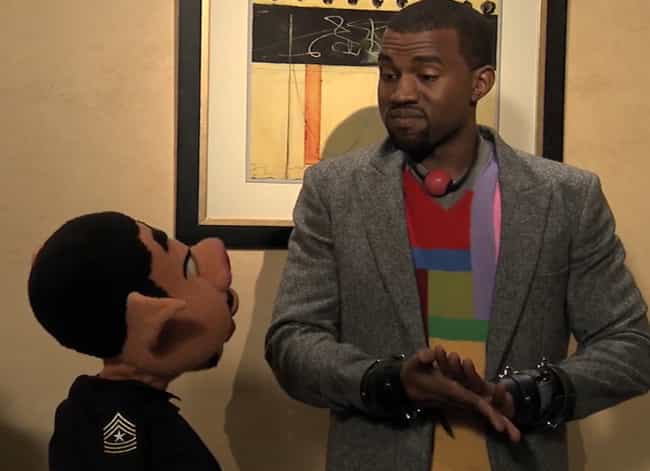 Alligator Boots was filmed over five days at Charlie Chaplin Studios, home to the Jim Henson Company. Fittingly, it also followed The Muppet Show format quite closely, including behind-the-scenes skits as well as ones in front of a live audience of Henson-made puppets.
Each episode was set to feature a famous human host - West being the first for the pilot - as well as a mix of musical and sketch comedy scenes with a diverse cast of larger-than-life puppet characters.
Jordan Peele Was One Of The Writers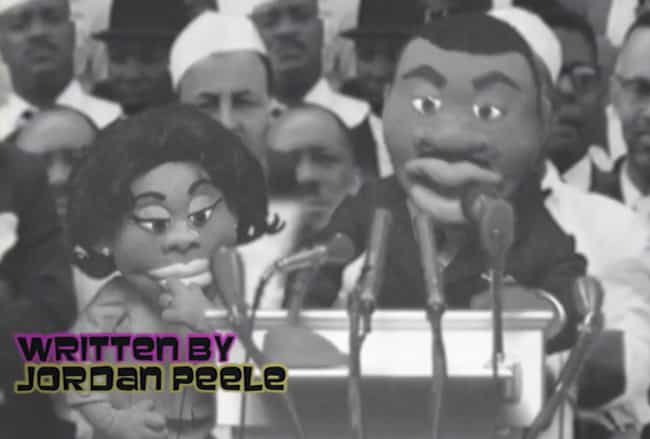 Before becoming a household name due to the success of Key & Peele and Get Out, Jordan Peele was just a humble ex-MADtv comedy writer who majored in puppetry at Sarah Lawrence College.
This specific skill set earned him a writer spot on Alligator Boots, where he was responsible for penning what many on set consider the funniest sketch of the pilot. Peele describes the sketch as "basically a puppet version of Martin Luther King," parodying his well-known "I Have a Dream" speech.
Puppeteer Victor Yerrid explains, "It starts out as this powerful speech, and then it devolves into this weird surreal dream." Peele tries to remember the details: "I don't remember any of the specifics - but it was one of those things where it's like, 'And in the future, my mother's there, but she has the head of a Smurf. And all the little children are actually horse-sized ducklings running around.'"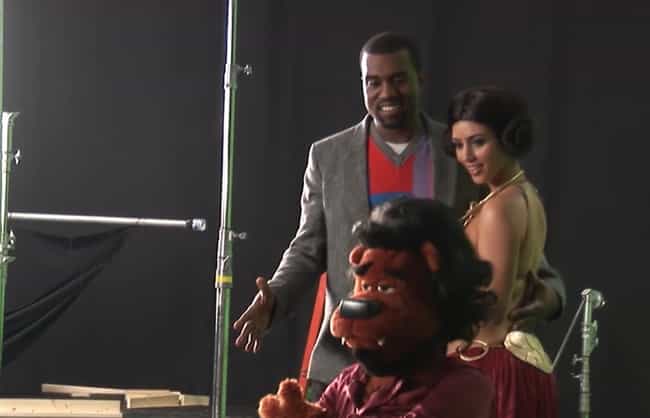 Following the formula of The Muppet Show, Alligator Boots was envisioned as having one human celebrity guest star each week alongside a cast of puppets. But in true Kanye West fashion, the rule was thrown out of the window. He wanted both himself and Kim Kardashian featured in the pilot since he was already such a big fan of her work - one infamous work in particular.
Daniel Kellison, co-creator of Crank Yankers, explains:
When I first met Kanye, he was recording that song "Flashing Lights" - I walked into the studio and he was behind the control board, and this woman was singing one of the sections of the song. She goes, "How about that take?" And he was like, "I'm sorry, I missed it. Can you do it again?" He was watching the Kim Kardashian tape on his computer; it had come out that day, and that's why he was distracted.
Producer Naomi Scott told Bustle the sparks between Kimye were there from the start. "[West] was enamored with her from the very second he said [Kardashian's] name."