404 votes
126 voters
38k views
8 items
Katie Price tattoos, ranked by fans of the sexy star and of body art. Katie Price is an English glamour model, reality TV star, author, and businesswoman. Also known as her stage name Jordan, Katie Price began her modeling career by posing topless on British tabloid The Sun. Price went on to model for various men's magazines including Maxim, FHM, and Playboy. She started her onscreen career in mid-2000s on reality TV series such as "I'm a Celebrity…Get Me Out of Here!" Aside from her modeling and TV appearances, Katie Price aka Jordan was wrote several autobiographies and fiction novels, designed a lingerie collection, and released a fragrance called "Stunning." Katie Price dated several British athletes and singers, and in 2005, married Australian singer-songwriter Peter Andre.
Katie Price has more than a few tattoos, but do you know what the meanings are behind Katie Price's tattoos. Well, her tats honor the people in her life that are most important to her. Price has at last 8 tattoos, each with a special meaning or memory. Katie Price's body art includes the name of her daughter Princess on her wrist along with a crown as well as her sons Harvey and Junior's initials on the back of her neck. Katie also had a tattoo of her ex-husband Peter Andre on her wrist, which she has since covered up, first with an X and then with a flower, after they divorced in 2009. Among other Katie Price tats are a red bow on her lower back and a garter around her thigh.
Similar to other stars that have tattoos, such as
Victoria Beckham Tattoos
or
Lindsay Lohan Tattoos
, Katie Price has made headlines several times as she has added a new tattoo to her collection. She is one of the hottest tattooed celebrities and famous people with tattoos.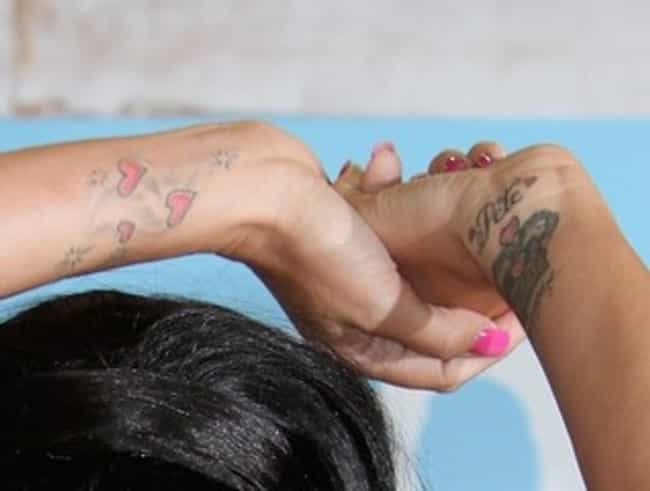 Katie has small hearts and stars inked on her right wrist as a tribute to her first two sons Harvey and Junior.

Is this cool?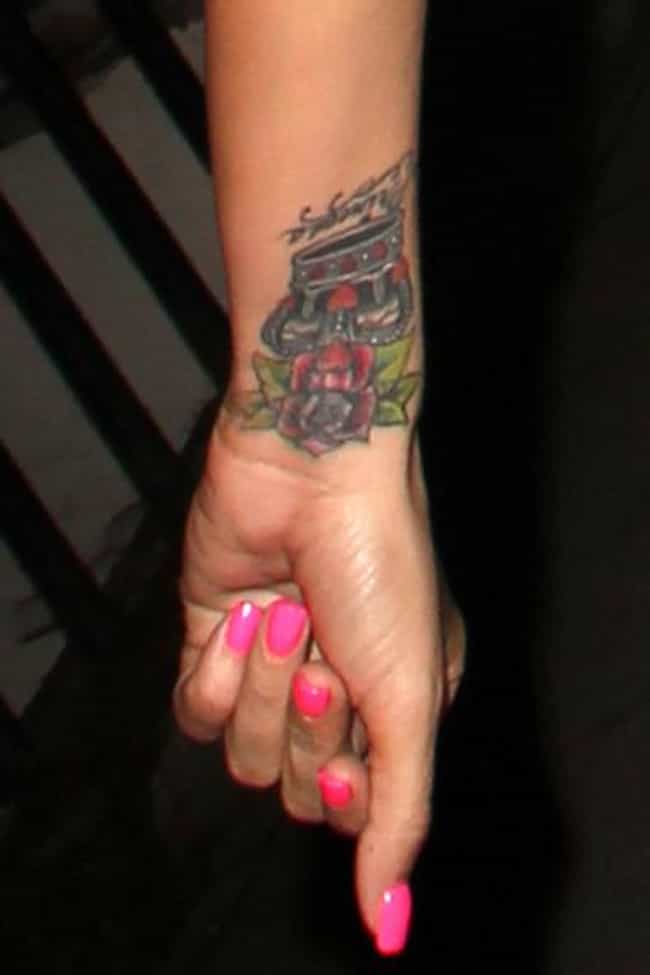 The large crown with the name "Princess" on Katie's left wrist is a tattoo dedicated to her daughter. The rose covers up the tattoo of her ex-husband Peter Andre's name.

Is this cool?