Weird History This Shocking Photo Captured The Violence Of The '70s Vietnam Protest Movement

The Kent State shooting took place on May 4, 1970, after several days of unrest in Kent, OH. College students were angered by President Nixon's April 30 announcement, during which he revealed the Vietnam War had now spread into Cambodia. On May 1, a student anti-war demonstration took place on the Kent State campus. Later on that night, a riot took place in the streets of Kent, with students setting small fires and throwing beer bottles at the police.
The National Guard arrived on May 2, but was met with more protests. The ROTC building on campus was set on fire sometime that night. A rally was held the next day, but it was nothing in comparison to the one on May 4, which drew in an estimated 2,000 unarmed students. They faced off against the National Guard, who were fully armed. Everyone assumed the guards wouldn't fire on students – but they were wrong. The guardsman began shooting at 12:24 p.m. After approximately 13 seconds of gunfire, four students were dead: Sandra Lee Scheuer, Allison Krause, William Knox Schroeder, and the subject of the famous Kent State shooting photo, Jeffrey Miller. Another nine students were wounded.
This picture of Kent State shooting, along with other Kent State massacre images, presents a vivid glimpse of the often violent anti-war protest movement of the 1960s and '70s.
Mary Ann Vecchio Screams In Dismay While Kneeling Over The Body Of Jeffrey Miller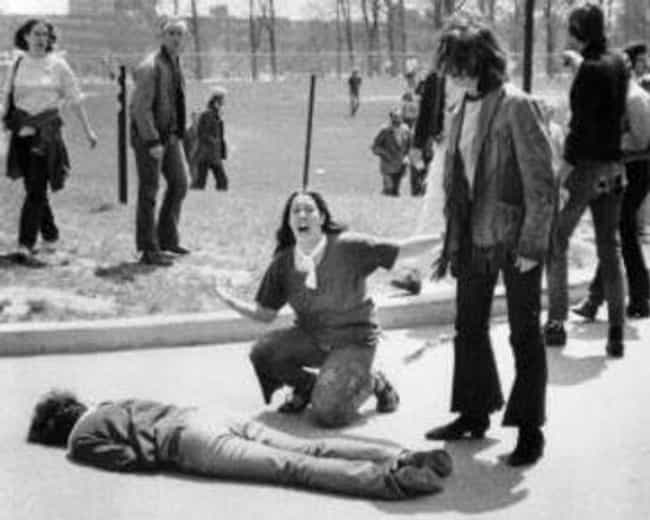 According to witnesses, members of the National Guard attempted to disperse the students with tear gas. In response, the students threw rocks and yelled insults. And then, for reasons that are unclear, some of the guardsman began opening fire. An estimated 67 shots were fired towards the crowd of unarmed students.
After 13 tense seconds, the gunfire ended. Four students were dead, including Jeffery Miller, whose body is seen above. The woman kneeling down and screaming is 14-year-old Mary Ann Vecchio, who was a runaway from Florida. She had hitchhiked to Kent, and was spending the night with some people who lived nearby. They had invited her to attend the rally.
Kent State Photojournalism Student John Filo Won A Pulitzer Prize For The Picture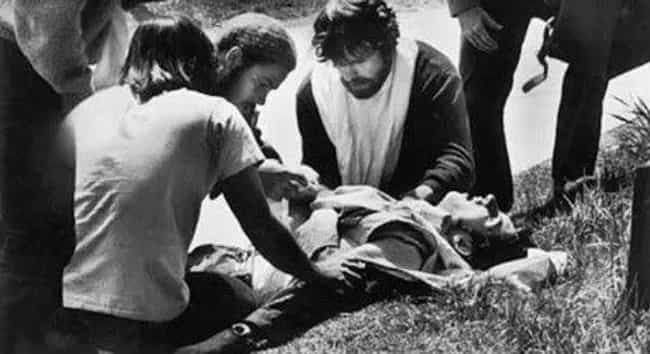 John Filo was a senior photojournalism major at Kent State. He was in a photo lab when he heard the gun shots and rushed outside with his camera. At first, he didn't believe that the National Guard had live ammunition in their guns – he thought they only had blanks. But then a guardsman turned and shot at him, putting a hole in a nearby statue.
Filo took a number of pictures that day with his Nikkormat camera and Tri-X film, but none became more famous than the shot of Mary Ann Vecchio kneeling over Jeffery Miller's body. That photo wound up being published in Life magazine, and he won a Pulitzer Prize for it.
The Photo And Events Inspired The Crosby, Stills, Nash & Young Song Ohio
Neil Young was inspired to write the song "Ohio" after being a handed a copy of Life magazine featuring the Kent State shooting photo. Young said the emotions evident in the picture sparked something, and he spent an hour in the woods with his guitar writing the song. Afterwards, he booked some studio time, and he, David Crosby, Graham Nash, and Stephen Stills recorded it. The sleeve for the record featured a copy of the U.S. Constitution illustrated with four bullet holes.
In 1997, Crosby, Stills, and Nash (notably without Young) attended the commemoration of a memorial at Kent State for the four victims. They performed "Ohio" for the crowd.