Food
In Japan, You'll Need To Make Your KFC Christmas Dinner Reservations Two Months In Advance

Updated September 11, 2019
4.3k views
10 items
Let's play a word association game. What image do these two words conjure up: Christmas Dinner. You're probably thinking turkey, sprouts, gravy, carrots, peas, parsnips, and a few other dishes, besides. Well, that may be the case in most countries, but Japan has been bucking that trend since the 1970s. Turkey isn't a tradition over there; KFC is a Japanese Christmas tradition. That's right - a finger lickin' good bucket of fried chicken is the go-to Christmas feast in Japan.
KFC in Japan goes hand in hand with Santa Claus, presents and Christmas trees. But how did this connection come about? Well KFC created a marketing campaign that was so effective that nowadays you can't have Christmas without KFC in Japan. It's essential. But you can't just show up and hope to get your hands on a bucket. The lines for this Christmas dinner are longer than if KFC were doing a one day only deal on a hot dog incased in a bun made out of fried chicken. You had better book way in advance if you want to experience a proper Japanese KFC Christmas.
Getting KFC On Christmas Isn't Just A Japanese Tradition - It's A Way Of Life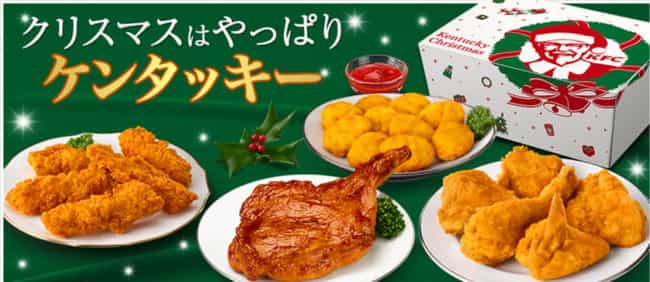 KFC's Christmas in Japan is a far cry from KFC anywhere else on a normal day. One cannot simply post up with the intentions of grabbing a bucket. Oh no. If you want to get your hands on that sweet, sweet chicken, you'll need to make a booking several weeks, if not months, in advance; there are limited supplies, after all, and the demand is exponentially greater than the chicken available. If you don't make a booking, you'll most definitely be queuing for hours and even then, there's no guarantee you'll get your Christmas dinner.
People Line Up Around The Block
Have you ever seen a line this long outside of a KFC in your life? KFC is not the bog-standard, fast food operation in Japan that it is over here. When Christmas comes around, folks are forming lines down the street for a taste of that finger lickin' good chicken (RIP that slogan). If you're situated in Japan and fancy grabbing yourself a bucket, you better be prepared to wait.
It's Known As Kentucky For Christmas
The hugely successful 1970s ad campaign was dubbed "Kurisumasu ni wa kentakkii!", which translates to Kentucky for Christmas – a very catchy, almost alliterative name. It's a testament to good marketing that this Japanese Christmas tradition has lived on for over 40 years.
It's The Result Of A Hugely Successful Marketing Campaign
In 1974, KFC realized that many people living in Japan couldn't get a hold of turkey for a traditional Christmas dinner and were opting for fried chicken instead. The advertising execs over at KFC decided to capitalize on this and started promoting KFC as being unequivocally linked to Christmas. The campaign was so successful that booking ahead of time is not just recommended, it's a necessity if you want to get your hands on that bucket.