Unspeakable Times
16 Kids Whose Crimes Were So Brutal, They Were Tried As Adults

Updated March 5, 2020
2.6M views
16 items
We typically think of adults as committing the most heinous criminal offenses, but even kids are capable of murder. There have been more than a few cases of juveniles being tried as adults. The courts considered these kids' misconduct so horrifying they tried them as adults. Some child offenders lash out to escape harsh realities. In the case of the Jones siblings, for instance, they attempted to free themselves of habitual mistreatment by their father. Other young offenders and child criminals suffer from severe mental health issues.
Then, there are the seemingly cold-hearted kids whose offenses seem to come straight out of a horror movie. Tyler Hadley, for instance, celebrated his parents' slaying by throwing a party with their bodies still in the house. These children and teens committed atrocities so disturbing the courts tried them as adults.
Anissa Weier And Morgan Geyser Impaled A Classmate 19 Times To Impress A Fictional Demon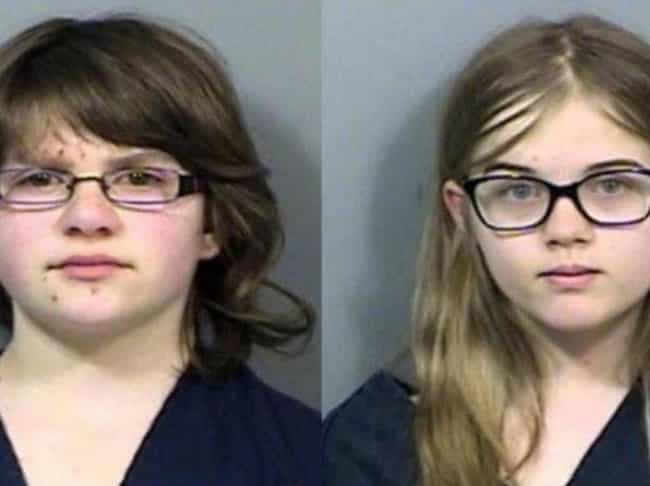 In 2014, Wisconsin 12-year-olds Anissa Weier and Morgan Geyser lured their classmate Payton Leutner into the woods where they stabbed her 19 times. The girls claimed they did it to please the fictional Creepypasta boogeyman "Slender Man" and save their families from his wrath. Leutner miraculously survived after crawling to the sidewalk, where a cyclist spotted her.
Courts tried both Weier and Geyser as adults and charged them with attempted first-degree intentional homicide. Geyser pleaded guilty to the charge in October 2017 but claimed she was not criminally responsible because of her mental state. During her sentencing, doctors reported she heard voices from someone named "Maggie." She received a 40-year sentence in a psychiatric institution.
Weier pleaded guilty in August 2017 - but to second-degree attempted intentional homicide. Prosecutors claimed she too was mentally ill and not criminally responsible, so she received a sentence of 25 years in a psychiatric institution.
Denver Jarvis, Michael Bent, And Jesus Mendez Set Friend On Fire Over $40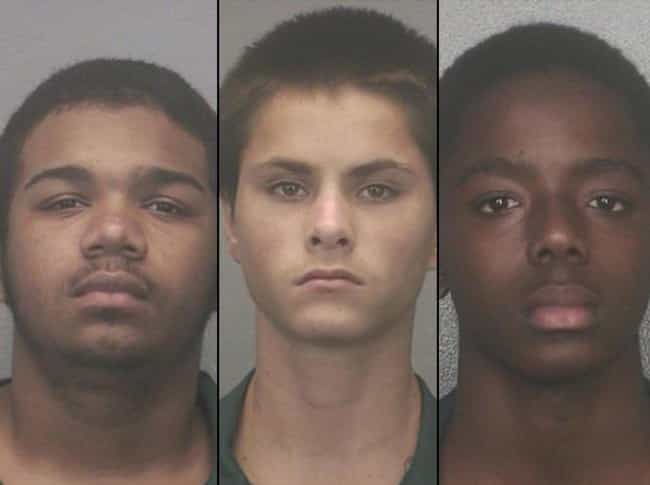 In 2009, authorities arrested five Florida teenagers for setting 15-year-old Michael Brewer on fire over a $40 video game-related debt. When Brewer couldn't pay up, Michael Bent took Brewer's father's bicycle and orchestrated an attack. The group held down Brewer while Denver Jarvis poured rubbing alcohol on him. Jesus Mendez pulled out a lighter and ignited the teen. The fire was so severe Brewer's clothes burned off his body as he desperately tried to stop, drop, and roll in the front yard. He eventually jumped into a pool to extinguish the flames but over 65 percent of his body was burned.
Three of the five teens involved - Denver Jarvis and Michael Bent, both 15, and Jesus Mendez, 16 - were charged with attempted second-degree murder and tried as adults. Courts sentenced both Bent and Mendez to 11 years in prison for battery. Mendez also got 19 years of probation. Jarvis received a sentence of eight years in prison with 10 years of supervised community probation.

10-Year-Olds Robert Thompson and Jon Venables Took The Life Of A Toddler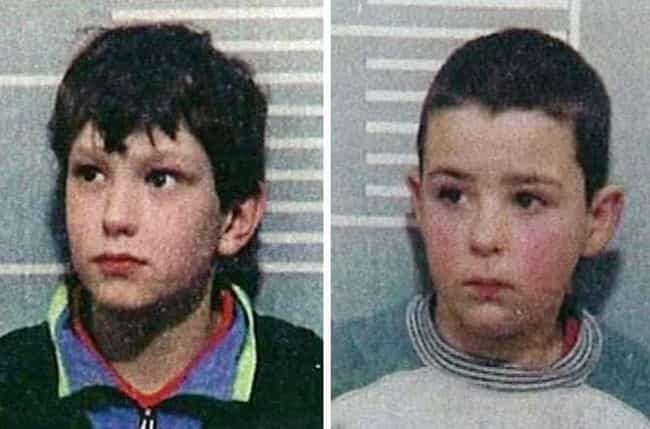 In February 1993, two Liverpool 10-year-olds, Robert Thompson and Jon Venables, led 2-year-old James Bulger away from a shopping center parking lot in Bootle. The boys took him to Leeds and Liverpool Canal where they dropped him on his head, to which he began crying. As many as 38 bystanders didn't intervene. Only two people challenged the 10-year-old boys who said the toddler was their brother.
Venables and Thompson eventually took Bulger to train tracks, where they put blue paint in his eyes, kicked him, stepped on him, and threw rocks at him. They made him eat batteries, and police believe the boys may have also inserted batteries into the 2-year-old's anus. Then the boys dropped a 22-pound railway bar on Bulgar's head, which fatally broke his skull in 10 places. Collectively, Bulger sustained 42 injuries.
According to The Telegraph, the boys were "ordered to be detained at Her Majesty's pleasure, the normal substitute sentence for life imprisonment when the offender is a juvenile." In an unprecedented court order, the pair were given new identities and released in 2001, although Venables has been in and out of jail ever since for distributing indecent images of children.

Curtis And Catherine Jones Fatally Shot Their Father's Girlfriend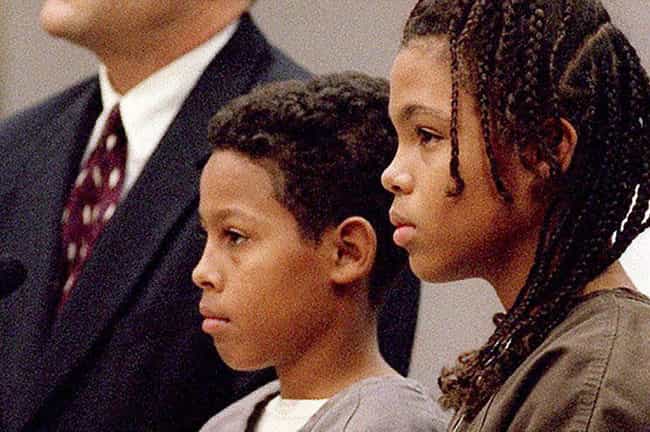 On January 1999, Curtis and Catherine Jones were 12 and 13 years old, respectively, when they took their father's gun and fatally shot his 29-year-old girlfriend, Sonya Speights. Those close to the siblings originally alleged they did it out of jealousy. However, reports from Florida's Department of Children and Families uncovered that a different male relative who was living in the Cocoa Beach household sexually assaulted the children. Allegedly, neither their father nor Speights did anything about the allegations, so the siblings conspired to eliminate the relative who was harming them, their father, and Speights.
Both of the siblings pleaded guilty to second-degree murder, were tried as adults, and received 18 years in prison with life-long probation. Even after the trial, Catherine Jones maintained she regretted hurting someone but had to get away. In 2015, they were released from prison.