Total Nerd
Behind-The-Scenes Stories From The Making Of 'Kill Bill'

Updated September 18, 2019
2.9k views
15 items
The making of Kill Bill was not easy. Quentin Tarantino's two-part epic was influenced by the Asian martial arts films he loves. That meant staging intense action sequences with complex stunts and fierce fighting moves that would dazzle audiences. The filmmaker's well-known admiration for genre movies meant that everything in his own had to be perfect. To that end, he hired a superb cast, led by Uma Thurman and including David Carradine, Lucy Liu, Daryl Hannah, Vivica A. Fox, and Michael Madsen. Behind the camera, he brought in Yuen Woo-ping, the revered Hong Kong martial arts choreographer, to help execute the fight scenes. Tarantino meant business.
Several notable Kill Bill behind-the-scenes stories illuminate the dedication that went into the production of both volumes. There was plenty of drama, such as a near-fatal car accident involving Thurman and a shouting match between Tarantino and Fox. There are also happier stories, in which cast and crew went the extra mile to guarantee they would deliver something truly special to moviegoers. Tarantino spared no expense in making his tale feel like a modern-day version of the martial arts pictures he was paying homage to.
Regardless of whether you prefer Vol. 1 or Vol. 2 - or love both equally - the following Kill Bill movie secrets will enhance your appreciation for "the whole bloody affair."
Uma Thurman Was Involved In An Almost Fatal Car Crash While Filming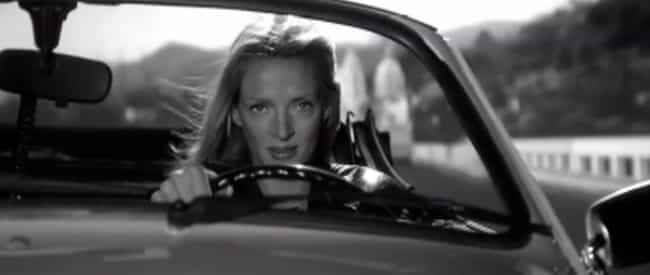 Uma Thurman dispatches a lot of people in the Kill Bill movies, but behind the scenes, she almost expired herself in a car accident that was nearly fatal. Tarantino insisted that his star personally drive a stunt car for a shot, getting up to 40 miles an hour so that her hair would blow in the wind. In most circumstances, that would have been no big deal, except that the seat in the stunt car wasn't properly secured and it was on a sand road.
Despite some nerves, Thurman relented and did what Tarantino wanted. During the shot, the car slid on the sand, sending her crashing into a tree. She suffered neck and leg injuries, as well as a concussion. Years later, Thurman convinced Tarantino to release the terrifying raw footage of the accident to The New York Times.
The House Of Blue Leaves Set Was Built In A Former Chinese Propaganda Studio
Kill Bill marked a change for Tarantino, as it was his first film to be shot outside the United States. Because Asian cinema strongly influenced the story, he trekked to Beijing to shoot certain sections of the films. The House of Blue Leaves sequence was filmed there. The studio in which the set was constructed was originally built by Mao Zedong, the former chairman of the People's Republic of China. He had it built as a location to shoot propaganda films.
Zedong famously used film, art, and literature as propaganda to encourage support among young people for the Cultural Revolution, which was aimed at wiping out old ways of thinking in China and propping up his communist ideals.
Tarantino Originally Wanted Warren Beatty To Play Bill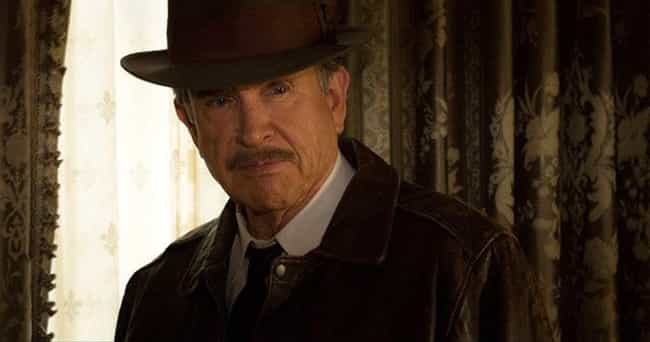 The casting of David Carradine as Bill seems perfect. After all, the actor gained his widest acclaim playing Caine on the popular '70s TV series Kung Fu. Having him play the evil mastermind in a martial arts-influenced action movie makes all the sense in the world. Strangely, Tarantino originally wanted a much bigger star to play Bill, namely Hollywood veteran Warren Beatty.
In a 2016 interview with The Playlist, Beatty revealed the reasons why he turned the filmmaker down. "I didn't want to leave my kids," he explained. "[Tarantino] was shooting the movie in China, and I thought he was going to be over there for a long time." Beatty also claims it was his idea that Carradine be cast instead.
Tarantino Used Condoms To Create More Authentic, '70s-Style Special Effects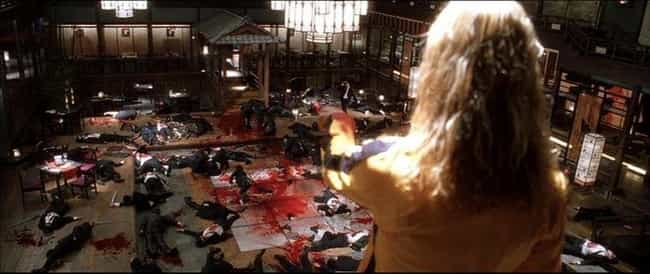 Tarantino had one hard and fast rule on the set of Kill Bill: no CGI to enhance the fight sequences. Instead, he made the film according to what he called "the Chinese way." That entailed using the techniques that Asian filmmakers relied upon in the days before computer effects existed.
One of the tricks he used was filling condoms with fake blood, which were attached to the actors' costumes and popped at critical moments. Tarantino said doing it this way, as opposed to having CGI blood spurts, made the film's clashes "look like a cool '70s thing."