True Crime

11 Creepy Tattoos From Famous Killers

In addition to spilling blood, killers have been to known to get inked, expressing themselves in the ways of the flesh through the dark arts of tattoo sorcery! Naturally, this involves a lot of awkward facial architecture and stringy neck smears; numbers, symbols, even confessions are wrapped around them.
Some recipients of killer body art, like Mexican drug cartel assassin, Gabriel Cardona, want you to see the evil in their eyes, emphasizing it with two pairs of eyes. Los Angeles gang member, Anthony Garcia, wears a pictorial confession in tattoo form on his chest with his gang name plastered above, and "Death Row X3" sits on William Clyde Gibson's skullcap (it's an error, though, since a person can only be sentenced to death twice).
Swastikas are a common motif here, as are pentagrams and general Satanic imagery. These are bad guys and they wear it on their sleeves, as well as their faces and eyeballs! When they can't get it done properly, they draw things on their hands and carve things into their heads. Now, that's devotion.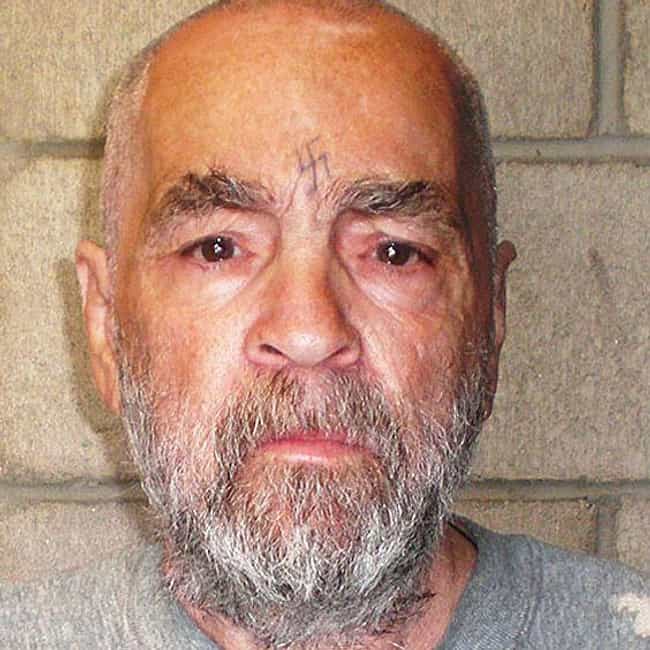 During his trial in the 1970s, notorious cult leader Charles Manson carved an "X" into his forehead. Later, he decided to expand it into a full-on swastika tattoo, and debuted it during a 1981 interview with NBC. According to filmmaker, Nikolas Schreck, who interviewed him at the time, Manson was not insane; he was only "acting that way out of frustration."
see more on Charles Manson
Richard Matt's And David Sweat's ID Tags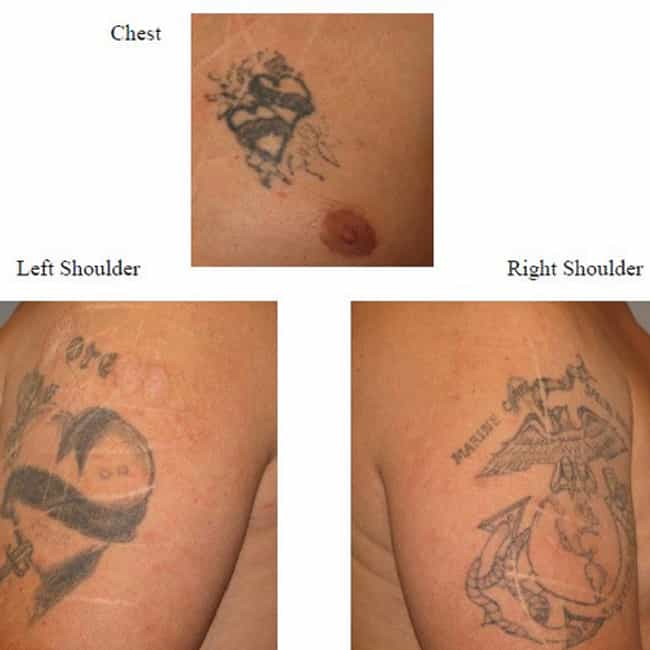 When killers Richard Matt and David Sweat escaped from prison in 2015, authorities released photos of their tattoos to the public. Matt had a Marine Corps logo and eagle on his right shoulder, a snake on his left, and two hearts intertwined on his chest. Sweat has an all-caps "REBEL" engraved on his left arm and the letters "I," "F" and "B" on his his right fist. These runaways were eventually captured (only Sweat survived the ordeal).
Anthony Garcia's Naked Truth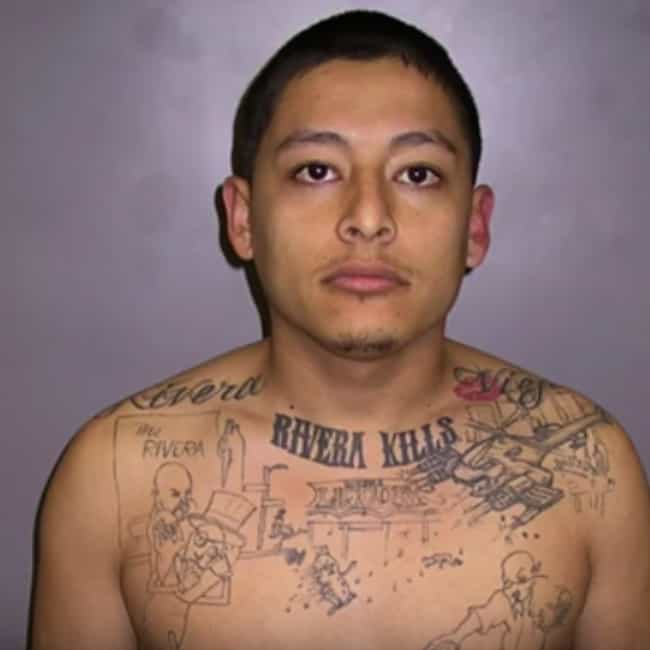 Los Angeles gang member Anthony Garcia was arrested seven years after committing a homicide after officers spotted his unique tattoo. The ink depicted the killing itself: a peanut-shaped rival being sprayed by bullets at the entrance of a liquor store. On the top of Garcia's chest, and right above the grisly scene, lies the text "RIVERA KILLS," clearly referring to his street gang, Rivera-13. "Think about it," marveled Captain Mike Parker. "He tattooed his confession on his chest."
Gabriel Cardona's Second Sight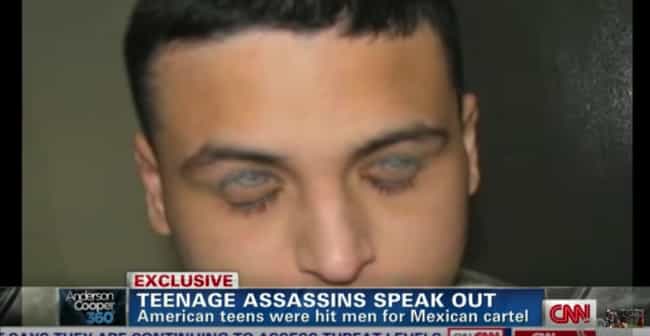 Mexican drug cartel assassin Gabriel Cardona still wears his ink proudly from his jail cell. Cardona, once an active member of the Zetas, sports an outer pair of eyeballs tattooed on his own, thus giving him the perceived ability to sleep with both eyes open. As if that weren't menacing enough, Cardona's back is adorned with an image of "Santa Muerte," or the Saint of Death.