'Kilroy Was Here' May Have Been The Very First Meme, And It All Started In A WWII Shipyard

Zach Seemayer
April 21, 2020
93.5k views
12 items
Editor's Note: Voting and Reranking have been closed.
From the hulls of ships to the sides of trucks to the walls of bathroom stalls across the world - and even engraved into national monuments - one iconic phrase has appeared in seemingly every place across the globe: "Kilroy was here." Along with a cartoon of a bald man with a big nose peering over a wall, the famous declaration took root during WWII and remained popular among soldiers through the Korean War, the Vietnam War, and up to today.
As the term spread, one question remained: Who is this Kilroy? How did this trend start, and why is it so popular? Scholars and historians have spent decades tracing its roots and formulating theories, and yet, real answers have remained as elusive as the cartoon Kilroy himself.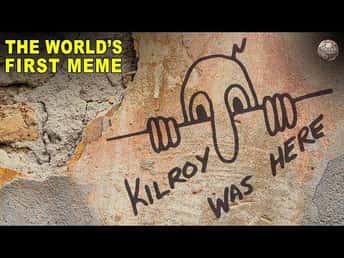 Photo: U.S. Government Printing Office / Wikimedia Commons / Public Domain

Hitler Allegedly Caught Wind Of Kilroy And Feared He Was An Allied Spy

While the "Kilroy Was Here" fad became commonplace for the US Armed Forces and became a way to stave off fear and boredom whiel instilling a sense of camaraderie in even the farthest corners of the globe, it was truly baffling for many among the opposing armies. For example, some sources claim that Japanese forces found the term scrawled on a bombed-out tank and were so confused about its meaning that they took their concerns to senior officers.

One man who likely didn't see the humor in the proto-meme was Adolf Hitler. According to legend, the existence of the "Kilroy Was Here" image was brought to his attention by a number of his commanders, who kept finding the words scrawled on US ordinances that the Third Reich managed to recover.

Commanders also told Hitler that the phrase had been discovered in many remote locations, often before the American military had even arrived, which allegedly led Hitler to conclude that the Kilroy in question must be some sort of spy or supersoldier making his mark across Europe. Some reports even claim that Hitler tasked some of his best men with finding and killing the mysterious Kilroy. Though this legend is fascinating, the tales of Hitler's interest in the phrase may be highly embellished, to say the least.