Entertainment
Turns Out, Kitchen Nightmares Is Full Of Baloney And Gordon Ramsay Is Not That Mean

Updated May 29, 2020
116.3k views
12 items
Kitchen Nightmares is pretty much fake and Gordon Ramsay is full of farm-to-table baloney (at least it better be farm-to-table because we are sending this back if it wasn't stripped right off the bone 20 minutes ago).
For the better part of a decade, the name "Gordon Ramsay" would have had your average line cook cowering in fear – unless, of course, your average line cook actually worked with Ramsay in real life. As it turns out, the terrifying TV chef who made a career out of mercilessly screaming at kitchen staff is a regular ol' nice guy and a living testament to how Kitchen Nightmares is faked.
Kitchen Nightmares behind the scenes is a pretty different show – a show where incompetent servers are hired by the production team and Ramsay definitely isn't yelling his head off until someone screams "action." The world was a tipped off to his nice guy attitude when he started doling out deadpan food reviews on Twitter. He clearly takes his massively exaggerated public persona with a grain of salt (in a smart 280 characters or fewer).
Since Kitchen Nightmares ended in 2014, Gordon's let up on the cursing a little bit (he works with kids now on MasterChef Junior) and former contestants have spoken out on the truth about Kitchen Nightmares. For better or worse, Kitchen Nightmares proved to be the perfect slice of reality TV – highly exaggerated, full of drama and, in some cases, flat-out fake. Here's everything you don't know.
back to page 1
Producers Tell Restaurant Owners To Argue With Ramsay
Kitchen Nightmares has a fatal flaw. The restaurant owners involved are seemingly signing up for the show because they want to save their failing business. When Ramsay swoops in to fix things, they become volatile, and more often than not, are completely unwilling to change anything about their restaurant. Wait a minute – didn't they sign up to literally do just that?
Like you'd expect, people don't really want to go head-to-head with Gordon Ramsay in real life (seriously, would you?). It's the producers who ask them to ham it up. In the episode about Long Island haunt Finn McCool's, there was virtually no conflict with Ramsay, but Chef Brian Mazzio was shown to be confrontational and unruly. It turns out, Brian was extremely happy to stick with Ramsay's menu suggestions, even after the regulars complained about losing their precious fried "bar food."
Restaurant Owners Barely Interact With Ramsay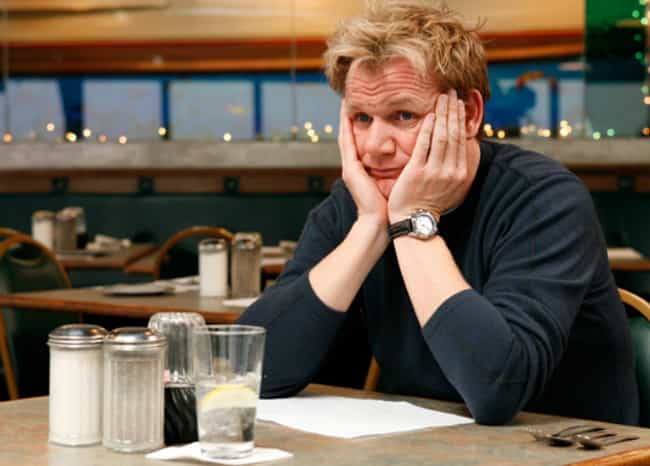 Kitchen Nightmares makes it seem like Gordon Ramsay is giving failing restaurateurs one-on-one lessons about how to succeed. The famed chef really appears to take these people under his wing and form a personal relationship – even if it's not always a pleasant relationship. According to Paul and Leslie Bazzini, whose restaurant was the subject of an episode, this isn't really the case. Ramsay barely interacted with them at all.
"You have no interaction with Ramsay at all," Paul told The New Jersey Record. "He comes with a very big machine of assistants and helpers. The only time that I ever spent any time with him was on camera."
Producers Ask Restaurant Owners Shady Questions To Create Drama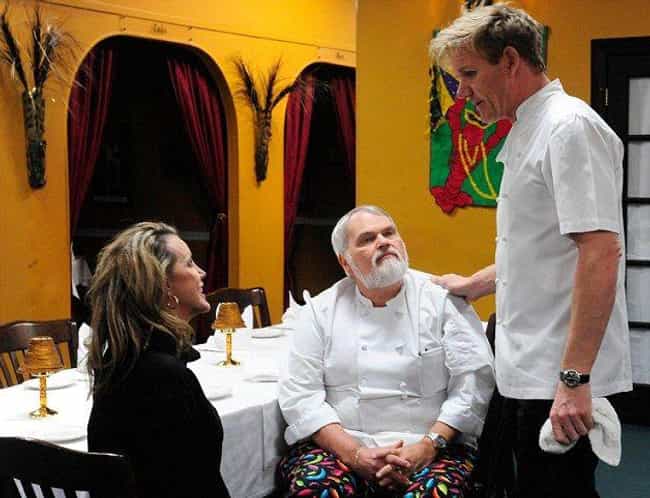 We know that the job of a good reality TV producer is to create a little bit of drama, but the producers on Kitchen Nightmares really stir the pot when there's nothing in it. Leslie Bazzini, who was on the show alongside her business partner-slash-husband, said the producers purposely asked her things to drum up negative feelings about her marriage.
Producers asked Leslie various questions on camera like "If this fails now, how can you stay with your husband?" Clearly, they were trying to provoke her.
Producers Purposely Set Up The Dinner Service For Failure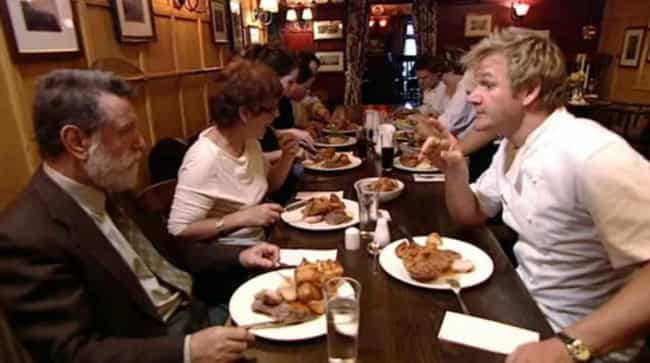 One of the most nerve-wracking moments of every Kitchen Nightmares episode is when Gordon Ramsay observes the very first dinner service. More often than not, Ramsay is appalled with the restaurant's disorganization and sends the whole night into a dramatic, screeching halt and viewers are left wondering how a restaurant could possibly be so bad and still function at all. The truth is, they can't. Producers purposely set the dinner service up to fail.
Paul Bazzini, who spoke to The New Jersey Record about his restaurant's episode, admitted that producers manipulated the dinner service by making it nearly impossible for him to succeed. Bazzini said he was forced to "spend hours of the taping waiting off-site, only to be led into his reorganized kitchen shortly before he was to start service with a brand-new menu and 100 people in the dining room."