Graveyard Shift
Everything To Do At Knott's Scary Farm 2019

71 votes
13 voters
18 items
List Rules Vote up the attractions you absolutely can't miss at Knott's Scary Farm 2019.
Prepare to be scared with 18 new and returning attractions at Knott's Scary Farm 2019. New Knott's Scary Farm mazes Wax Works and Origins: The Curse of Calico join returning haunts, such as Special Ops: Infected and Pumpkin Eater.
Paranormal Inc. is another of the Knott's Scary Farm haunted houses you can expect in 2019. The Hollow Knott's Scary Farm scare zone is returning, along with Ghost Town Streets and Forsaken Lake.
The Knott's Scary Farm Halloween theme of roasting the pop culture of the past year continues with the return of live stage show, The Hanging. Awaken the Dead and Puppet Up! Uncensored are two other Knott's Scary Farm attractions available to guests, if you can stomach it, that is. Knott's Scary Farm runs from September 19 to November 2.
Ranker may collect a commission from links on this page.
New for 2019, Origins: The Curse of Calico aims to explain the legendary fog that falls over Calico and the Ghost Town Streets come Halloween time. Guests will watch as Sarah Marshall is put on trial for suspected crimes of witchcraft, and then try to escape the curse she places on Calico in revenge.
Status: New!
This is the first time Knott's Scary Farm has ever combined a maze, scare zone, and the show, The Hanging as part of the same mythology.
Location: Wilderness Dance Hall
Is this a must?
Head shots only! Guests will be armed with laser guns and sent into a Calico ravaged by the zombie apocalypse. A live-action video game, Special Ops: Infected keeps score as you and your friends fight through one of the largest mazes ever created in Knott's Scary Farm history.
Status: Returning*
New features: There are two new scenes for 2019 - guests will be split up as they venture into the Hernandez' Calico Convenience Store and Howe's Meat Packing House.
Location: Mystery Lodge
* This is the final year for Special Ops: Infected.
Is this a must?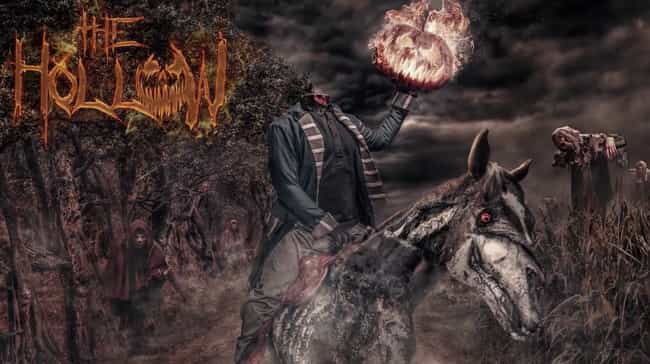 Beware the witches and their armies who have risen to haunt the fog by Pumpkin Eater in Camp Snoopy. They're ready to battle the Witch Hunter in The Hollow as well as Knott's Scary Farm guests.
Status: Returning
Location: Camp Snoopy

Is this a must?
Paranormal Inc. brings guests into a haunted hospital where not only must you fear the evil medical staff, but also the tortured souls of the former patients. Can you escape Hayden Hill before becoming the dilapitated hospital's newest patient?
Status: Returning
Location: Backstage 3 (Behind GhostRider)
Is this a must?