Adventure Movies

Kung Fu Panda 3 Movie Quotes

72 votes
40 voters
4.9k views
8 items
Follow
Kung Fu Panda 3 movie quotes bring the popular animated film series back for a third installment. The family adventure comedy was written by Jonathan Aibel and Glenn Berger and directed by Jennifer Yuh Nelson and Alessandro Carloni. Kung Fu Panda 3 opened in theaters on January 29, 2016.
In Kung Fu Panda 3, Master Shifu (voiced by Dustin Hoffman) urges Dragon Warrior Panda Po (voiced by Jack Black) to take over Shifu's role as kung fu teacher but Po, knowing he wouldn't be the best teacher, is hesitant to try. A short time later, Po and his adoptive father (voiced by James Hong) stumble upon Po's long lost biological father, Li (voiced by Bryan Cranston). Po and Li begin forming a relationship, including Li introducing Po to a secret village of pandas.
So when Po learns that he must defeat Kai (voiced by J. K. Simmons), an old friend of Grand Master Oogway (voiced by Randall Duk Kim), and needs to use the secret of chi to do so, Po is put on the spot. To defeat Kai and safe the Valley of Peace, Po will need to become that leader and teacher he's resisted becoming before.
Also featuring voices from Angelina Jolie, Jackie Chan, Seth Rogen, Lucy Liu, David Cross, Kate Hudson and Jean-Claude Van Damme,
Kung Fu Panda 3
joined theaters already showing other films such as
The Finest Hours
,
The Revenant
,
Ride Along 2
,
13 Hours The Secret Soldiers of Benghazi
.
You Don't Even Know Who You Are
Shifu: If you only do what you can do, you'll never be more than you are now.
Po: But I like who I am!
Shifu: You don't even know who you are!
Shifu tries to inspire Po to break out of his comfort zone and discover who he truly wants to be. Po isn't eager to change as he likes who he is now but Shifu pushes him anyway.
Should this be higher or lower?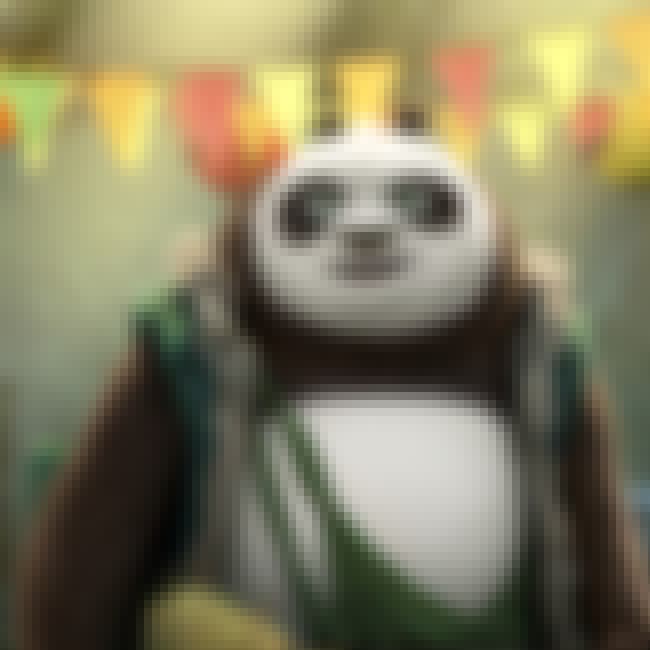 Justice is About to Be Served
Po: Justice is about to be served! ... We'll have two justice platters, please. Tigress, did you want extra sauce with that?
Monkey: She wants it on the side.
Tigress: On the side
Po: On the side
Po proclaims that justice is going to be served and technically, he's not exactly wrong. He doesn't mean real justice, rather a justice platter, with sauce on the side.

Should this be higher or lower?
Po: Who are you?
Li: I'm Li Shang. I'm looking for my son.
Po: You lost your son?
Li: Yes, many years ago
Po: I lost my father.
Li: I'm very sorry.
Po: Thank you.
Li: Well, good luck to you.
Po: You too. I hope you find your son.
Li: And I hope you find your father.
Li, who looks strikingly like Po, arrives looking for his lost son, only to meet Po, looking for his lost father. Despite everyone else in the room realizing that they are looking for one another, Po and Li are, at least temporarily, oblivious to this fact.
Should this be higher or lower?
You Must Take the Next Step on Your Journey
Po: Master Shifu? Good time, bad time?
Shifu: Time is an allusion, there is only the now.
Po: So now is a good time?
Shifu: Oh!
...
Shifu: You must take the next step on your journey, from warrior to teacher.
Po: But I'm no good at it!
Shifu: You're terrible at it!
Shifu realizes completely that Po wouldn't make the best teacher but that doesn't discourage him from becoming one. They need Po to lead and teach them how to be a warrior, whether he's the best choice for that job or not.
Should this be higher or lower?