Celebrities
12 Kurt Cobain Conspiracy Theories

Updated November 2, 2018
207.3k views
12 items
For decades, the death of Kurt Cobain has cast a shadow over the world of rock music. Cobain's untimely suicide transformed him into a martyr who has come to represent much more than he might have ever intended. In addition to his legacy as a poet and an artist, Cobain left in his wake a trail of conspiracy theories longer than any B-side.
At first glance, Cobain's death seems cut and dry - but once you begin examining the evidence, the whole situation becomes as opaque as the singer's lyrics. How did Kurt Cobain die? Though his death was officially ruled a suicide, many feel there are plenty of questions about it that have yet to be answered. While many Kurt Cobain death conspiracies place his wife, Courtney Love, at the center of his demise, there are just as many theories out there that suggest otherwise. Even the most concrete pieces of evidence that were found at the time of death - his suicide note and the shotgun he used - have their inconsistencies. To date, questions remain about who really killed Kurt Cobain.
Courtney Love Murdered Him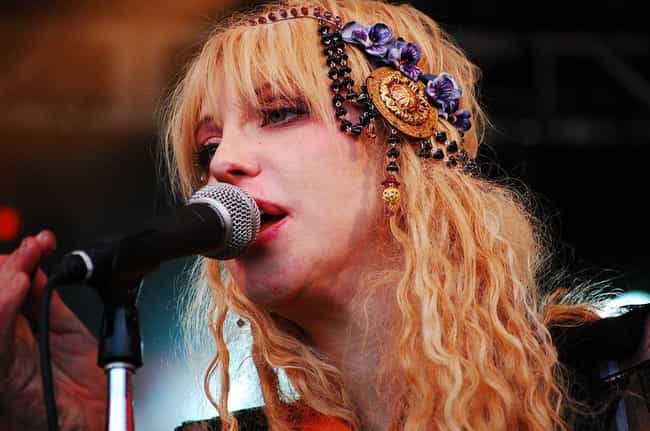 This continues to be the go-to Cobain death conspiracy. It goes something like this: after nearly committing suicide (or maybe accidentally overdosing on pills and red wine) in Rome, Kurt made up his mind to leave Courtney. There were already rumors floating around that Courtney was either cheating on Kurt or wanted to cheat on him, so Kurt decided to take himself out of the equation.
After his suicide attempt in Rome, Kurt retreated to his Lake Washington home to re-examine his career and relationships. When Courtney found out Kurt was thinking of leaving her, and that he'd written a letter to her stating that he was quitting his band and their marriage, she finished the job he started in Rome. As the conspiracy goes, Courtney even added a few lines at the bottom of his note.
Courtney Love Hired a Hitman to Kill Him
Okay, so maybe Courtney didn't actually pick up a shotgun and kill Kurt on her own - after all, she was in a drug rehab facility in California when Cobain "killed himself." If Love had actually wanted to kill Cobain she would have had to hire someone. But that's crazy, right? Maybe not. Eldon "El Duce" Hoke, singer of Seattle band The Mentors, claims that Love approached him at a record store in Hollywood and offered to pay him $50,000 to kill Cobain.
In a 1996 interview with High Times, Hoke said that he passed the job off to a friend. Whether he was telling the truth, or just trying to get some press will forever remain a mystery: Hoke was run over by a train in Riverside, CA, two days after filming an interview for the documentary Kurt & Courtney in 1997.
The Suicide Note Was Falsified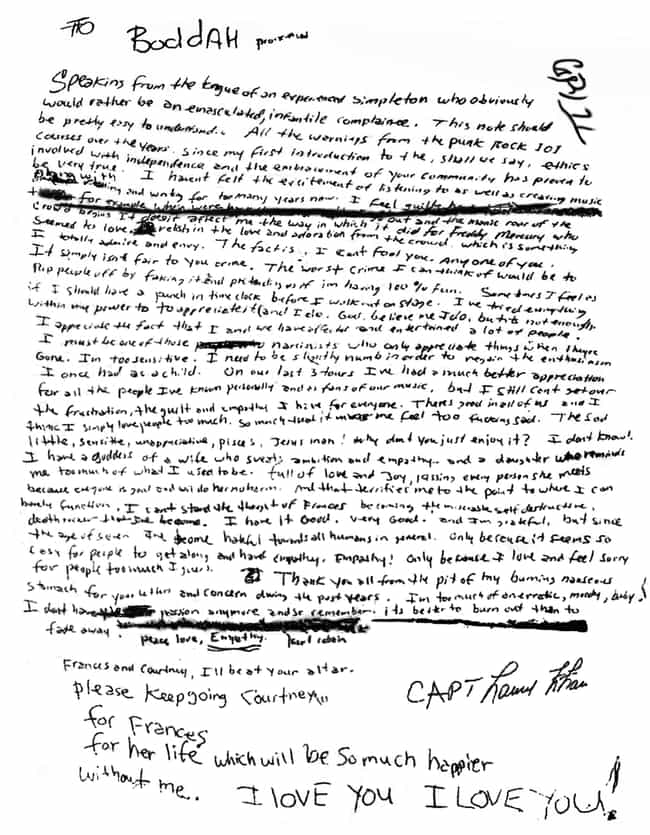 Setting aside the who and why of Kurt's demise for a moment, one should examine the "suicide note" that was left in the greenhouse of Cobain's Lake Washington home. It's worth noting that the handwriting at the beginning of the letter is completely different from that at the end. It may just be a strange coincidence, but it gives rise to a few theories: perhaps he began the letter with his left hand and finished with his right. Or, maybe the letter began as a sincere message to someone (possibly Courtney), but then he changed his mind. Lastly, there's the theory that Kurt began the letter, then someone else finished it after killing him in order to make his death look like a suicide.
Tom Grant, a detective who has been working on this case since the '90s, has a few opinions on the letter:
My own tests with that so-called 'suicide' note indicated that when it is enlarged on a copy machine, the inconsitencies [sic] become even more clear. The ink printed line of that one critical comment, ("which will be so much happier without me"), are thinner than all of the ink printed lines in the rest of the note. At the very least, this indicates that line was added after the rest of the note was completed. The pressure from the hand using the pen to add that line was not consistent with the pressure from the hand that wrote the body of the note.
At the very least, one can conclude that the intent of the letter changed drastically between the beginning and the end.
The Family Nanny, an Unlikely Suspect, Was the Killer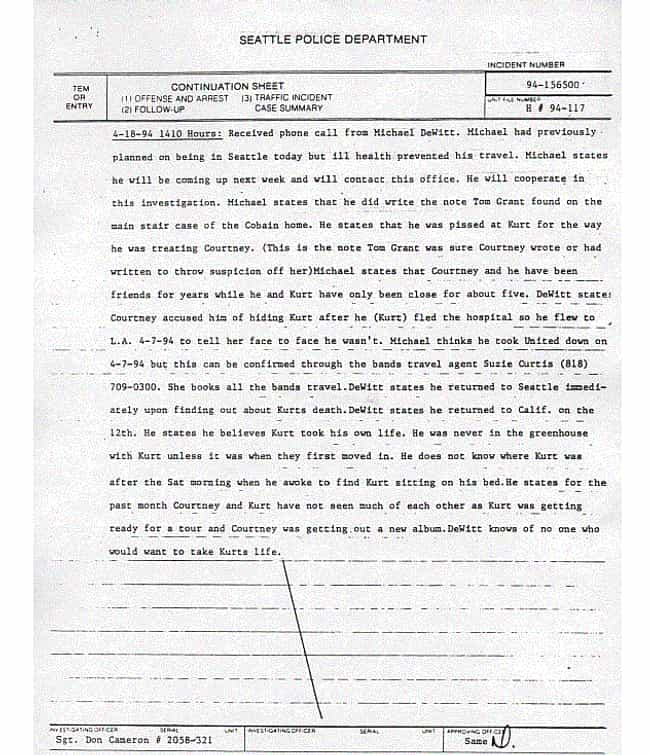 When it comes to the story of Cobain's death, one figure is rarely spoken of: the family's nanny, Michael Dewitt. According to Cobain death truther/detective Tom Grant, Dewitt was the one member of the family unit who actually had the ability to move freely after Cobain's suicide attempt in Rome. Love was holed up in a California rehab center and Cobain was in Lake Washington.
Dewitt freely admits to seeing Cobain at the Lake Washington residence, although he didn't mention it to anyone at the time. Is this because he and Love conspired to kill Cobain and make it look like a suicide? Only two people know for sure.