Culture
The Worst Kylie Jenner Challenge FAILs on the Internet

Updated June 14, 2019
14.8k votes
2.1k voters
600.5k views
20 items
Not to sound like an army of grandmas, but what's happening to the kids these days? They're all sexting and bruising their lips to look like a C-List celebrity that they spend WAAAAAY too much time Googling. The challenge took off when teens started shoving their mouths into shot glasses in order to plump them up so they could look like the youngest of the Kardashian clan, Kylie Jenner. Other than being a completely insane idea, the Kylie Jenner challenge is actually super dangerous. The shot glass can break, causing severe lacerations, and even if the technique is utilized properly it can cause intense bruising. The dummies on this list definitely failed at the Kylie Jenner lip challenge.
After photos of bruised teenage dum-dums started making the rounds on Twitter with the hashtag "#KylieJennerChallengeGoneWrong" the media freaked out and the 17-year-old Keeping Up With the Kardashians star tweeted: "I'm not here to try & encourage people/young girls to look like me or to think this is the way they should look. I want to encourage people/young girls like me to be YOURSELF & not be afraid to experiment w your look."
So take it straight from the horse's mouth and stop screwing up your face. The bright side to all of this is that the KJ Challenge is the least embarrassing online foible that a Kardashian has committed.
Vote on which dummy looks the worst after attempting the Kylie Jenner Challenge. And if you've given it a shot, leave us a comment and let us know how it went. Although we're pretty sure we know the outcome.
Kylie Jenner Challenge Or Boxing Injury?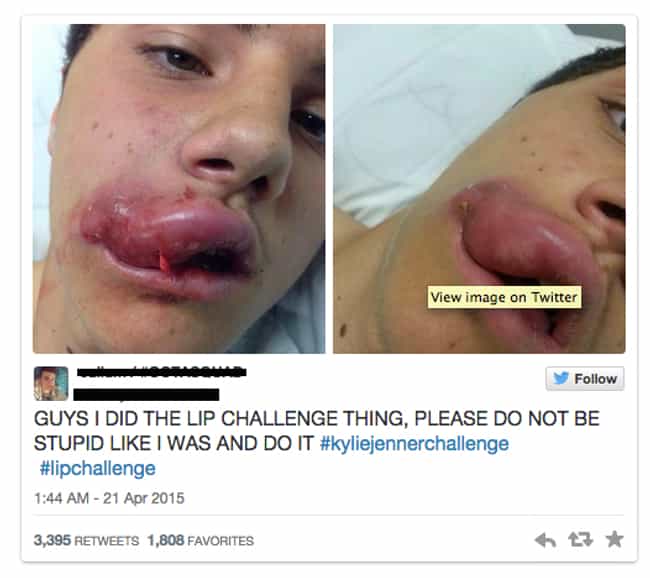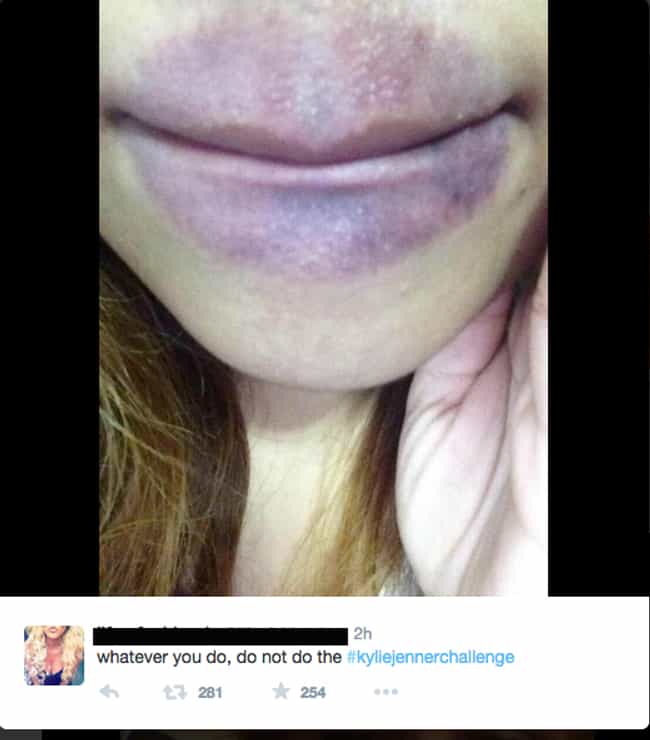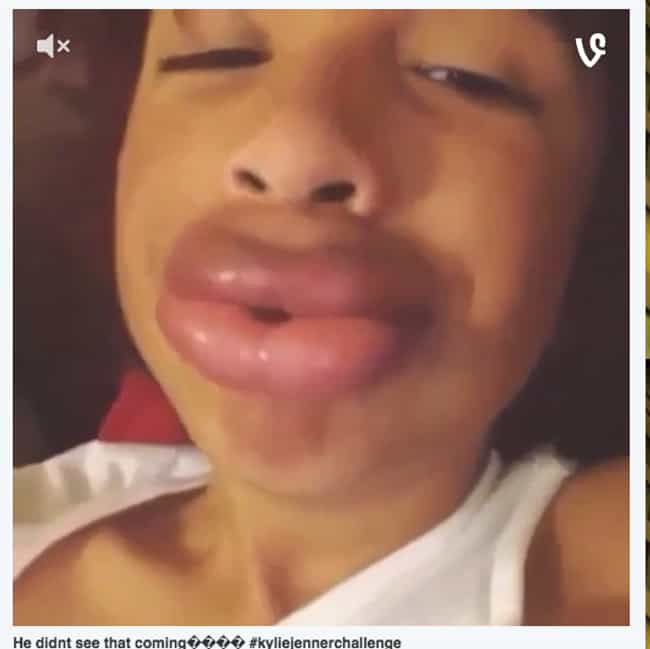 Did You Smash Your Lips In A Car Door?