Weird History
27 Unbelievable Photos From The LA Riots

The 1992 Los Angeles riots seemed like the natural conclusion of decades of urban blight and an obvious manifestation of the social effects of the crack epidemic. Call it one of the most flagrant consequences of Reaganomics, if you will, and a sad, violent reminder of police brutality and racial tension in the United States that is often swept under the rug but never goes away, thanks to social and economic disparity drawn along racial and ethnic lines. As these LA riots photos show, despite the inevitability of such social unrest, it's hard to conceive of such large-scale destruction and the militarized response in America's second biggest city.
Civil unrest in the United States has a long history, and is deeply ingrained in the nation's social fabric, but has become increasingly rare in an age of militarized police, social control affected through the prison-industrial complex, and a media and political apparatus designed to present images of protest as an actual form of political resistance and action. The panopticonic nature of spectacular society turns the lower echelons of social hierarchy against one another, thus preventing mass, united action against the ruling classes and government. Yet, as is evident from historical photos of the Los Angeles riots, such action is not impossible in the US, and can draw attention to long-festering class and race problems that commonly go ignored by lawmakers.
The LA riots erupted in the wake of a jury decision to acquit four Los Angeles Police Department officers caught on video beating Rodney King. King, an African American taxi driver, was involved in a car chase with police and, when caught, was assailed by the pursuing officers as a local man videotaped from his balcony nearby. Rioting began on April 29, 1992, and lasted for six days, into May. Over the course of the riots, 55 people died, around 2,000 more were injured, and more than $1 billion in damages done. Interference from the National Guard, Army, and Marines was required to stop rioting and looting, which, while based in South Central Los Angeles, spread throughout the city.
A California Highway Patrol Officer Guarding Stores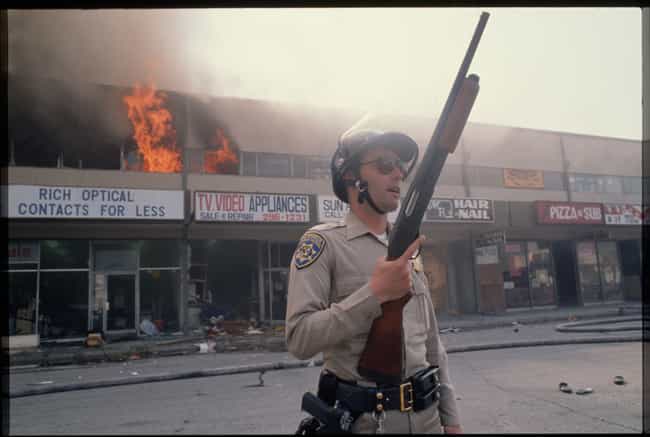 Two Boys Walk By Riot Damage On Adams Blvd In South Central Los Angeles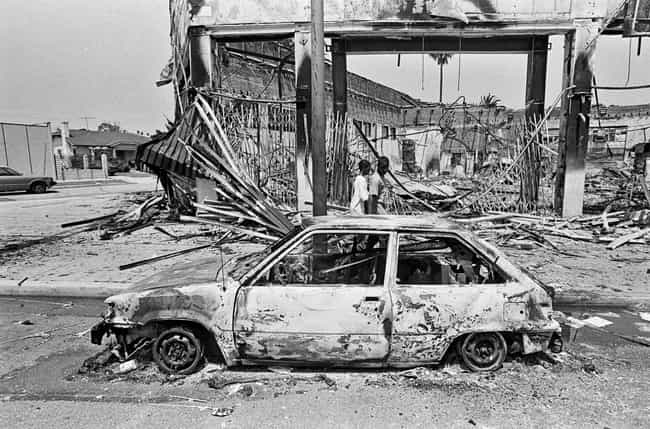 Police Arresting An Injured Man By Dragging Him Across Asphalt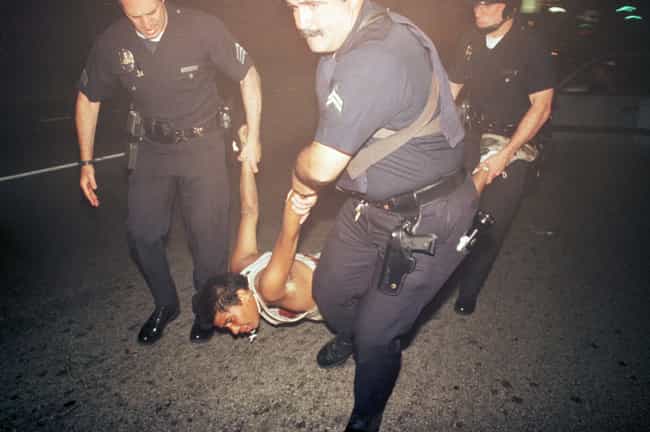 A Man Walks Past Burning Building