Living
These Lash Extension Horror Stories Will Make You Second Guess That Lash Appointment

Updated June 14, 2019
76.9k views
10 items
Hollywood's got an obsession with long, thick lashes. And even those who aren't famous have considered slathering on Latisse after watching Brooke Shields hawk the lash-growing formula on incessant TV infomercials. Everyone's tried falsies, drugstore mascaras, and even silicone-infused mascara, but still eyelash extensions seem to produce the quickest results. Are eyelash extensions really the best option, though?
Before you get them, you might want to consider the thousands of lash extension horror stories. Some faux lash incidents result in traction alopecia and vision-threatening rashes that send unsuspecting beauty addicts to the hospital. Actress Kristin Chenoweth even donned sunglasses during a late night TV appearance after developing an intense allergic reaction to her eyelash extensions (and she likely didn't pay peanuts for some back alley procedure).
Are eyelash extensions bad for you? It really depends, but certain procedures are always a little dicey if they involve putting chemicals near the eyes. You may want to stick to your trusty supply of Ardell Demi Wispies.
What Are Eyelash Extensions?
Eyelash extensions are more permanent than the average falsies or strip lashes. The professional-grade lash treatment lifts eyes and eradicates the need for mascara. Makeup junkies love the extensions because they're easy. It's unnecessary to bother with tricky lash glue at home because a professional lash artist glues synthetic eyelashes onto already existing strands. Usually, the faux lashes made of silk, mink, or some type of plastic, and the process costs between $100 and $500. The enhancements are said to last up to 12 weeks, but most aestheticians recommend coming in after two to three weeks for a touch up.
Why Are Eyelash Extensions So Dangerous, Anyway?
It's always hazardous to put foreign objects near the sensitive eye area, but eyelash extensions pose very specific risks. For example, some lash glues trigger major allergic reactions because they contain formaldehyde. Bacteria can also get trapped in the extensions and cause eye infections. Dr. Robert Dorin cautioned:
"The weight of using [eyelash extensions] on a regular basis can put stress on the hair follicle and eventually make it fall out and not grow back... The incentive to use it is to make your lashes fuller, and it can actually do the reverse and make them thinner."
The FDA Even Issued A Warning About The Dangers Of Eyelash Extensions
Lots of beauty lovers continue to get gorgeous, artificially enhanced lashes and have had no problems or side effects. However, the FDA warned that eyelash sensitivity isn't uncommon, noting:
"Since the eyelids are delicate, an allergic reaction, irritation, or injury in the eye area can occur."
If you must have your lash extension fix, it's best to ask for hypoallergenic glue especially if you experience redness, stinging, or other issues with regular makeup products. If the average drugstore brand mascara or regular eyelash glue bothers your eyes, proceed with caution.
One Woman's Eyelashes Fell Out In Clumps After She Developed A Nasty Infection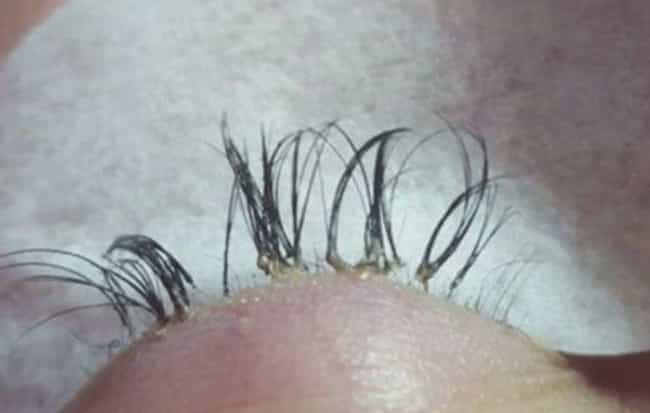 Lash technician Emma Dhanjal of Emmaculate Beauty Salon in Perth, AU had seen a lot of lashes, but she wasn't prepared for the horror that walked into her salon one afternoon in 2017. A customer wanted Dhanjal to touch up her existing extensions for a birthday weekend, but she actually had a sever infection that caused her lashes to fall out in chunks. The horrified technician wrote:
"Her natural lashes are sooooo damaged from the place she has been having her lashes done, they were falling out when I touched them with the tweezers... As soon as I saw her lashes I knew something was wrong. I was a bit speechless, but I removed them straight away and advised she see her GP... My advice for people looking to get lashes is to look at reviews, and make sure the professional knows what they're doing. Prices are also important - you get what you pay for if you go too cheap."