Entertainment
Lay the Favorite Movie Quotes

73 votes
24 voters
3.7k views
10 items
"Lay the Favorite" movie quotes provide the comical dialogue to the 2012 movie that follows one girl's adventure into the world of sports gambling. The comedy film, directed by Stephen Frears, was adapted from a memoir of the same name by Beth Raymer into a screenplay by D.V. DeVincentis. The film debuted at the Sundance Film Festival in January 2012 prior to its December 7, 2012, wide release.
In "Lay the Favorite," Beth Raymer (Rebecca Hall) is a young, attractive free spirit who leaves her job dancing at a Florida strip club to move to Las Vegas, Nevada, in search of a bigger and better opportunity. While working as a cocktail waitress in Sin City, Beth meets Dink (Bruce Willis), a big-wig sports bookie, and begins working for Dink. This brings Dink a great deal of luck, much to the ire of Dink's wife Tulip (Catherine Zeta-Jones), but soon comes to an end when one bad bet forces Dink to fire Beth.
Despite falling for a Las Vegas local Jeremy (Joshua Jackson), Beth decides to move to New York City to work for another bookie, Rosie (Vince Vaughn). She also soon finds herself in over her head when one of her clients fails to pony up the cash he owes putting Beth on the wrong side of the law. Laura Prepon, Frank Grillo, Corbin Bersen, Joel Murray and John Carrol Lynch co-star in the comedy film.
If "Lay the Favorite" is not quite your bet for movie of the year, there are plenty of others to catch instead including
"Killing Them Softly,"
"Hitchcock,"
"Skyfall,"
"Lincoln,"
"Flight,"
"Playing for Keeps,"
"Silver Linings Playbook,"
"Anna Karenina,"
"This Must Be the Place,"
"Cloud Atlas,"
"Wreck-It Ralph,"
"Nobody Walks,"
"The Sessions,"
"Red Dawn,"
"Chasing Mavericks,"
"Rise of the Guardians,"
"Argo,"
and
"Looper."
Dink: "Hi"
Beth: "Hi. Are you Dink?"
Dink: "I am Dink, yes. You must be Beth. Come in. So how much do you know about gambling?"
Beth: "Uh, I played some Flip It the other night."
Dink: "How'd you do?"
Beth: "I was told it was for retards but I got really into it."
Dink: "I may not trust you with my money. You're gonna rob me, go play Flip It all night."
Beth: "No, I'm not."
Dink: "Come on, I need this game so easy I need to stay under, not for a little."
Beth: "So you're a bookie"
Dink: "Absolutely not. Bookmaking is illegal. I'm a gambler. Everything I do here is completely legal in the state of Nevada."
Beth: "So do you play poker or blackjack?"
Dink: "Some poker, blackjack, it's not really gambling. No skill, no odds, just a racket for the casinos to make money."
Beth: "Well my dad played a lot of blackjack."
Dink: "Sorry to hear that. Oh the service's go line is way too high. Hey look at something. See that little patch of yellow skin right there?"
Beth: "Nope"
Dink: "Oh maybe not in this light. Anyway, I make my lines and I compare them to the books."
Beth: "To the books?"
Dink: "Sports books. Sports book is where you go to make a bet on a sporting game. You can either do that here in Vegas or you can do it online overseas but I gotta do it here. So I gotta send guys to run and take the money down there and make the bets for me. Maybe that's something you can do if you come down here to work. I can't believe you can't see this little yellow mark."
Though the first meeting between Dink and Beth seems to go well as she's introduced to the world of sports betting, Dink gives a hint at his quirky side which at the moment seems to be obsessed with a slight skin discoloration on his arm.
Should this be higher or lower?
The Initiative, It's Impressive
Rosie: "So now Beth, how do you suggest I re-imagine my vortex in a way that indispensably includes you?"
Beth: "Well, I'm good on the phone and I like going on pan collects."
Rosie: [On phone] "Hey, yo kids, why not? I'll give you six points. Later, fool." [To Rosie] "Pan collects, some phone, I like it. I like where this is going. Yes, how's $40 an hour to start?"
Beth: "Oh great. Didn't you just make a bet?"
Rosie: "Yes"
Beth: "So aren't you going to write it down?"
Rosie: [Points to his head]
Beth: "Oh"
Rosie: "I can see there's something that you're thinking but then not saying."
Beth: "Yeah, well there's this guy I know and he likes to bet like crazy and he can't find any action and he has friends who want to get down too and I thought maybe I could put them on to you. They seem ready to bet like a lot."
Rosie: "Fine, then you agent them."
Beth: "Me? Really?
Rosie: "This will be a nice thing on the side for you. Whatever he loses I'll give you 25% but these guys are your responsibility."
Beth: "Oh my god this is great."
Rosie: "Beth, dude, the initiative, it is impressive."
Beth: "Yes"
Rosie: "You started working for me before you started working for me. That is unprecedented. You are like a hungry woman lion on the prowl but you listen to things and you smell everything. Look at this line here on Boston. I'm going to savage this right now."
Looking for work, Beth heads to meet with Rosie, a New York sports bookie. While Rosie is ready to hire her on her experience alone, he's elated when she already has business for him.
Should this be higher or lower?
Beth: "You owe me $75,000."
Dave Greenberg: "I'll call you back in five minutes."
Beth: "FOUR MINUTES!!!"
...
Beth: "Now we're done with the games. Do I have to call one of your relatives or have somebody come and punch a sunroof into your head?!"
Jeremy: "Whoa, whoa, whoa"
When Beth's client fails to pay up, it's on her to recover the money and that means pulling out her inner tough girl.
Should this be higher or lower?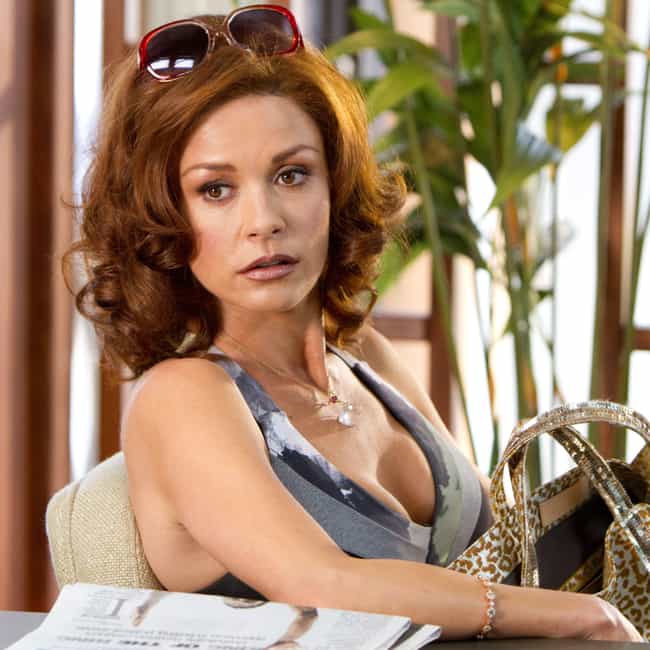 Dink: "You're a jinx!"
Tulip: "I didn't come here for all of this. I'm going to fit in some Pilates before golf."
Maybe it's just a coincidence that Dink loses whenever wife Tulip is around but whatever the reason, he makes it well known that she's his jinx. That she says she doesn't have time for as her trophy wife duties are waiting.

Should this be higher or lower?