Humor

33 Dogs Who Would Rather Be Watching Netflix on the Couch

3.3k votes
889 voters
46.6k views
28 items
List Rules Vote for your favorite pooped puppies
Have you ever been so drained after a long day that you couldn't even think about working out/walking/sitting up? These lazy dogs can relate. The little guys on this list are in no mood for exhausting activities like movement. Here you'll find pooches of all breeds and sizes who are already tired just thinking about dog things they have to do today. After all, many dogs juggle a busy schedule of fetching, eating, staring longingly at whatever you're eating, and begging for walks. It's almost too much to handle.
Perhaps you are having trouble relaxing? Let the pups in this collection of lazy dogs demonstrate the wonderful art of doing absolutely nothing. These furry little low-riders will introduce you to the art of laziness as they show off skills in the art of the cuddle, the no-effort walk, and even the tag-team game of fetch. You'll find pooped puppies who are exhausted from a long day of shoe destruction and vacationing grown-up dogs who do not care that you want to take them out to pee.
So the next time you're ready to relax, get a load of these peaceful pooches who are resting with the best of them. Whether you're lucky enough to be able to join them for a nap or are forced to live vicariously through them, you're in for a laugh as you watch them recline.
"How 'Bout This Furniture? Am I Banned From It Too?"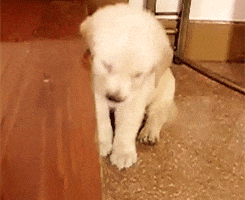 5-Hour Energy Dog Enters Hour Six