Developed during the 1920s, the iron lung was invented to help individuals with polio breathe after their torso and abdominal muscles ceased to work. Improvements to the iron lung were made throughout the 20th century, but the almost-obsolete hospital device still looks a lot like a machine used in interrogations or a cruel medical tool. For many, the iron lung's lifesaving benefits were - and, for a few, still are - worth the trouble of living in a cylindrical breathing machine.
Life inside an iron lung means long hours spent keeping one's mind busy while the body gains the ability to breathe. An iron lung could be viewed as a medical marvel, a potential prison, or a minor inconvenience as the experience of using one changed over time. Being in an iron lung means survival and freedom from pain but at the expense of physical liberty. In the end, it's up to the user to decide what life he or she lives while surrounded by metal, tubes, and the constant rhythm of the iron lung.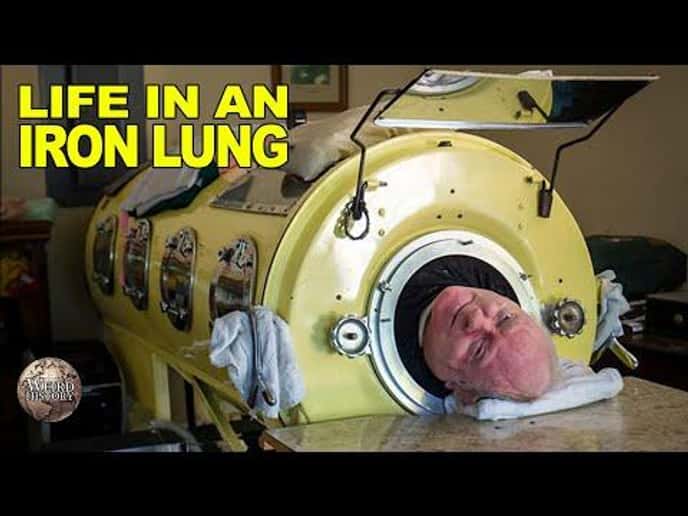 The Iron Lung Brought Much-Needed Relief And Rest To Many Patients

In 1930, Popular Mechanics magazine described the process by which a patient entered an iron lung:

The patient is placed on the sliding bed, shoved into the cabinet and the shield tightly locked. A rubber collar, which fits so snugly that almost no air can pass, is adjusted around the patient's neck. A switch is turned on, and the cabinet begins to work.

Marshall Barr, who first used an iron lung during the 1970s, said the experience was comfortable:

The relief of not having a respirator on my mouth and just laying flat on my back with the breathing taken over was quite relaxing. It was restful because there wasn't much for you to do in the iron lung... you would usually just shut your eyes and go to sleep.

In 2016, Jim Costello described his experience using an iron lung after he contracted polio in the 1950s:

I lay there listening to the motor pumping a large bellows which changed the air pressure inside. It created a partial vacuum to lift my ribcage to draw air into my lungs and then a positive pressure to partially compress my lungs, so I could breathe out.

I wasn't scared going into this box. I was too ill and in too much pain to care. What really frightened me was when a nurse or a doctor wanted to open the iron lung. In the beginning, I couldn't breathe at all once it was open and this terrified the life out of me.