Editor's Note: Voting and Reranking have been closed.
Like any great conflict, the Crusades have been the subject of myths and misinformation for years. While few still believe the propaganda that justified the fighting, various false facts have proliferated over the years, concerning everything from the motivations of the Crusaders to their reception in Arab lands. 
It's easy to understand how both storytellers and audiences get swept up in the romance of the Crusades. The epic sweep, the clash of cultures, and the stunning aggression still thrill us today. But what was life actually like for a medieval crusader? Of course, the answer varies. The wars were radically different experiences for a noble knight than they would be for a common farmer. 
A day in the life of a Crusader, like soldiers throughout history, alternated between boring and terrifying, exhilarating and tragic. But in the midst of the conflicts, the Crusaders also met a new culture, forged new trade routes, and shifted the social and political landscape.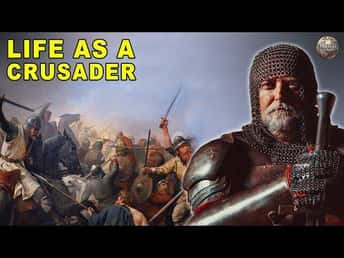 Photo: Gustave Dore / Wikimedia Commons / Public Domain

You May Have Been Fighting Alongside Children

In 1212 CE , two young boys, Stephen of Cloyes and Nicholas of Cologne, raised armies in France and Germany, respectively, in what was later named the ' Children's Crusade '. Though much of the story has been obscured or mythologized, the shepherd boy Stephen is said to have received a letter from Jesus instructing him to preach crusade. Stephen brought the letter to King Philip II but was rejected by the royal court. Despite this, he began preaching and a crusading fervor moved westward from France until finally two armies congregated together, consisting of 20,000-40,000 children, adolescents, and adults.

This group was determined to take Jerusalem. They traveled through Europe, crossing the Alps towards the Middle East, but many lost their lives before they even made it to Genoa. It is unclear what happened to them; some stories claim they were captured and sold into enslavement, while others claim they were turned back in Rome by Pope Innocent III. Regardless, they never made it to Jerusalem.