Like any great conflict, the Crusades have been the subject of myths and misinformation for years. While few still believe the propaganda that justified the fighting, various false facts have proliferated over the years, concerning everything from the motivations of the Crusaders to their reception in Arab lands. 
It's easy to understand how both storytellers and audiences get swept up in the romance of the Crusades. The epic sweep, the clash of cultures, and the stunning aggression still thrill us today. But what was life actually like for a medieval crusader? Of course, the answer varies. The wars were radically different experiences for a noble knight than they would be for a common farmer. 
A day in the life of a Crusader, like soldiers throughout history, alternated between boring and terrifying, exhilarating and tragic. But in the midst of the conflicts, the Crusaders also met a new culture, forged new trade routes, and shifted the social and political landscape.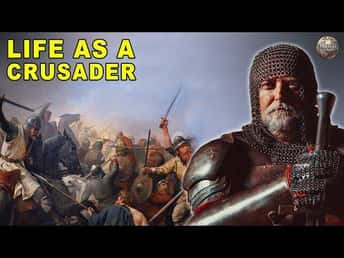 Photo: Mahiet / Wikimedia Commons / Public Domain

You And Tens Of Thousands Of Others Needed To Congregate And Cross Entire Continents And Seas To Get To The Holy Land

Gathering and moving tens of thousands of men, their mounts, and the machinery from Europe to the Middle East was an obvious logistical issue for the Crusading states. The Crusaders took various routes to arrive in Jerusalem, the journey was arduous, and sometimes entire armies simply gave up halfway there.

The leaders of the Crusades knew that time was of the essence, as the religious fervor that drove many to commit could only last so long. Once the Middle Eastern port of Antioch was captured, many Crusaders took the journey from Genoa to Antioch, a stretch of almost 1500 miles. This necessitated the hiring or construction of vast fleets, and so a budget for the expedition had to be estimated and then transported along with the army.

Getting to Genoa, however, was itself a perilous journey. During the Third Crusade, a large crowd of pilgrims gathered and traveled to Genoa, but to do so, they had to cross the Rhône River over a narrow bridge. The bridge collapsed under the weight of the crowd, and over a hundred men fell into the river and were swept away by the current.

Once at the Holy Land, the journey was equally difficult. Frederick Barbarossa, Holy Roman Emperor and the leader of the German crusaders, lost his life attempting to cross the Tigris River. When he and his army were stopped in Seleucia due to the river's current, he decided to ignore the advice of his council. With his armor still on, Barbarossa walked into the river and was immediately swept away. Demoralized and stricken with grief by the loss of their leader, the majority of his followers either perished with him or went home.