People Trivia
Turns Out Marlon Brando's Son Was A Huge Disappointment To His Father - Because He Committed Murder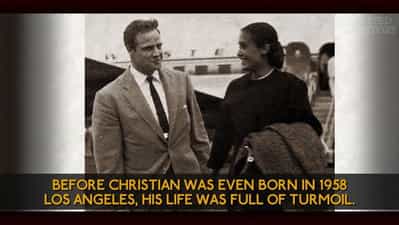 One of cinema's most revered actors, Marlon Brando, wowed audiences on the big screen. But once the cameras went off, the lives of Marlon Brando's children and their dad's own personal life were as turbulent as any movie. Daughter Cheyenne Brando suffered from addiction and schizophrenia, committing suicide in 1995, while son Christian Brando got into more trouble than anyone could have foreseen.
In 1990, Christian shot and killed Cheyenne's boyfriend in a drunken rage. The infamous Christian Brando murder case came about after Cheyenne alleged that she was being abused by her lover, and her brother went in search of bloody revenge. In the aftermath, Christian went to jail for nearly five years, then got embroiled in additional murder allegations years later. He never really led a normal life, in actuality. It's hard enough being the child of a world famous actor, but when you become embroiled in multiple murder cases life becomes a little bit harder, don't you think?
Christian's Parents Had A Decade-Long Custody Battle Over Him
Christian underwent a fairly traumatic early childhood. For one, his mom, actress Anna Kashfi, had a tempestuous relationship with his dad, Marlon Brando. They were only married for 11 months, but the ups and downs of their marriage - she alleged he was physically and emotionally abusive, for one, not to mention routinely unfaithful - resulted in a savage custody battle over their only child. Christian didn't grow up close to either of his parents, as a result. His mom lost custody of him when she allegedly passed out in her own vomit while Christian played by the pool.
Christian's Mom Kidnapped Him And Paid Friends To Keep Him Hidden
In 1972, Brando was out of the country filming in France when Christian, then 13-years-old, went missing. Christian had set fire to his dormitory, so Kashfi took him out of the Ojai-based school, but that's hardly the end of the story. Christian developed a case of bronchitis, and a doctor advised Kashfi to keep him in bed for the weekend. She didn't take the doctor's advice.
Instead, she actually kidnapped her own son and took him to Mexico. She left him in a hotel in Baja California with her friend James Wooster, but when she returned in a few days she found both Christian and Wooster had disappeared. She turned to the Mexican authorities, and the story was plastered across headlines the very next day. Brando got the news and phoned his attorney, demanding Christian be found. The Mexican federal police eventually discovered Christian hidden in a tent with some of Kashfi's hippie friends. After that Brando took custody of their son, and Kashfi wasn't allowed to contact Christian for a year.
Christian's Half-Sister Confided In Him For The Worst
In 1990, Christian's half-sister, Cheyenne Brando, told her brother that her boyfriend, Dag Drollet, had abused her. Cheyenne also told him she was pregnant with Drollet's child at the time, though she later claimed he never did any such thing. Already known for his temper, Christian was determined to avenge the half-sibling he adored. Perhaps he wanted to protect her in a way their own father had never protected him; as a result, Christian took action.
A Drunk Christian Murdered His Half-Sister's Boyfriend
A fatal encounter between Christian and Drollet took place on May 16, 1990, at Brando's Hollywood home. Christian took his dad's gun, fatally shooting Drollet, the father of his half-sister's unborn child and her alleged abuser, in the face. It was later revealed Christian was drunk at the time; Christian claimed he accidentally shot Drollet. How? After Christian threatened Drollet with the gun, it went off "by mistake." When Brando came home, he gave Drollet mouth-to-mouth, but to no avail.