Weird History The Tortured, Painful Life of Janis Joplin, The Baddest Woman In Rock History

Long before the phenomenon that was Amy Winehouse, whose mesmerizing voice captivated millions, there was Janis Joplin, to whom Winehouse was often compared. While Joplin only released three albums during her lifetime (and a few posthumously) and only one Top 40 hit, she still became one of the biggest American music stars of the 1960s, and her music continues to influence musicians today.
Joplin and her band, Big Brother and the Holding Company, first made a name for themselves at the 1967 Monterey Music Festival where she emerged a bright and talented star. Unfortunately, the lifestyle of a hard-partying '60s rock star soon took its toll. Her love of whiskey brand Southern Comfort became as well known as her voice, just like other hard-partying bands like Led Zeppelin or eccentric personalities like Ozzy Osbourne. While the story of Janis Joplin's passing in 1970 serves as a somber end to her tale, underneath her music-star persona, she was a sensitive soul who had been damaged by bullies and hurt by lovers, and who wanted to be loved simply because she couldn't do it herself.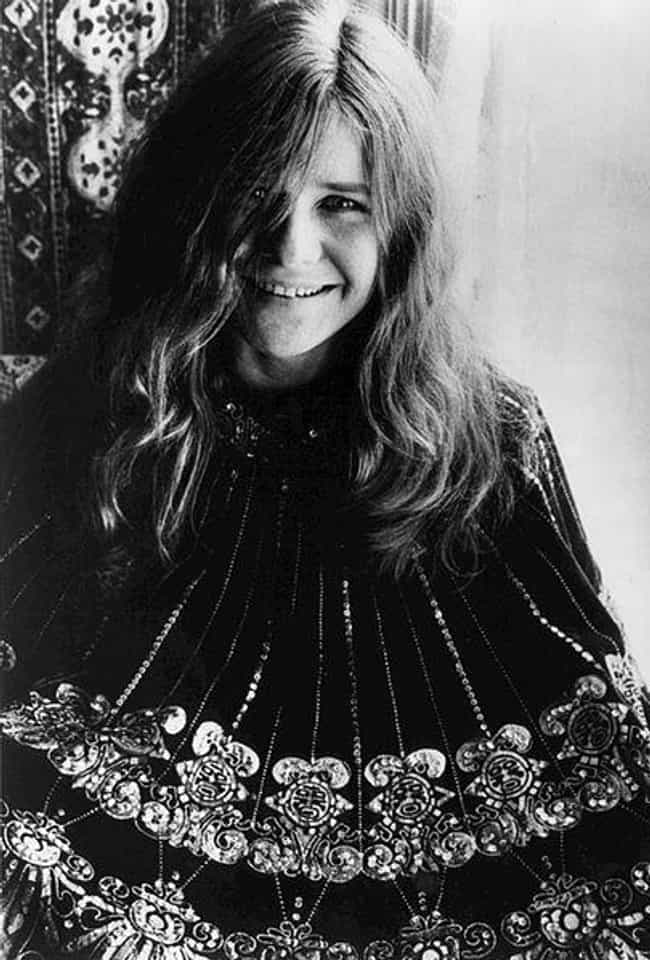 Being Voted 'Ugliest Man On Campus' In College Left Her With Lasting Emotional Scars
Janis Joplin was not considered by many to be conventionally pretty, and because of this, in addition to weight and acne issues from her youth, she struggled with her self-esteem for her entire life.
As a child, Joplin was bullied for her appearance and "different" behavior, and this abuse continued all the way through college at the University of Texas in Austin. A fraternity voted her "Ugliest Man on Campus," hurting her deeply and leaving scars she never forget. Joplin dropped out of college and left Texas for San Francisco to escape the "angry men who liked to pick on her."
She Loved Southern Comfort So Much, The Company Gifted Her A Fur Coat
Joplin's fashion sense, much like her voice, was distinctly her own and was often loud and mismatched. The Daily Texan, the campus paper at the University of Texas, ran a profile on Joplin in 1962, stating, "She goes barefooted when she feels like it, wears Levis to class because they're more comfortable, and carries her autoharp with her everywhere she goes so that, in case she gets the urge to break into song, it will be handy."
Another accessory she was never without was a bottle of the sweet, whiskey-flavored liqueur, Southern Comfort. Her obsession with the drink even earned her a free jacket; the Southern Comfort company was allegedly so pleased with all the free product placement, they gifted Joplin a lynx fur coat.
She Changed Her Will Two Days Before Her Passing
Joplin made adjustments to her will just two days before October 4th, 1970, when she passed away from an overdose. She mostly gave her estate to her parents, with some additional wealth going to her siblings.
She also asked for $2,500 to be set aside for her friends to throw a party in her honor. The stipulation allowed 200 people to hold an all-night gathering at her favorite pub, "so my friends can get blasted after I'm gone."
Joplin's ashes were scattered over the Pacific Ocean as well as along Stinson Beach in northern California.
She Often Ditched Clothes In Photos And Onstage
Photographer Bob Seidemann wanted to use a picture of Joplin to make a statement about the idealism of hippie culture and asked her if she'd pose topless. Joplin decided she'd rather pose completely naked, despite Seidemann telling her that wasn't necessary. "That's the way she was. She wanted to take her clothes off real bad," he remembers.
A concert promoter at Pittsburgh's Civic Arena recalls an incident in which she was late to the stage because she was having sex in her dressing room. When she finally emerged, he was horrified by her outfit. "When I got there, Janis was finally walking up to the stage. She wore a sheer netted skirt with no underwear. When the spotlight hit her, you could see everything," he noted.