Weird History
Sarah Ferguson Might Just Be The Most Scandal-Plagued Modern Royal

The British royal family, currently headed by Queen Elizabeth II, England's longest-reigning queen, has always been rife with scandal. First, there was the issue of Prince Charles's playboy habits and his affair with a woman that nearly destroyed the monarchy. Then there is his brother, Prince Andrew, who was known as England's resident bad boy. Their sister, Princess Anne, was nearly kidnapped. The Queen's children weren't the only ones with bad habits: her own sister, Princess Margaret, was famous in her day for being the first royal in four centuries (since King Henry VIII) to get a divorce.
The scandals do not end with the royals themselves, though. When princes and princesses marry, their spouses carry their own share of scandal and garner plenty of gossip on their own. From Princess Diana, who was beloved by the people despite her tumultuous marriage to Prince Charles and her subsequent, somewhat mysterious death, to Sarah Ferguson, former Duchess of York — who has been surrounded by so much scandal that this entire article is dedicated to her many public controversies.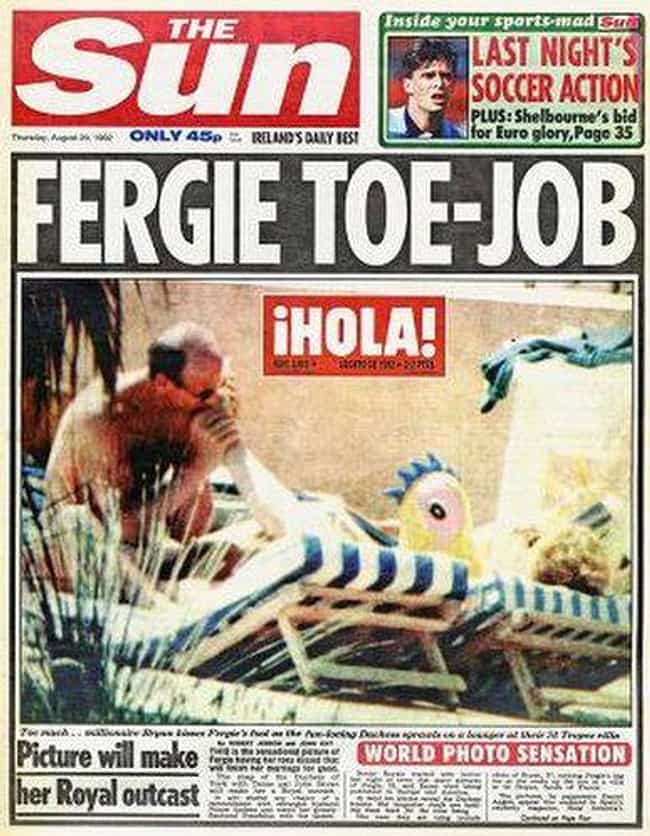 A Picture Surfaced Of Fergie's Lover Sucking Her Toes
Sarah Ferguson, more popularly known as Fergie, officially separated from Prince Andrew, the Duke of York, in 1992, nearly immediately after which she was seen gallivanting around on vacation with her financial advisor John Bryan.
Not only was this scandalous because she was not yet divorced from the prince, but because a photo was captured of the pair in a compromising position: Bryan apparently sucking on Fergie's toes. The photo put the nail in the coffin of her relationship with the British family, as well as the public, with one paper calling her a "trollop."
Tabloids Nicknamed Her "Duchess Of Pork" After She Gave Birth
The tabloids were rarely kind to Sarah Ferguson. Before she was known as the Duchess of Scandal, she was the Duchess of York and garnered a lot of public attention, namely for her weight. After she gave birth to her first daughter, Princess Eugenie, in 1990, she gained quite a bit of weight, and the papers had a field day.
They nicknamed her "The Duchess of Pork," a cruel turn of phrase designed to shame the "self-proclaimed emotional eater."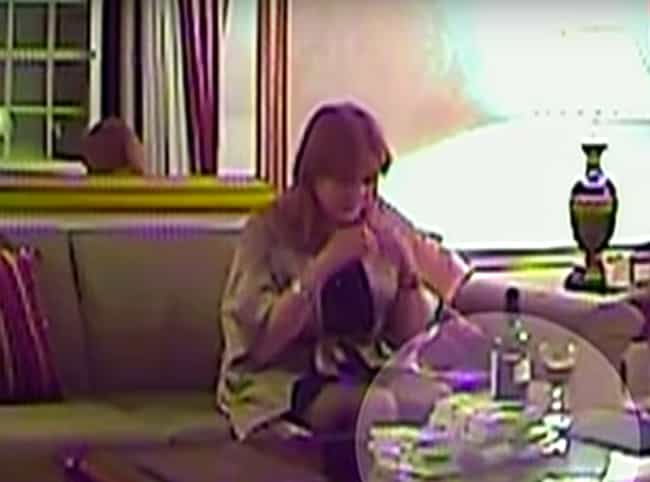 She Tried To Sell Access To Her Ex-Husband, Prince Andrew
In one of her more malicious scandals, Fergie was caught attempting to sell access to her ex-husband for money. On May 23, 2010, a tabloid released footage of the former Duchess (who apparently still goes by the moniker to strangers and staff) accepting a bribe of £500,000 in exchange for "opening doors" to Prince Andrew. She allegedly left the meeting with £40,000 in her pocket and a promise of £500,000 more.
Fergie didn't let this scandal take her down, though; she went on Oprah soon after to discuss the video, chalking up her behavior to alcohol. In an odd turn, she referred to herself in the third person after watching the video, saying, "I felt really sorry for her."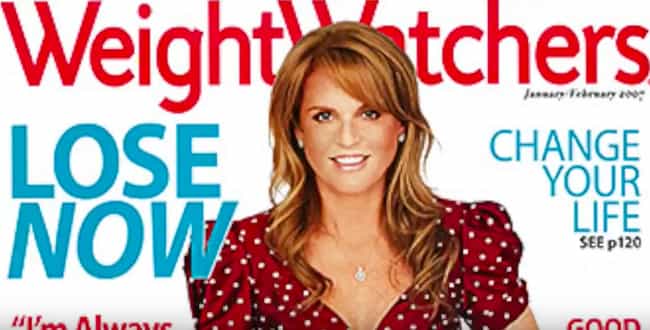 She Was The Face Of Weight Watchers
After her run-in with the media regarding her weight in the '90s, Fergie flipped the script and owned her struggles, becoming the face of the weight loss company Weight Watchers in 1997. Although the career choice raised eyebrows at the time, Fergie didn't shy away from embracing her journey both as a woman with weight issues and as a divorcee.
She told USA Today: "I'd just been divorced and I needed to earn a living. I still do."