Celebrity Couples
Remember When Lindsay Lohan And Samantha Ronson Dated?

Does anyone remember when Lindsay Lohan and Samantha Ronson dated? The pair may have seemed like the ultimate odd couple, but the paparazzi photographed them all the time. Their public and occasionally violent fights added to the drama. Lohan and Ronson even verbally sparred on Twitter, giving the whole world access to the messiness.
Lohan has a varied list of former lovers, ranging from Jude Law to Brody Jenner to Chris Pine. Ronson might be her most interesting paramour, though. The two women made 2008 an exciting year.
Lohan Said The Relationship Was An "LA Thing"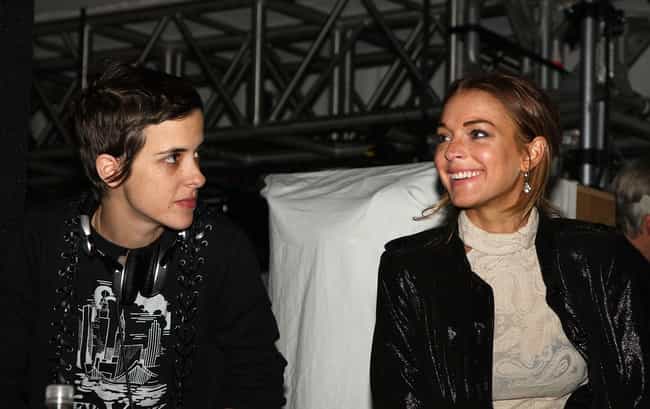 Some people suggest that Lohan is distancing herself from her relationship with Ronson. When asked about her past in a 2018 Wendy Williams interview, Lohan said, "I was living in LA. I'm not saying it's a bad thing, but no, I'm not dating right now." Many felt the statement was diminutive, equating the year-long relationship to a purely situational occurrence.
In a 2013 interview, Lohan also stated:
I know I'm straight. I have made out with girls before, and I had a relationship with a girl. But I think I needed to experience that and I think I was looking for something different.
The Couple Feuded On Twitter
Lohan and Ronson often argued publicly on Twitter. In one case, Lohan accused Ronson of forcing her to leave a party. She even said the DJ was "playing the innocent card, while chatting to TMZ just like my ex-father."
Ronson responded:
One more thing - if you're gonna be an idiot an do coke - do it outside the bathroom - some of us actually use them to pee in... Jack and crack will make for some crazy tweets.
Perez Hilton Claimed Ronsom Planted Drugs On Lohan
In 2007, Lohan lost control of her car in Beverly Hills, CA, and crashed into a tree. When police found cocaine in the vehicle, social media personality Perez Hilton alleged that Ronson planted the drugs on Lohan. Hilton even sold "Blame Samantha" shirts. The DJ sued Hilton for defamation, but ultimately lost because it was impossible to prove Hilton had malicious intent. In the end, Ronson was ordered to pay Hilton more than $85,000 for legal fees.
Lohan Moved Next Door To Ronson After Their Breakup
Lohan and Ronson reportedly split for good in April 2009, but the saga didn't necessarily end there. After a 90-day mandated stay at the Betty Ford Clinic, Lohan moved into a Venice, CA, home located right next to Ronson's.
Lohan claimed not to know about her ex's residency there. Of the situation, a source said, "Samantha walked out of the building next door. She was shaking her head and looking disgusted. She kept saying, 'I didn't plan it this way.'"