Entertainment
The Flashiest Lite-Brite Art on the Internet

848 votes
393 voters
16.2k views
40 items
Ready for some awesome and truly incredible Lite-Brite fun? Have you ever had one of those moments that seems to completely ignore the fact that you're in the prime of your life by classifying your favorite childhood toy or show as "vintage?" It just doesn't seem fair that shows like The Fresh Prince of Bel-Air could possibly be part of a "classic TV line-up" or that toys such as the irrefutably rad Teddy Ruxpin could now be considered collectables. Fear not however, for despite these flashback atrocities, there's one time honored toy that's not only still around, but revolutionizing itself in ways that 10-year-old you could never begin to imagine. Remember the cool Lite-Brites you used to play with as a kid? Well get ready to see them in a whole new light… or "lite" if you will.
You see, here we've collected photos of some of the wildest Lite-Brite art ever produced for your viewing pleasure. Get ready to be blown away as these Lite-Brite pictures reveal the work of artists who work in pegs the way that Monet or Degas worked in oils. These Lite-Brite designs feature everything from huge murals that took hundreds of thousands of pegs to produce, to stunningly realistic portraits of some of your favorite stars.
So if you remember the magic of lighting up a peg by number masterpiece back in the day, get ready to take a colorfully-lit trip down memory lane. We've got everything from some of the coolest pieces produced on conventional Lite-Brite screens to pieces so big they could light up your whole street.
Artist Rob Surette's Amazing Taylor Swift Lite-Brite Portrait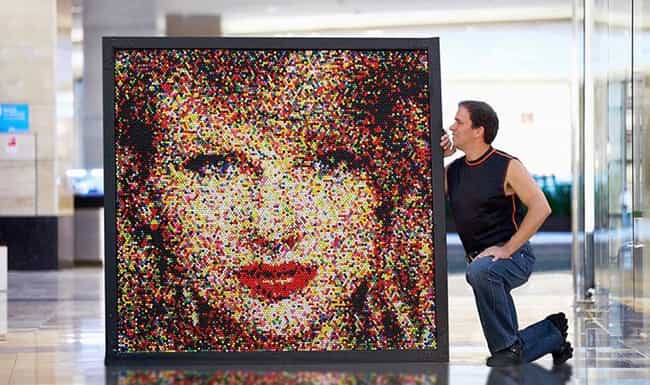 Agree or disagree?