America

List of Famous Los Angeles Buildings & Structures

List of the famous landmarks that make up the Los Angeles skyline, listed alphabetically with photos when available. Los Angeles architectural landmarks as well as other major buildings, dwellings, and other structures in Los Angeles are included on this list. Information about these Los Angeles buildings is included on this list, such as when the building first opened and what architectural style it falls under. List includes both new buildings in Los Angeles and older historic landmarks.
List is made up of many different buildings, including Getty Center and Los Angeles County Museum of Art.
This list answers the question, "What are the most famous buildings in Los Angeles?"
This is a good reference for research into the historical architecture in Los Angeles. Famous architectural houses within the city of Los Angeles are included as well, sometimes by address, other times listed by the name of the original home owner.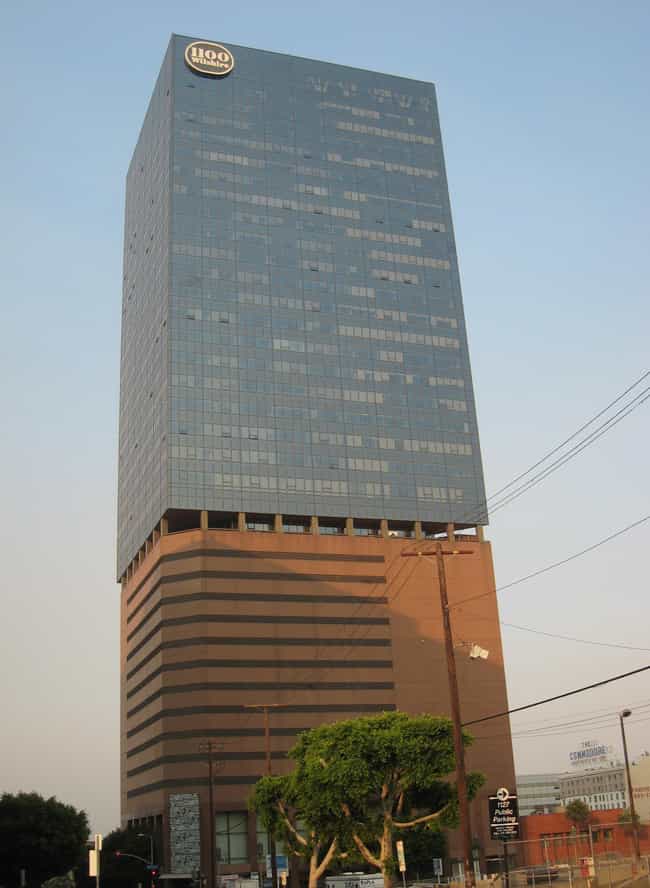 1100 Wilshire is a 37-storey, 151.18 m residential skyscraper completed in 1987 in Los Angeles, California. It is the 22nd tallest building in the city, the 2nd tallest residential building in the entire Southern California region, and the 4th tallest residential building in the state of California. The 35,262 m² tower was designed by AC Martin Partners. The bottom 16 floors are primarily parking, with commercial space on the ground floor/street level. 1100 Wilshire was unsuccessful as an office building and sat nearly vacant for almost two decades. It was purchased by Hampton Development, TMG Partners and Forest City Residential for $40 million, and from 2005 to 2006 the property was ...more on Wikipedia
City/Town: California, USA
Opened: Jan 01 1987
Structural Height (m): 151.18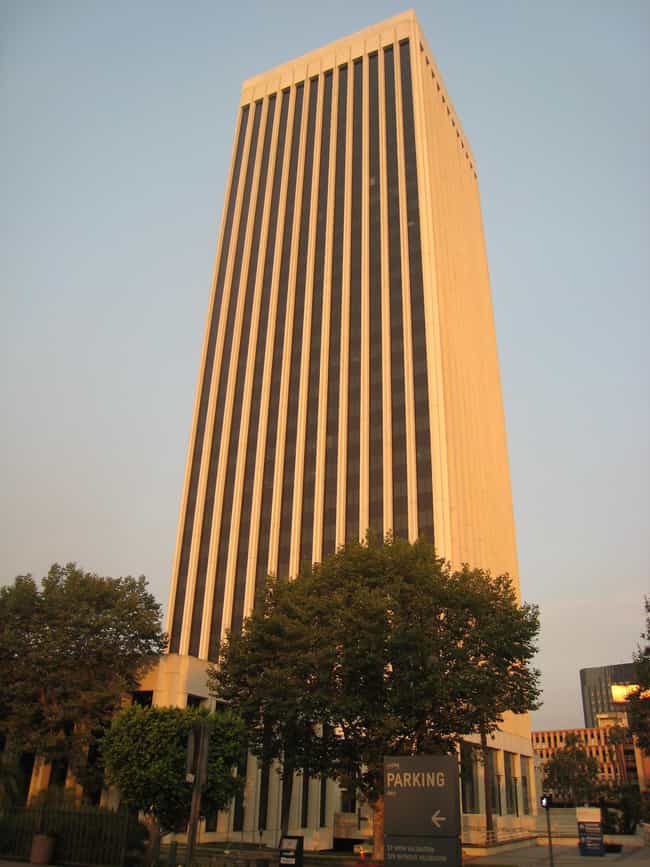 5900 Wilshire, or the SBE Building, is a 32-story 132 m skyscraper completed in 1971 in Los Angeles, California. It is the tallest building in the Miracle Mile district, the second tallest in the Wilshire Area, and the 30th tallest in Los Angeles. The international-style building was designed by architect Gin Wong of William L. Pereira & Associates. The building, which includes tenants occupying entire floors all the way down to executive suites, is across Wilshire Boulevard from the Los Angeles County Museum of Art. The Ratkovich Company spent $34 million on a renovation which began in 2005 and was still in process in the second quarter of 2008. The renovation will include a new lobby. The ...more on Wikipedia
City/Town: California, USA
Opened: Jan 01 1971
Structural Height (m): 135.03
Architect: William Pereira
Created By: William Pereira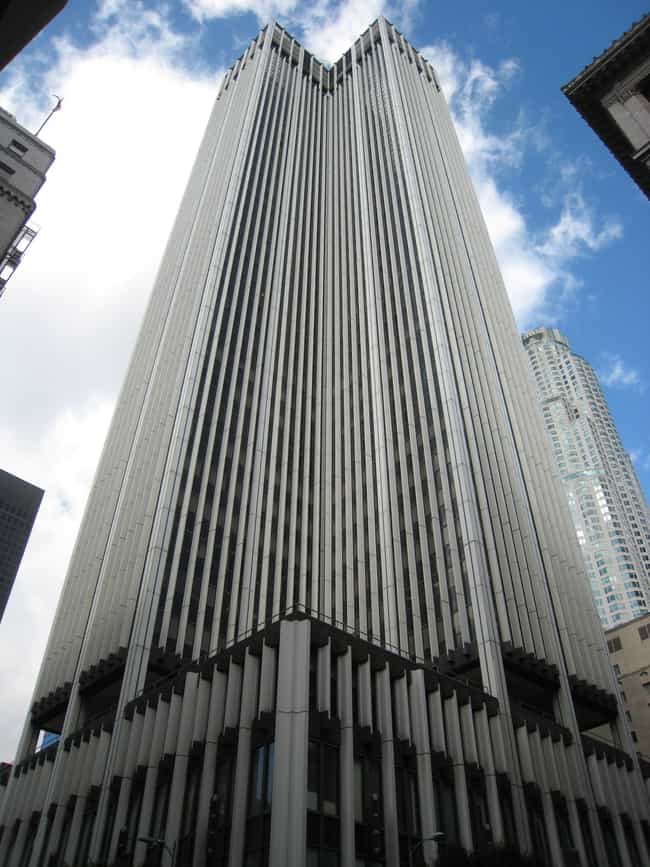 611 Place is a 189 m skyscraper at 611 West 6th Street in downtown Los Angeles, California, designed by William L. Pereira & Associates and completed in 1969. The building was commissioned by the now-defunct Crocker Citizen's Bank, and served as its headquarters for many years before being bought by AT&T. It was the tallest building in Los Angeles upon completion, and the first building to surpass Los Angeles City Hall in terms of structural height. It consists of a cross-shaped tower clad in vertical aluminum beams, and supported on its west side by an immense, blank slab of concrete running the entire height of the building, which is used to display corporate logos. The building has a ...more on Wikipedia
City/Town: Los Angeles, California, USA
Opened: Jan 01 1967
Structural Height (m): 189.0
Floors: 42
Architect: William Pereira
Created By: William Pereira
Style: Modern architecture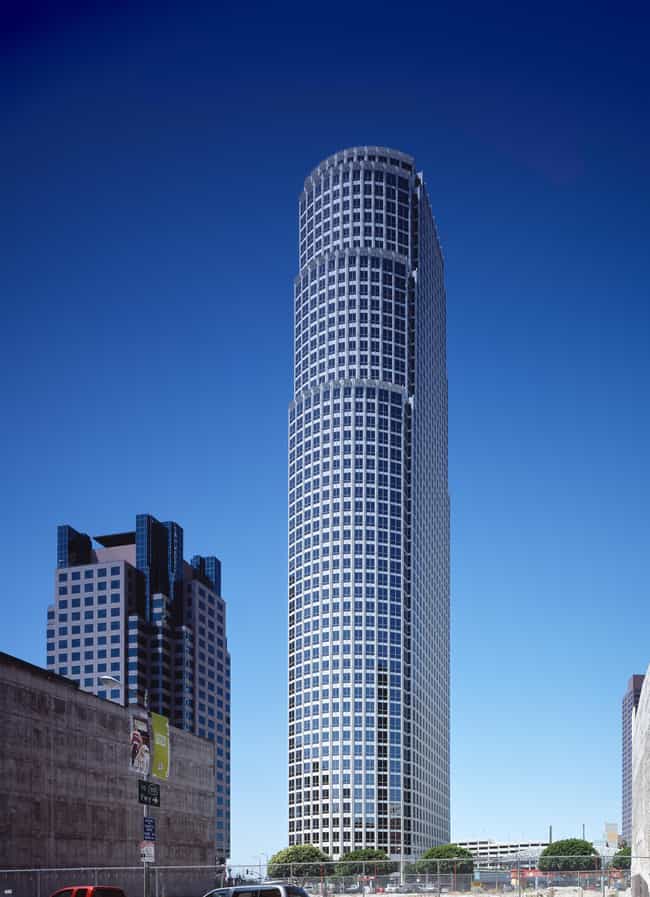 777 Tower is a 221 m, 52-story skyscraper designed by César Pelli in the Financial District of Downtown Los Angeles, California. Developed in 1991 by South Figueroa Plaza Associates, the building contains approximately 1,025,000 sq ft and a three-story Italian marble lobby. The exterior is clad with sculpted white metal and glass. The tower is adjacent to the 7+Fig Shopping Center and was purchased from Maguire Properties by owner, Brookfield Office Properties. ...more on Wikipedia
City/Town: California, USA
Opened: Jan 01 1991
Structural Height (m): 220.98
Floors: 52
Architecture Firm: César Pelli and Associates
Created By: César Pelli and Associates
see more on 777 Tower