Unspeakable Times
The Los Feliz Murder Mansion Was The Site Of One Family's Horrifying And Sad Christmas Tragedy

Updated December 14, 2017
36.5k views
12 items
Los Angeles has no shortage of infamous locations that house gruesome or inexplicable pasts. Certain places, such as the Hotel Cecil or Chateau Marmont, are notorious for their repeated scandals, but the murder house left abandoned for decades in the neighborhood of Los Feliz stands out as a particularly chilling location.
A house fit for a movie star, nestled in the hills of Griffith Park at 2475 Glendower Place, the property's potential was cut short one December night in 1959, when Dr. Harold Perelson brutally murdered his wife and attempted to kill his children before ultimately taking his own life, joining the repugnant ranks of people who murdered their own families.
Since that fateful night, even with new owners, the mansion has stood empty and the family's belongings have remained untouched. The mansion became a disturbing time capsule of the Los Feliz Murder-Suicide, a seemingly unmotivated crime in a quiet, residential neighborhood. For decades, ghost hunters and curious neighbors have hunted for explanations and glimpses into the house's bizarre history. Beneath the layers of dust and rumors, here are a few disturbing facts about Los Feliz's own murder mansion.
Dr. Perelson Bludgeoned His Wife To Death In Her Sleep Before Attacking His 18-Year-Old Daughter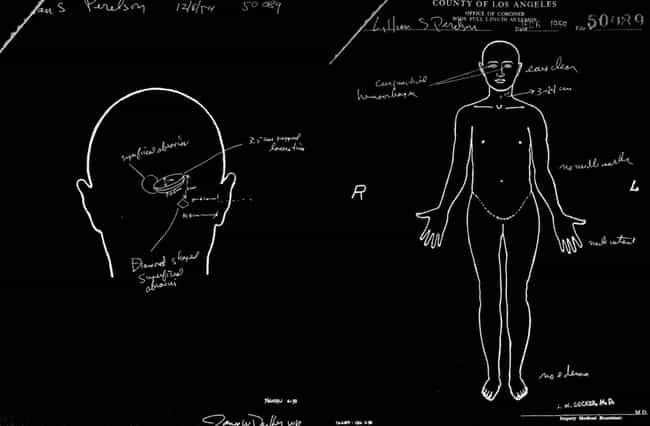 At 4:30 am on December 6th, 1959, 50-year-old Dr. Harold Perelson stood over his wife Lillian's sleeping body, and in one swift move, slammed a ball-peen hammer into her head. Her blood pooled quickly, and she eventually drowned in it, with asphyxiation being listed as her official cause of death.
Covered in Lillian's blood, Dr. Perelson carried on into his 18-year-old daughter Judye's room, and proceeded to strike her as well. In the dark, however, it was only a glancing blow, and she awoke screaming. Her cries for help woke her two younger siblings, as well as most of the neighborhood. A neighbor from the time, Cheri Lewis, reported that it sounded, "like a wild animal screaming."
"Don't kill me," she was heard pleading, while her father demanded she "lay still and be quiet." Judye somehow slipped away from him, and ran to get her mother. At this point, she was joined by her younger siblings, who'd awakened to Judye's screams. Finding the bloodbath in the next room, Judye bolted from the house, and started frantically banging on neighbors' doors for help.
His Parting Words For His Remaining Family Were 'This Is A Nightmare'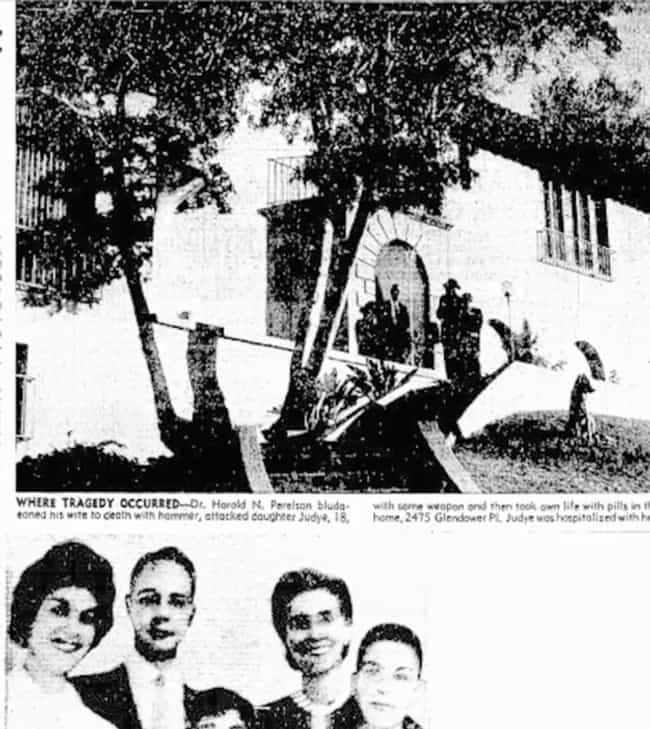 The screaming pleas of Judye woke her younger siblings, 11-year-old Debbie and 13-year-old Joel. When they got up to investigate what was happening, they found their father covered in blood, still holding the murder weapon. "This is a nightmare," he told them. "Go back to sleep."
By this point, after smearing blood across the windows of neighbors while screaming for help, Judye had returned with their neighbor, Marshall Ross, who had called the police. Other neighbors reported being frozen with fear, and that the whole front door of the Los Feliz mansion was "a mass of blood."
After Murdering His Wife, Dr. Perelson Swallowed A Lethal Cocktail Of Drugs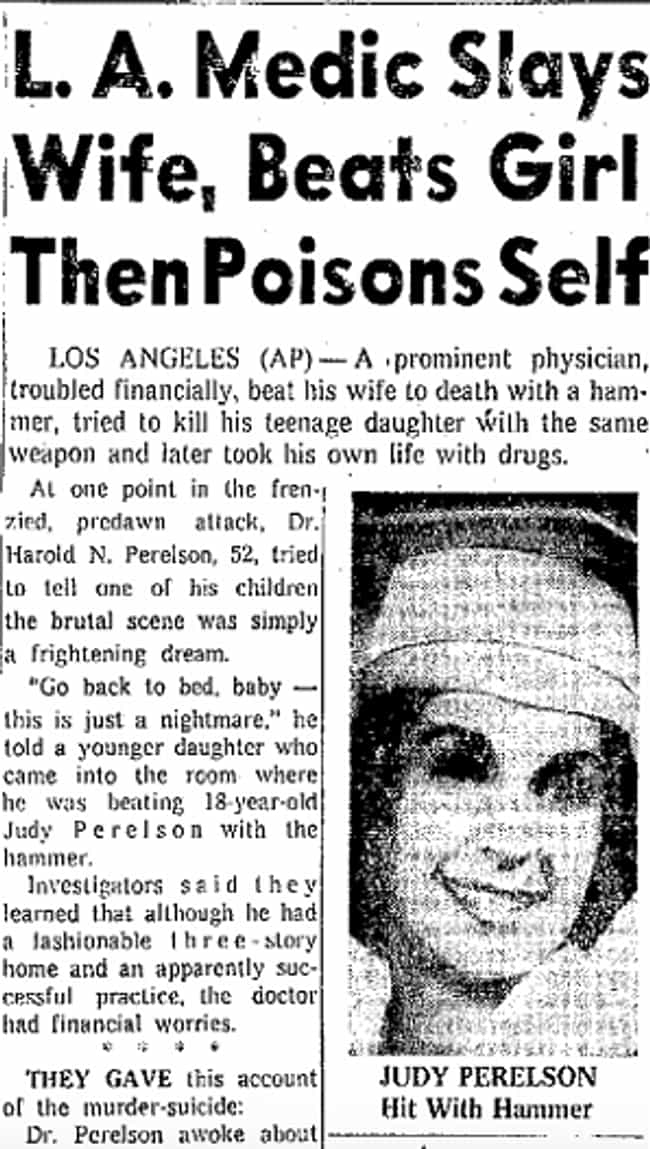 Covered in the blood of his wife and daughter, Dr. Perelson strode away from his children and toward the bathroom. According to the coroner's report, neighbor Marshall Ross entered and confronted him, and the doctor told him to go home and not to bother him. Though some reports mentioned that he swallowed a cup of acid, the police reports record it as follows: Smearing blood everywhere, Perelson proceeded to rip open two capsules of Nembutal (a drug popular with suicides and euthanasia; it was Judy Garland's drug of choice), and downed them, followed by over 30 pills believed to be a form of codeine.
Perelson then walked back to his wife's bedroom and laid down next to her. Resting his head on a bloody pillow, his breathing became shallow. Before the ambulance could even arrive, Harold Perelson was dead, still clutching the hammer with which he had attempted to destroy his family.
The Doctor Left A Dark Message To Be Found Before Killing Himself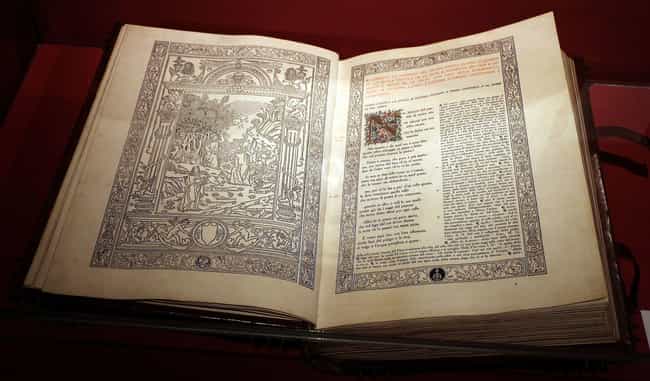 The night of the crime, police found on the doctor's bedside table Dante's Divine Comedy open to Canto 1: "Midway upon the journey of our life I found myself within a forest dark, for the straightforward pathway had been lost."
At the time of the murder-suicide, investigators weren't quite sure what the motives were behind Dr. Perelson's crime, but leaned towards blaming financial problems. An injection specialist, the doctor had invented a new technology involving improved syringes, and proceeded to sink a large chunk of his savings and years of his life into developing the product. However, a partner with whom he'd made a verbal agreement swindled him out of the rights to his own invention. A bitter legal battle ensued, and Perelson only ended up with a little over $20,000 in settlement money. This, coupled with a car accident involving Judye and the younger kids, sank the doctor further and further into financial duress.
In a letter written to her aunt prior to the murder, Judye wrote,
"My parents, so to speak, are in a bind financially…My family are on the merry-go-round again, same problems, same worries, only tenfold."
On top of all of this, the doctor suffered what had been explained as "coronaries" to friends and neighbors, but in the fallout of the investigation, were exposed as multiple suicide attempts. It became clear that the doctor had been growing increasingly disturbed, and his wife had wanted him committed to a psychiatric facility.