Weird History
Firsthand Accounts From Women Who Survived Ireland's 'Magdalene Houses'

In the decades after the 1916 Easter Rising in Ireland, the Catholic Church worked to regain influence in the burgeoning democracy. While the Irish revolutionary period was marked by years of increasing equal rights for women, the mid-1920s to 1930s saw a return to conservatism. The role of women was consigned to the household, and unwed women or those considered promiscuous were subjected to harsh judgments and penalties.
Out of this religious dogmatism rose the widespread use of Magdalene houses, also known as the Magdalene asylums or laundries. These facilities, originally designed to "reform" licentious women, became popular in the mid-1800s and were supported by both the Catholic and Protestant churches. Over time, they became a fixture of Irish life, taken over by the Catholic Church with the support of the Irish government. What were once voluntary places of respite designed to give single women work skills to keep them off the streets turned into compulsory programs that involved years of unpaid servitude and prison-like conditions.
These Magdalene houses, as well as orphanages and industrial schools, held children and women against their wills under the auspices of religious charity, while the reality of life for those in the asylums was much worse than anyone could imagine. The last Magdalene house closed in 1996. In 2014, a mass grave with nearly 800 cadavers - most belonging to children - was discovered at a Magdalene house. In recent years, more and more survivors of these institutions have come forward to share their experiences and seek reparations for their experiences.
This list gathers firsthand accounts from women who lived in Magdalene houses in the 20th century. They are stories of governmental disregard, church-sanctioned barbarism, and personal tenacity.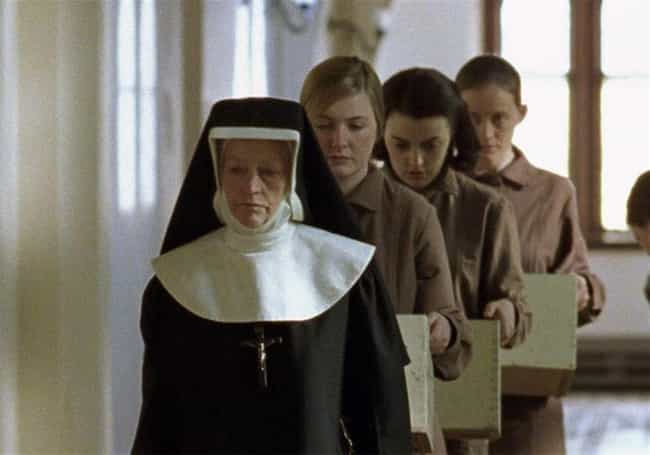 'It Was... Much Worse Than What You See.' 
When the Madgalene story was brought to life in Peter Mullan's 2002 film The Magdalene Sisters, many of those who spent time in the Magdalene houses came forward and criticized the movie for reducing the severity of their experiences.
One woman, Mary-Jo McDonagh, who served five years after being violated by a male neighbor, laid it out, saying, "It was worse in the Magdalenes, much worse than what you see. I don't like to say it, but the film is soft on the nuns."
Other women who endured stints in Magdalenes confirm this, saying the nuns and priests broke them down and dehumanized them. Many of these women were harmed before entering a facility, and they were all targets of a system that believed their femininity, anatomy, and natural desires were offensive and unholy.
Dr. Francis Finnegan, author of Do Penance or Parish: Magdalen Asylums in England, described a normal experience for someone sent to a Magdalene:
I met a woman who had been brought up in an orphanage and then later stuck into the laundry. One day she was taken into the parlor of the convent and told by a nun that her mother was dead. It turned out that she had worked alongside her mother for more than 20 years in the laundry and the nuns had kept it from them, knowing that her mother had been pining all that time for her child. Generation after generation was condemned in this way. You just cannot imagine how miserable and inhuman these places were. And the really terrible thing was that it was women doing it to other women.
'Everything Was Taken From Me.'
After Maureen Sullivan suffered torment from her stepfather, nuns urged her mother to send her to a "safe" school where she would get the education she needed. What she received once she moved into the Magdalene house was not an education, but a seven-day work week without pay. Sullivan is filled with pain over her time there:
What an evil thing to do. I never did any wrong. I was an innocent child and a nun told me I could trust her to tell her my story. I trusted her and what a fool I was.
Sullivan was forced to work in the laundry, clean floors, and knit Aran sweaters. She was completely stripped of her identity:
Everything was taken from me; my name, my rights as a child to go out and play with other children, my rights to communicate with other people.
She was finally able to leave at age 16, only to return to the town where she'd already dealt with so much.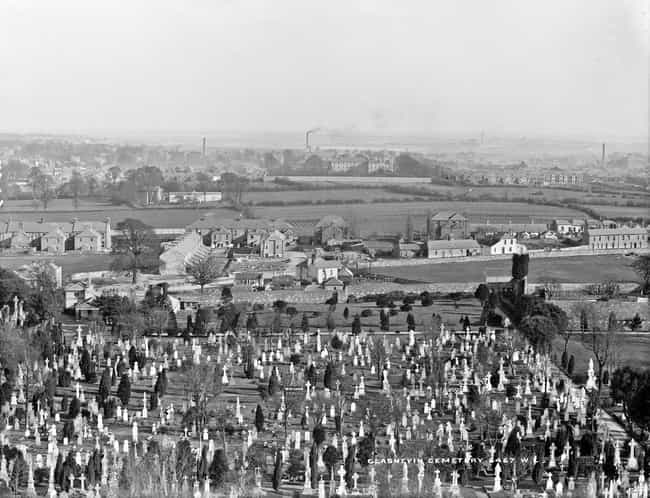 'It Was An Awful Lonely Old Hole.'
In Tuam, Ireland, where a mass grave with 800 children was unearthed, recorded interviews with a woman named Julia Devaney were recently revealed and transcribed. Devaney, who spent most of her life around the St. Mary's Mother and Baby Home, was able to give historians some context for how such a thing could have happened in the mid-20th century, when those in the mass grave likely perished:
The Home children were like chickens in a coop, bedlam, screeching, shouting in the toddlers' room. They never learned to speak properly, 'twas like they had a language all of their own, babbling sounds! The children had a language all their own, they didn't talk right at all, nobody to teach them, nobody to care. When the children came home from school they got their dinner and then their hair was fine-combed for nits and fleas. They got tea, bread and butter, and cocoa for their supper. The little ones went to bed summer and winter at 6 pm.
Disease spread in such tight quarters, and Devaney said many perished from whooping cough. It was rare for a child there to make it past one year of life:
It was not like a home, they'd be better off with a drunken father at home. It was an awful lonely old hole. Not natural, unnatural.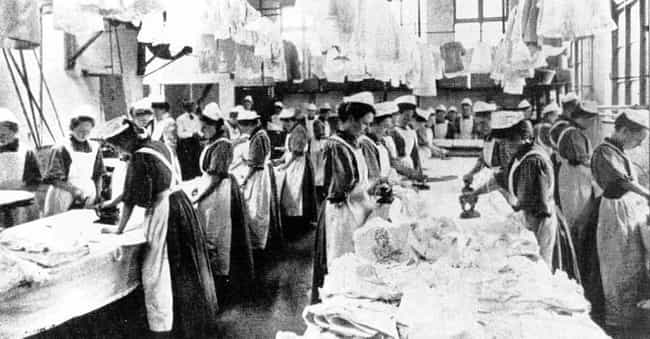 'I'd Say Prison Was Better.' 
Another orphan, Marina Permaul ended up in a laundry at age 17 after chatting with a boy. As she explained it:
The next morning, after watering the flowers on the altar, two nuns put me into a car, tricked me to get me into this car and took me to a laundry in Galway. I was there for six months. It was [harsh]. It was like a prison. No, I'd say prison was better. I've never been [behind bars] but I've seen it on television and things like that and they get reasonably good food. It was [servitude] really, is how I'd describe it.
Unlike many other Magdalene girls, Permaul was spotted by a nun who knew her family and helped her leave the facility:
One of the nuns spotted me, she knew me. She went back and told a nun I'd grew up with and it was her that got me out of there. She sorted me out a bit and let me rest a while and then she got me a job down by the seaside in Galway in a place for student nuns.
From there, Permaul fled to England in 1961, never to return to her hometown.